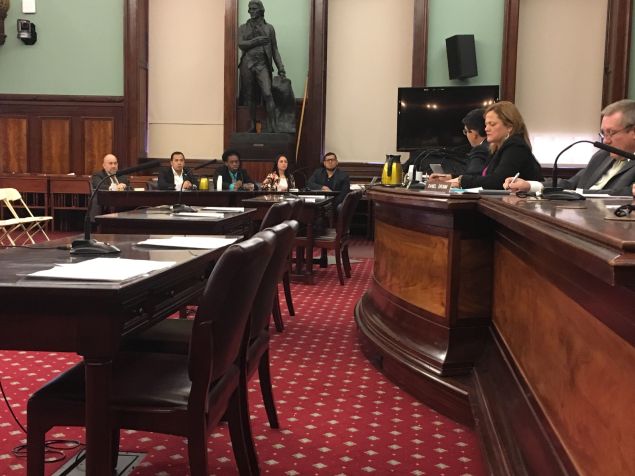 Despite repeated assurances from Mayor Bill de Blasio and NYPD Commissioner James O'Neill that their cops won't abet President Donald Trump's Immigration and Customs Enforcement agents, advocates argued to the City Council today that the police could still do more to put undocumented immigrant New Yorkers at ease.
Last month, O'Neill delivered a memo to rank-and-file officers in which he stressed that the Police Department will not cooperate with ICE on deportation actions in the five borough. The mayor has maintained that New York City will remain a so-called "sanctuary city" for immigrants regardless of their status, meaning the NYPD and Department of Corrections will not comply with ICE orders that they hold individuals who have not committed a violent crime.
But activists asserted that, to truly shield those lacking paperwork, the NYPD must reconsider its quality-of-life "broken windows" policing model and find ways to engage with vulnerable immigrants about what to do if ICE officers come knocking at their door.
"I run a lot 'Know Your Rights' presentations in the Bronx through the Bronx Immigration Partnership," testified Terry Lawson of Bronx Legal Services. "We normally don't invite NYPD because our community members are afraid to show up of they see NYPD there, so it is a difficult relationship to balance."
Lawson was one of several speakers at today's hearing who called on the Council to pass the Right to Know Act, a package of two bills regulating police interactions. One would obligate officers to identify themselves and furnish a business card to civilians prior to a warrantless search—the second, more controversial, half would mandate cops to inform people of their constitutional right to refuse a search of their person or property.
The majority of the Council's 51 members have signed on to both bills. But the NYPD has long bridled at the impositions, and Council Speaker Melissa Mark-Viverito has used her parliamentary powers to prevent them from passing.
Amy Taylor, legal director for the immigrant advocacy group Make the Road New York, was among those who argued the absence of deeper police reform and the NYPD's continued emphasis on low-level offenses brings undocumented individuals into unnecessary contact with law enforcement. This interaction can result detention and deportation, under Trump's expulsion-happy agenda, as ICE officers can operate in the city without the NYPD's assistance and are authorized to take action against any foreign national charged with any crime.
"The city must pass the Right to Know Act immediately and end broken windows policing which, by criminalizing minor acts, ensnares thousands of immigrants a year in the criminal justice system," Taylor said. "Until this pipeline to deportation is ended, New York City's immigrants—including green card holders and refugees—remain at heightened risk."
The Council passed bills last year converting a number of minor misdemeanors—littering, after-dark park loitering and public urination among them—into fine-bearing civil offenses. Taylor and her peers praised the work the city has done so far, such as removing ICE offices from Rikers Island, even as they implored it to go further.
Peter Markowitz, a law professor at Cardozo Law School, credited de Blasio and the Council with creating the "most effective bundle of immigration policies anywhere in the country." He referenced a study that indicates that crime is "statistically significantly lower" in sanctuary counties compared to non-sanctuary counties.
He endorsed Mark-Viverito's proposal to legally bar federal immigration officers from most city properties in the absence of a warrant, and pass legislation forbidding the NYPD to share personal details with ICE.
"I know the speaker suggested much of this: [the city has to] write into law that all city agencies, including the NYPD, will respect the confidentiality of information about immigrant New Yorkers," Markowitz said. "That DHS officers will not be permitted in private areas or city property, that no more city resources can be used to support civil provision enforcement activity."
Shortly after his inauguration, Trump signed an executive order cutting federal funds to sanctuary cities, although it did not define the term. De Blasio and Mark-Viverito have promised legal action if the president attempts to enforce the fiat.
Albert Cahn, legal director for the New York City chapter of the Council on American-Islamic Relations, blasted Trump's second attempt to ban travel from Muslim lands—which goes into effect tomorrow—arguing that both Muslim immigrants and native born Muslim-Americans are afraid.
He claimed that the Muslim community has seen a "pattern of hate crimes not being properly categorized," noting that designating a hate crime usually takes three or four levels of review.
"One of the things that we need to address…is the number of gatekeepers and amount of discretion involved in designating a hate crime," Cahn said.
The NYPD has said that it has an extensive crime victim outreach program that does not share personal details with the federal government, working with victims to solve the crime and provide them with the necessary resources without inquiring about their citizenship status.