Harsh runway critiques aside, the second best judge of a successful fashion range is multiple high profile red carpet appearances. Oscar de la Renta might not have garnered particularly glowing reviews for its February 13 debut, but the creations by new designers Laura Kim and Fernando Garcia have been donned by quite a few A-listers since then.
The first major appearance was at the Oscars, when Brie Larson donned a custom black velvet gown with a severe sweetheart neckline. Finished off with a ruffled train, this frock garnered a third place spot on the Observer's best dressed list from the evening.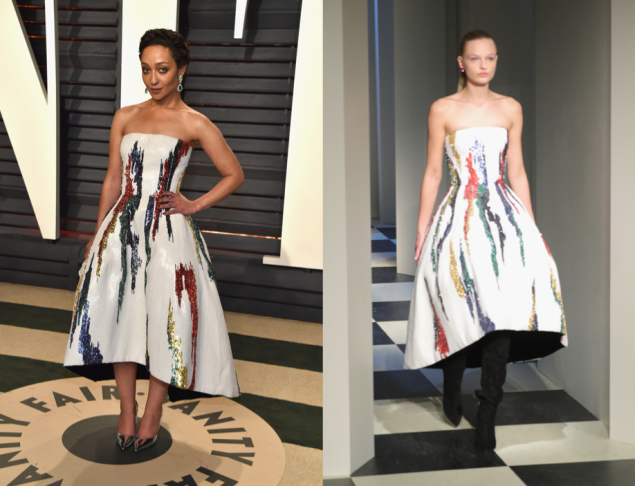 Just a few hours later, another dress from the de la Renta house hit the carpet. This time, it was on Ruth Negga, who plucked the strapless, sequined look six directly from the runway. We applaud her choice of silver pumps, over black suede boots, and those bold diamond and emerald earrings helped, too. This is a simple and striking look, but is just graphic enough to feel like a risky dressing choice.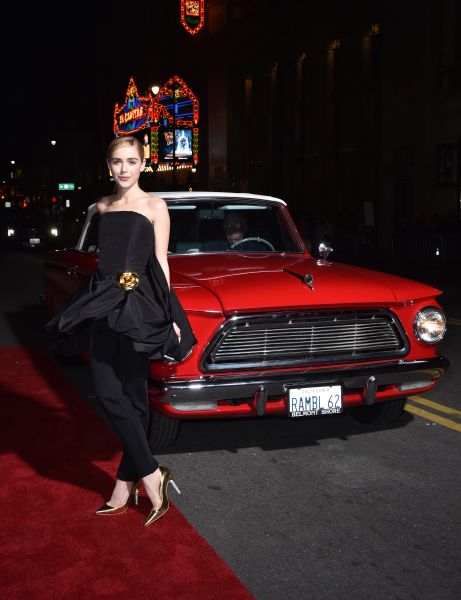 Next up was the adorable Kiernan Shipka. She chose a strapless silk taffeta top and paired them with a pair of Watteau stretch leggings; she finished off the look with a 24 karat gold gardenia brooch, all from de la Renta. The 17-year-old has a penchant for wearing trousers to formal events and we have to say, she always pulls of the the look with aplomb. We didn't spot this particular outfit on the runway, but it was similar to a few other pantsuits offered…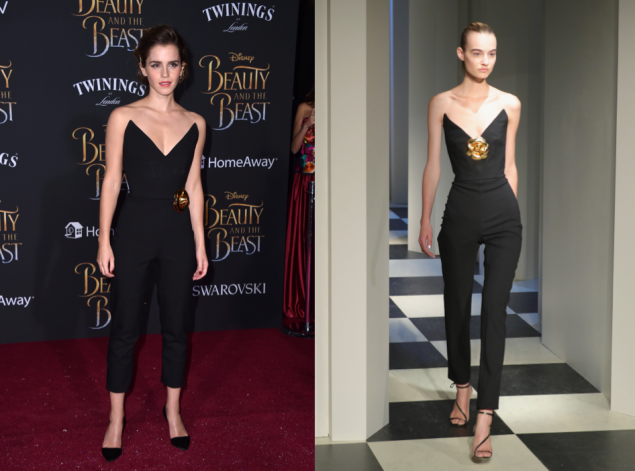 …like the one that Emma Watson wore to the Los Angeles premiere of Beauty and the Beast on March 2. In fact, the young Brit's selection seemed to be a hybrid of Shipka's pantsuit and Larson's velvet frock. It included both the pointy sweetheart neckline and a matching golden brooch. Watson's getup was styled just slightly different from the runway look. Rather than donning the brooch at the center of her chest, she positioned it on her left hip and it looks like she shortened the trousers to hit at mid-calf, rather than at the ankle. We think the longer trousers are a bit more flattering, but nevertheless, we still love this dramatic jumpsuit.
However, Watson wasn't the only actress wearing de la Renta to last night's premiere; Gugu Mbatha-Raw donned the designer, too. She opted for one of our favorite frocks from the collection, a simple strapless sheath smothered in midnight blue sequins. In fact, we predicted that Naomie Harris would wear this exact frock to the Oscars, just a week ago. Although our prediction was off, we're glad to see someone wearing this shimmering look.