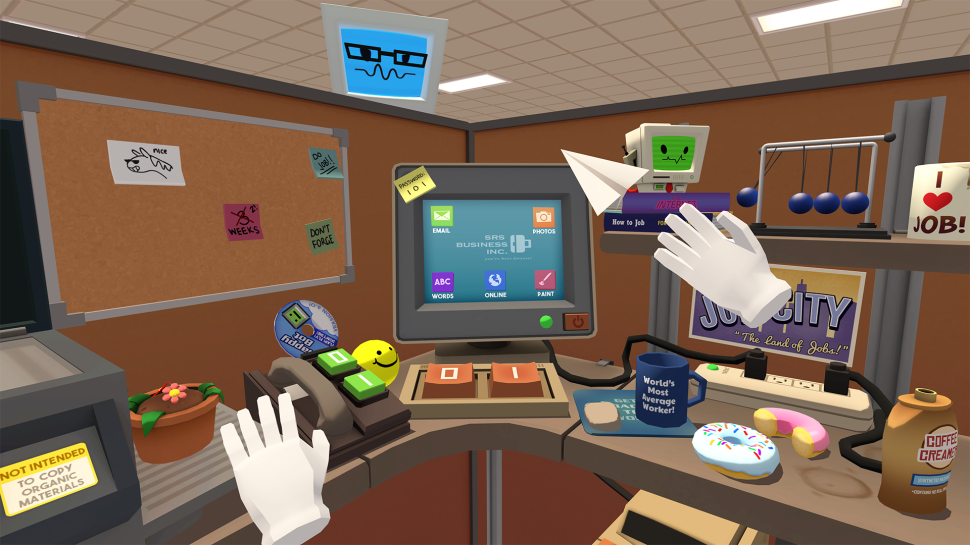 AUSTIN—Once a person enters a virtual reality environment and can use their real hands to interact with it, they will never want to experience a less interactive environment. That's the thesis of Owlchemy Labs, anyway.
The company made Job Simulator: The 2050 Archives, a game that has been carried on the launch of the big three virtual reality platforms: the HTC Vive, the Oculus Touch and the Playstation VR.  
In the game, everything a person sees is interactive. Rather than building giant worlds, they built a few small job sites where a person can do ridiculous and amusing things by playing with every single object they find in their workspace, whether that's an office full of cubicles, a commercial kitchen or a gas station.
"Pushing deeper seems to be the win condition," Devin Reimer, chief technical officer at Owlchemy, said during a fireside chat on Thursday Thursday, the last day of the South by Southwest conference's interactive portion.
"We think VR is the most successful computing platform that has ever been built," CEO Alex Schwartz added. That's because it's a computer system that has removed layers of abstraction: instead of learning which buttons create an effect on a complex controller (like in all of today's gaming systems), a player can just use their real hands to interact with the world. That flips a switch inside a person's mind so that they really start to think the experience is real. 
"Do you get bored of using your hands in real life?" Schwartz asked. "We haven't even gotten close to exploring what's possible now that we have direct hand to computer interaction."
We previously cited Owlchemy as we explored the three possible modes of virtual reality that could potentially convince the public to make it mainstream. Different creators are working hard on cinematic, gaming and social content.
Owlchemy's so invested in making its gaming experience interactive, it even made the exit function immersive. To leave a game, players eat the "exit burrito."
Schwartz also described how Job Simulator gave users new ways to customize a gaming space. In the office environment, there's a virtual PC on which users can draw simple art and a printer that will make a virtual paper version. Companies have covered their offices in virtual artwork created on that computer and printer.
SEE ALSO: Here's the companies making a bet on social VR.
The company's next challenge is to help people without access to VR understand what the experience is like. It has been working on ways to record videos inside the game that include the player's real body, a process called "mixed reality." Putting five seconds of this kind of content in their original trailer took a month of work.
They've been working on a better way, and it's getting there:
[protected-iframe id="91966464fb20ea8f8509ffbb46358716-35584880-79214703″ info="https://gfycat.com/ifr/HardtofindUnequaledKitten" width="640″ height="360″ frameborder="0″ scrolling="no" allowfullscreen=""]
Owlchemy doesn't have any sort of timeline for opening up what it's learned about mixed reality to other developers. Right now, Schwartz said, what they can do only really works in Job Simulator.
And they are still adding elements: users can now project an image of their body into the game. "It's not a post-effect anymore," Schwartz said.
"We want this to not be a pain for developers," Reimer said. But he couldn't pinpoint a time frame for when other shops could start playing around with what they have built, because "in VR in particular, when you start solving problems it opens up new, more interesting problems."