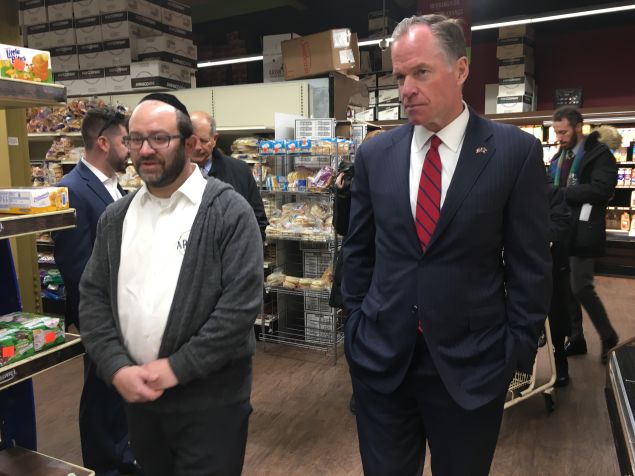 Real estate executive Paul Massey—the mayor's deepest-pocketed Republican opponent—told reporters at his oddly staged campaign launch that he would like to see former U.S. Attorney Preet Bharara's investigation into Mayor Bill de Blasio's political fundraising carried on days after President Donald Trump terminated the Manhattan-based corruption-busting prosecutor.
On Friday, Trump asked Bharara and 45 of his peers across the country to tender their resignations—despite an agreement from November that the Queens-born commander-in-chief would have the ex-President Barack Obama "stay on" at the Southern District of New York. But a day later, Bharara revealed on his personal Twitter account that he refused to resign and that Trump ended up firing him.
Bharara had been working to determine whether de Blasio and his aides traded public favors for donations to his now-defunct political nonprofit, Campaign for One New York.
"I think Preet Bharara is a talented person and he was doing good and valuable work for the people of all of New York State," Massey told the Observer at his official kickoff in Flushing, Queens this morning. "I sincerely hope that the work of U.S. Attorney's Office continues and gets to the bottom of the deep corruption that we have at City Hall."
He said that he believes the investigation will ultimately help root out corruption in New York State, and noted that Manhattan District Attorney Cyrus Vance is conducting a parallel probe into the mayor's unsuccessful 2014 effort to flip the State Senate to the Democrats. There are also outstanding investigations into the administration's dealings with other de Blasio donors, including one into bribery at the NYPD.
"We have six agencies, six investigations going on, two grand juries impaneled, possible indictments of the mayor's staff," Massey continued. "We have to get to the bottom of this. It's critical. I think all New Yorkers wanna end the corruption in the state."
Massey abruptly ended his press conference as the Newsday reporter pressed him to say whether he thinks Trump should have kept Bharara in the post. He refused to answer when the Observer asked whether he thought Bharara's firing hurt the New York GOP GOP, given that he was investigating de Blasio and and prosecuting a host of aides and donors to Gov. Andrew Cuomo, the state's top two Democrats.
Bharara announced yesterday that Deputy U.S. Attorney Joon Kim will run the office until the Senate confirms his replacement.
"I wanna spend a lot of time with you going forward so we will in the very near future have a longer press conference," Massey told reporters as he ended the press conference.
Dan Levitan, de Blasio's campaign spokesman, for his part, accused Massey of doing everything in his power to avoid discussing the real issues facing New Yorkers. The operative also mocked the Cushman & Wakefield head's longtime Westchester residency, and his equivocation on policing and New York's "sanctuary city" statutes.
"Paul Massey (R-Larchmont) can't decide how he feels about stop-and-frisk, President Trump, or whether New York should remain a city that protects immigrant families," Levitan said in an emailed statement. "He is desperate to discuss anything but the issues. Mayor de Blasio has created affordable housing to house the entire population of Paul Massey's hometown (Larchmont population: 5,951) more than twenty times over. That's a record we are happy to compare with anyone."
These sort of attacks mark a departure from Levitan's longtime strategy of only highlighting the mayor's first-term policy achievements.
Flushing, a neighborhood relatively inaccessible from the media center in Manhattan, is a unique choice for a mayoral campaign kickoff. Former Congressman Bob Turner, chairman of the Queens GOP, attended the event—but declined to endorse Massey.
"Not today," Turner said briefly to reporters.
Turner is close to Queens Councilman Eric Ulrich, who is also mulling a run at Gracie Mansion.
The event at Kissena Farms Kosher Supermarket today was brief in the extreme.The businessman spent spent roughly two minutes speaking about his plans to create more and better-paying jobs across the city through reduced fines and regulations.
He claimed that there has been no job creation under de Blasio and that unemployment has gone up under his administration, which would seem to contradict city statistics. During the question-and-answer session—also fleeting—he told reporters that Trump should "move away from a travel ban" from Muslim nations, but also insisted that the country should be a place of "law and order," with an emphasis on national security.
Despite telling the Observer at the end of January that the city should maintain its current immigration policy, he said he favored restoring U.S. Immigration and Customs Enforcement's presence on Rikers Island, after de Blasio booted them from the prison facility. Massey did call, however, for national immigration reform featuring a path to citizenship for longtime undocumented U.S. residents without violent criminal records.
He plans to hold additional press conferences this week in the Bronx to discuss homelessness and affordable housing, education in Brooklyn, quality of life and the opioid epidemic on Staten Island and supporting community-focused policing in Manhattan.