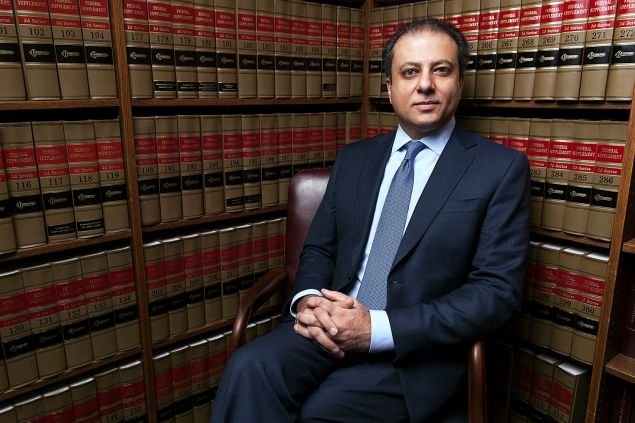 Ex-U.S. Attorney Preet Bharara, unceremoniously sacked earlier this month by President Donald Trump, will become a distinguished scholar in residence at New York University Law School, the institution announced this morning.
The release by NYU Law, which Bharara shared on his personal Twitter account, detailed the crusading prosecutor's seven-and-a-half year tenure at the Southern District of New York. Bharara's term featured insider trading convictions, some of which unraveled on appeal; the corruption busts of former Assembly Speaker Sheldon Silver and Senate Majority Leader Dean Skelos; and high-profile anti-terror cases.
"I am honored to join the NYU School of Law, one of the great educational institutions in America, and I welcome the chance to contribute in such a thoughtful setting," Bharara said in the statement. "I am thrilled for this opportunity to continue addressing the issues I so deeply care about—criminal and social justice, honest government, national security, civil rights, and corporate accountability, to name a few."
Trump had initially indicated he would allow the former aide to Senate Minority Leader Charles Schumer to stay on in his post, and pursue his prosecution of a score of Gov. Andrew Cuomo's aides and donors and investigation into Mayor Bill de Blasio's political fundraising. But then the president's Department of Justice requested Bharara's resignation along with that of 45 fellow U.S. Attorneys appointed by President Barack Obama.
The prosecutor refused to abdicate the job, and he revealed shortly afterward the president had terminated him. The probe into de Blasio folded days later.
Many observers anticipate the spotlight-loving Bharara will seek elected office in the near future.