Prince George is switching schools, and hopefully taking his enormous backpack with him.
According to the Kensington Palace Twitter account, the Duke and Duchess of Cambridge confirmed that Prince George will attend Thomas's Battersea School in London, enrolling in September 2017. This announcement seems to solidify the news that his parents will be leaving their country home to relocate to London, so hopefully those Kensington Palace renovations are done soon.
Last night Kate Middleton met a few parents from the school at the Portrait Gallery and told them, "See you at the school gates," proving once again how much of a hands-on parent she is.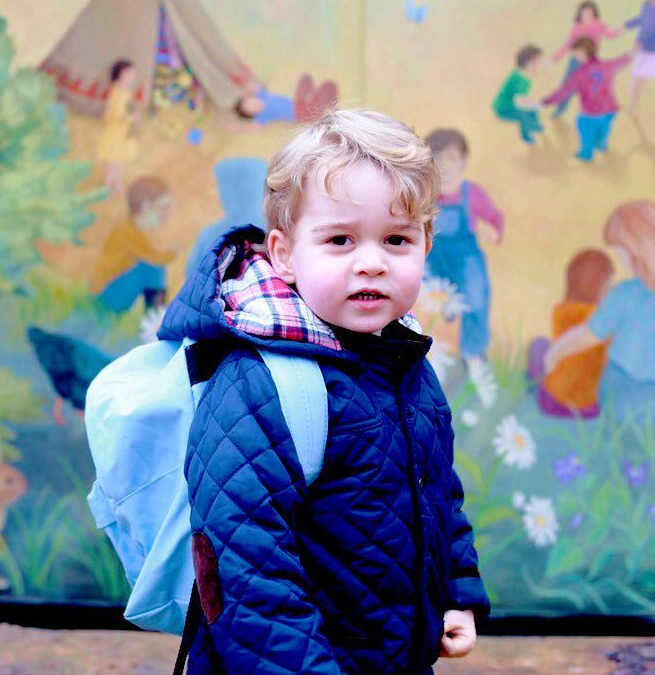 Surprisingly, the choice of schools is a bit controversial, as both Prince Harry and Prince William attended the Wetherby School. The Wetherby School was previously considered "the poshest school for princes" and was noted for its alumni attending Eton and Westminster.
Still, his new school isn't exactly unimpressive, although it is decidedly less royal and more middle class. But it charges about £6,000 per term (which equates to approximately $7,600) making this education worth $23,000 a year. But despite the lack of royal alumni, there's still a roster of celebrity graduates, including royal friend Florence Welch and Cara Delevingne. Perhaps Prince George will be inspired by the creative alums of his new school, and join a band or start a modeling career after his time there, instead of attending Eton.