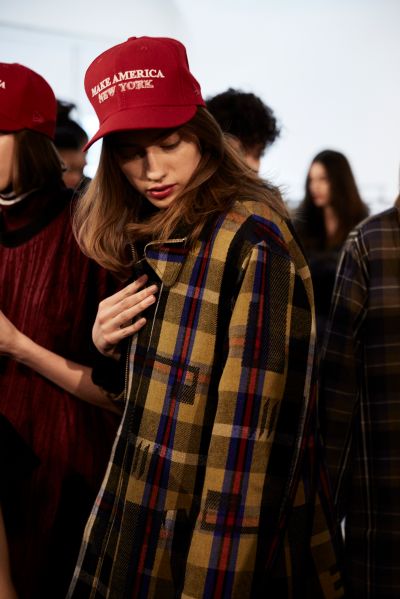 "I really want one of those red Public School hats," was a phrase we heard over and over again this New York Fashion Week. The toppers in question, which were included in the brand's Fall/Winter 2017 collection, were the most memorable accessories in a range that was rather political, to say the least.
"It started with this conversation about borders, all the crazy talk about building a wall, and this rise of isolationism and nationalism and xenophobia," designer Dao-Yi Chow told WWD. "We just started talking about these man-made constructs to keep people from each other, at the same time envisioning this world where if you're a human being, you are a citizen of the world."
The hats, which read "Make American New York," were a direct nod to Donald Trump's "Make American Great Again" caps. And now, mere mortals can get their hands on this fresh-off-the-runway style, too. The brand will be selling them for $65 on their website or at the Public School Cadillac House Retail Lab, 330 Hudson Street, NY. The best part is that 100 percent of the proceeds will benefit the ACLU.
You might notice the design of these caps is slightly different from the runway original, where the "New York" embroidery was blurred out. But hey, at least the message here is even clearer than before.
"New York has always been our source of inspiration and even [more] so now," Public School's Maxwell Osborne and Dao-Yi Chow said in a statement. "Solidarity, tolerance and diversity are fundamental New York City values and are much needed reminders in order for our country to be great."
Now, your head can be great, too.