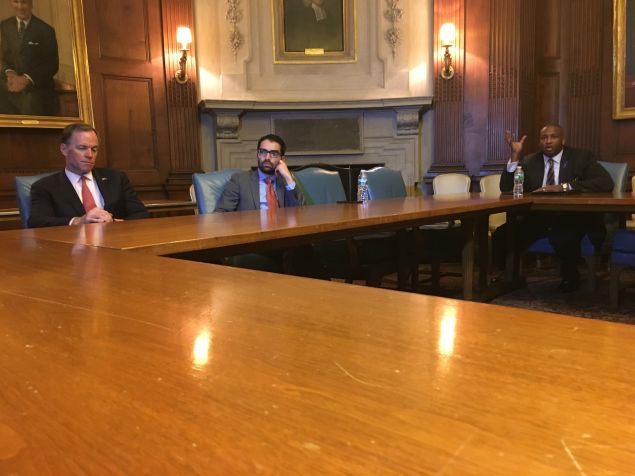 Only one of the four contenders to appear at the Columbia University College Republicans' mayoral primary forum haf yet to announce his candidacy—Queens Councilman Eric Ulrich, who promised reporters afterward he was "very close to making a decision."
In his opening statement, Ulrich claimed that he was weighing a run because Mayor Bill de Blasio, a liberal Democrat, does not appear to be interested in the job. The councilman, who is eligible for another four-year term representing Howard Beach and parts of the Rockaways, has raised just short of $52,000 in a committee for undeclared office—some of it with the help of Ohio Gov. John Kasich, whom Ulrich backed in New York's primary last April.
"It's the million dollar question, right?" Ulrich admitted to the press. "I haven't made a decision yet. I'm very close to making a decision and I should have an announcement soon, but I'm still considering a run for mayor because I'm concerned about the future of the city and because I do believe that Bill de Blasio can be beaten."
The forum also included real estate executive Paul Massey, former Jets defensive lineman-turned-minister Rev. Michel Faulkner and actor and disability rights advocate Darren Aquino.
All four attacked de Blasio plenty and answered questions about their stances ranging from President Donald Trump's immigration policies, to transportation, to policing to homelessness. But they refrained from attacking one another.
Ulrich emphasized his support for the controversial stop-and-frisk tactic and blasted de Blasio's handling of the city's mushrooming homeless population, and even called for the firing of his homelessness czar Steve Banks.
But the moderate Republican lawmaker also lashed out at his own party's president, a man he pointedly refused to endorse last year. Ulrich blasted Trump's first and second executive orders barring entry to people from Muslim-majority countries, comparing it to the historic discrimination Catholic and Jewish immigrants once experienced.
"I'm appalled, quite frankly," Ulrich said.
De Blasio, his aides and his political fundraising are the subject of parallel probes by U.S. Attorney Preet Bharara and Manhattan District Attorney Cyrus Vance. At the end of February, the mayor met with Bharara's investigators for four hours.
He later described the meeting as "fine" and said he's confident that "it will be quite clear" that he acted properly.
Ulrich seemed to imply to reporters that he was waiting for the outcome of the investigations.
"I think there are things that are in my control and there are things that are out of my control," Ulrich continued. "If the mayor's indicted by the U.S. attorney, that's out of my control. If that happens, I think you'll see a bunch of people jump in the race—Democrats and Republicans."
But he said he has control over fundraising and communications and "testing the waters": traveling around the city to have conversations with different communities.
"Those are things that I'm gonna be taking into account and the feedback that I receive from some of the faith leaders and the opinion leaders and the business leaders in the city," he said. "There are some people who think I should run and want me to run and there are people who are telling me not to run."
A camera crew has shadowed him for months as part of a possible reality TV show about his potential candidacy.
Ulrich's fundraising pales in comparison to that of de Blasio, who has raised $3,315,271 and has spent $1,094,226. The councilman would enter the race with little name recognition and—despite his liberal social stances—a tremendous disadvantage as a Republican candidate in a deep-blue city.
Not present at the forum was billionaire supermarket mogul John Catsimatidis, an Ulrich foe who unsuccessfully sought the Republican nomination for mayor in 2013—and is believed to be weighing a second try.