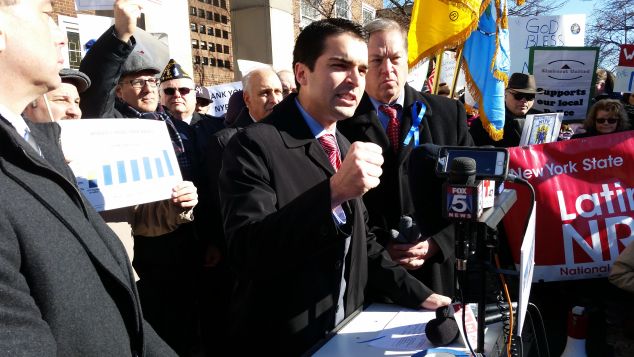 Queens Councilman Eric Ulrich, a moderate Republican, announced that he will not be challenging Mayor Bill de Blasio after spending the last several months mulling a bid to unseat the liberal Democrat.
Ulrich has spent the past several weeks and months teasing the possibility that he might take on the liberal Democratic incumbent: routinely bashing unpopular President Donald Trump, enlisting Ohio Gov. John Kasich to fundraise for him and even appearing at a GOP candidate forum earlier this month. But in an interview on NY1 tonight, the pol revealed he would seek a third term in the Council's diminutive Republican minority—just days afterManhattan District Attorney Cyrus Vance and Acting U.S. Attorney Joon Kim revealed they would not file charges against de Blasio or his aides in relation to questionable fundraising activities.
"I'm running for reelection to the City Council to represent the people of Queens at City Hall. I'm not gonna be a candidate for mayor this year," Ulrich said. "It's something that I've considered for quite some time now, mulling it over these past few months with my family, my friends and my supporters and I've decided that this would not be the right move for me to make."
Nearly two weeks ago at a Columbia University College Republicans' debate, Ulrich said that he was still deciding whether to run because he thought de Blasio seems more interested in dabbling in national politics than in administering a city. Ulrich, who represents Howard Beach and parts of the Rockaways, has raised just short of $52,000 in a committee for an undeclared office—underwhelming compared to de Blasio's multimillion-dollar warchest, or that of Republican real estate executive Paul Massey, who officially kicked off his bid for mayor last month.
A camera crew also followed Ulrich for months as part of a possible reality TV show about his potential candidacy for the city's top office.
Ulrich has expressed his support for the divisive stop-and-frisk policing tactic and has blasted de Blasio's handling of the city's homelessness crisis. But he does have socially liberal stances—he's pro-gay marriage and pro-choice. And he refused to endorse Trump in last year's election, and has since blasted the president's Muslim travel bans as "appalling" and discriminatory.
The councilman indicated at the Columbia forum that he was awaiting the outcome of the parallel probes into de Blasio. In the immediate aftermath of the announcement, Ulrich implied that while no charges were brought against the mayor, the jury was still out on whether his path for reelection is clear.
Massey's only declared opponent in the Republican primary is Jets defensive lineman-turned-minister Rev. Michel Faulkner. Eccentric supermarket magnate John Catsimatidis, who failed to secure the GOP nomination in 2013, has hinted he may run again.
On the Democratic side, city Comptroller Scott Stringer has ruled out the possibility of a challenge to de Blasio, while Bronx Borough President Ruben Diaz, Jr. had hinted he would run in the event of charges against the incumbent. De Blasio thus faces only Queens State Senator Tony Avella and former Brooklyn Councilman Sal Albanese—both of whom have failed to gain traction in past election cycles.