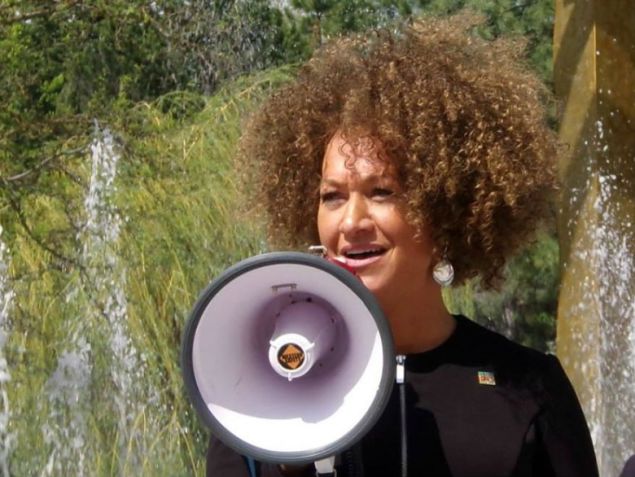 Rachel Dolezal, the former president of the NAACP chapter in Spokane, Washington who was criticized for pretending to be black for 20 years, is back in the news. The biologically white woman, who was outed by her parents in 2015, has written a new book called In Full Color: Finding My Place in a Black and White World.
In the book, Dolezal compares herself to a slave and writes about how she would rub mud on herself as a child to appear darker. She calls herself "unapologetically black" and insists race is a social construct with no biological origins.
Throughout the publicity tour for her book, Dolezal has been dogged by the same negative press she faced in 2015. But today, she faced the critics head-on during a Facebook Live interview with The New York Times.
During the 30 minute segment, Dolezal talked about her work braiding and weaving black women's hair and described herself as "transracial."
"I identify as racially human," she said. "I don't have a group. I'm on a little island."
But arguably the more interesting conversation happened in the comments on the Times Facebook post. Thousands of people accused Dolezal of "white privilege" and criticized the Times for giving "valuable space to a fraud." Others used humor to make fun of Dolezal's stance.
Below, some of the most passionate comments:
"

Oh yes please let the fake black lady give us advice on how we should be act and live! You can't identify as a black person you idiot!" – Robert Janosek

"This woman does not deserve to have The New York Times as a platform. She IS NOT and WILL NEVER BE black. She will NEVER understand what it means to be black. She will NEVER be a part of the black experience." – Melissa Chasse
"So are the proceeds from this memoir going to the families of Black Lives Matter victims or nah, Rachel?" – Mahalia Mouzon
"Why are you doing this? Why aren't you giving space to real PoC? This is a privileged White woman making money on the backs of Black people." – Mimi Hermann
"You can still be an ally! I'm an ally! But honey, you can't just BE BLACK." – Megan Donovan
"NYT with all the important things in the world why on earth are you streaming this? What are you, National Enquirer? Blocking this now." – Julie Quiroz
"She's delusional if she doesn't think she did harm to people. Please don't give her more attention." – Carolyn Gammicchia
"Multiple black and brown girls are missing across the nation but we're giving THIS joke of a woman attention. NYT, get it together." – Joya Laurelle
"Like white suburban boys sagging their pants & trying to act 'gangsta.' Laughable." – Joan Demarais
"Where is Sandra Bland's mom's live stream? Or Mike Brown's now that the cop admitted he lied? Or the BLM founders? This is disgusting." – Natalyia Payne
"I identify as an AH64 Apache attack helicopter, you must all recognize my rights to launch Hellfire missiles and reign terror from the skies or you are a heliophobe." – Luke Gehringer
Over 300,000 people have watched Dolezal's New York Times video so far.