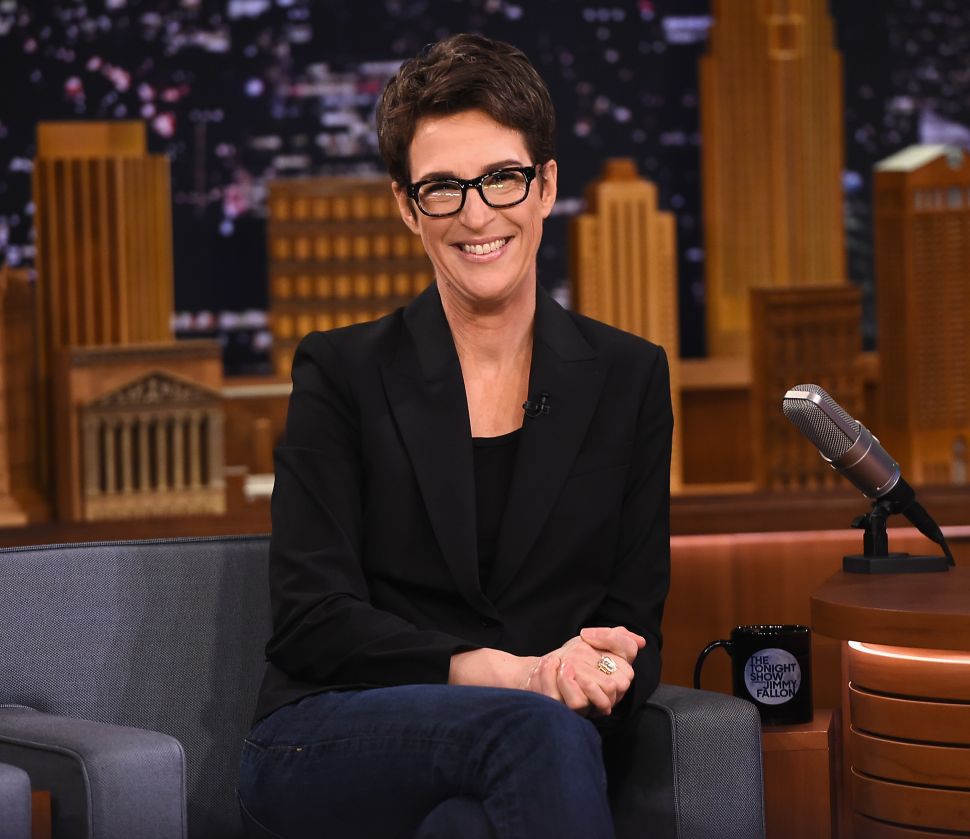 Rachel Maddow embarrassed herself and MSNBC Tuesday night when she hyped the fact that she "got Trump tax returns," only to reveal two pages from the president's 2005 1040 form. Those two pages revealed President Donald Trump had made $150 million in 2005, deducted $100 million in losses, and paid $38 million in taxes.
Not the damning evidence the Left was looking for. Instead of proving, as Democrats had alleged throughout the 2016 election, that Trump hadn't paid taxes in decades, Maddow revealed that Trump had paid taxes—and at a larger share of his income than President Barack Obama or Vermont Sen. Bernie Sanders.
So how did Maddow, whose stunt was mocked by mainstream media outlets like The Washington Post and Slate, respond to the bust? Did she apologize? Did she vow to do better?
Of course not. Because, you see, dear reader, it was not Maddow who was to blame for the episode. Nor was it the fault of her writers, producers or other staff. No: the real person to blame in all this is YOU, the viewer.
"Because I have information about the president doesn't mean that it's necessarily a scandal," Maddow told the Associated Press. "It doesn't mean that it's damning information. If other people leapt to that conclusion without me indicating that it was, that hype is external to what we did."
That's right, we weren't supposed to read anything exciting into Maddow's tweet ahead of her show that said "BREAKING: We've got Trump tax returns. Tonight, 9pm ET. MSNBC. (Seriously)."
Well excuse me for taking that to mean she had important information to share. And excuse me for assuming that information was damning, otherwise, why would a far-left pundit hype it?
Sure, we should all, at this point, assume that anyone hyping information doesn't actually have anything of value, because actual damaging news doesn't need to be hyped. But Maddow sent that tweet, and then spent the first 30 minutes of her show telling viewers that Trump's tax returns are super important and speculating about all the awful things they could reveal about the president. We're supposed to believe that's not hype or her attempting to create a scandal.
"My priority is to get the story right and put it into proper context, and explain the weight of it and why it is important," Maddow told the AP.
This would make sense if she hadn't hyped the documents to lure in viewers and then devoted so much time to talking about what we could learn from them. Maddow made the documents seem much more interesting and important than they actually were. Then it became clear the news wasn't going to help the Left's ongoing attempts to find a silver bullet that would take down Trump (Nixon had Watergate and they want to ruin Trump by… proving he's not a billionaire?), and now here's Maddow desperately trying to deflect the blame.
Now she's saying this is just the beginning, that the leak of the tax returns would happen again, and that was just as big a story as the tax returns.
"This is a super interesting first window into his finances, and the question of his finances is a legitimate scandal," she said.
She can't help herself.
She also attempted to divert attention away from her own mess and back onto Trump's finances.
"It is funny to me that a president would spend this much energy and political capital to keep secret his finances and his taxes specifically and simultaneously would want to brag about how much money he made," she told the AP. "If that's really what he wants the story to be, he can release all of his taxes and we can all glory in his immense wealth."
It might be a while before people are willing to accept information about Trump's taxes, given Maddow's over-hype. Maybe next time she or her network will just present the information instead of trying to psych people up for something that turns out to be not as damaging as they would like viewers to believe.