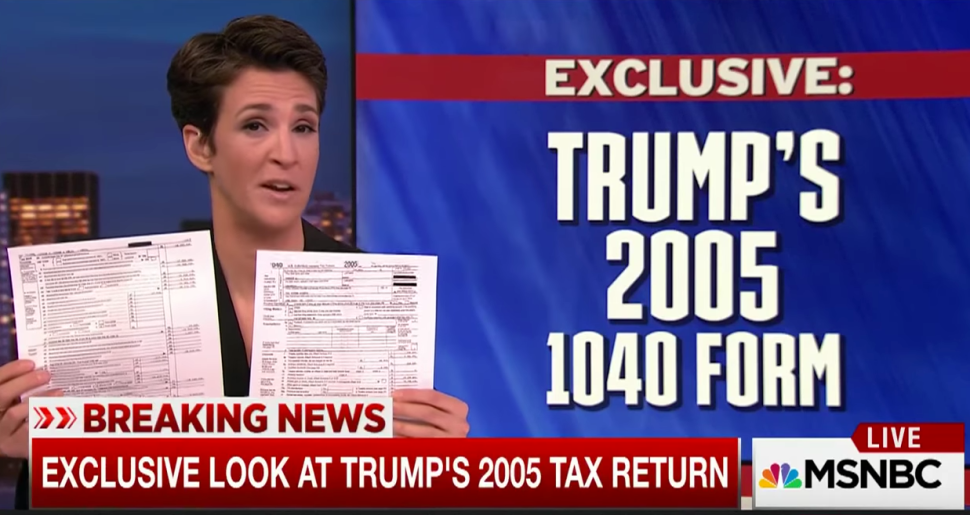 On March 14, MSNBC's Rachel Maddow sensationalized an exclusive story on President Donald Trump's tax returns, enticing viewers with the promise that the scandal surrounding Trump's refusal to release his tax returns would be answered. Instead, viewers were let down. Maddow shamelessly advertised the "breaking story," complete with sensational tweets and a countdown clock. But the tax returns turned out to be a single tax return from 2005. They revealed that—in 2005 at least—Trump paid a 24 percent tax rate on $152.7 million of income. The non-story incited speculation that Trump released the tax returns to Maddow himself, and Maddow, a shameless mainstream media establishment sycophant, was more than willing to dupe her viewers and countless others into watching her show. In all, the charade embarrassingly revealed a lack of integrity on Maddow's part.
During the 2016 presidential election and in the post election analysis, Maddow, who makes $30,000 a day, has cemented herself as a leading establishment spokesperson for DNC propaganda. She has repeatedly lent credence to the various scapegoats Democrats have used to excuse Hillary Clinton's overt failures as a presidential candidate.
During the 2016 Democratic primaries, Maddow interviewed former DNC Chair Debbie Wasserman Schultz after the Nevada Democratic Party Convention, giving Wasserman Schultz a platform to propagate the now debunked myth that Sen. Bernie Sanders' supporters were throwing chairs. Despite the ethics concerns that should arise from premiering advertisements from Clinton Super PACs on her show, Maddow did so anyway throughout the primaries and even interviewed the director of one of the ads. Maddow also premiered Sen. Elizabeth Warren's formal endorsement of Clinton. The endorsement was a final slight toward Sanders' supporters who were frustrated over Warren sitting on the fence during the primaries, which were ultimately tipped in Clinton's favor by the DNC, mainstream media and Democratic establishment.
Shortly after the election results came through, Maddow tweeted that third party candidates were the reason Clinton lost the election. In truth, the problem with Clinton's candidacy was the Democratic establishment anointing a presidential candidate who couldn't even beat the candidate that she strategized to elevate to provide herself with a weak opponent for the general election. Maddow and her network were part of the network of corporate media outlets that provided Trump with nearly $2 billion in free media coverage. Yet, Maddow offered no accountability for her and her network's role in the election outcome. Instead, she focused on blaming those who didn't fall in line behind Clinton. Maddow skewed statistics and made baseless assumptions to make it appear as though Green Party Candidate Jill Stein and Libertarian Candidate Gary Johnson stole votes from Clinton. Maddow omitted the thousands of voters in Florida, Pennsylvania, Wisconsin, and Michigan that voted for former President Barack Obama in 2008 and 2012 but didn't vote for Clinton in 2016—or the millions of people who didn't bother to vote at all in 2016.
Before Obama left office, CNN reported that he deployed thousands of troops to supplement NATO forces in Poland as a sign of force toward Russia. This was the largest deployment of U.S. troops on the Russia border since the Cold War. Rachel Maddow, a leading propagator of the neo-McCarthyist, anti-Russia narrative, admitted that she and other mainstream media reporters would sensationalize the Russia narrative if Trump drew the troops back from Russia's border. "And here's the question: Is the new president gonna take those troops out? After all the speculation, after all the worry, we are actually about to find out if Russia maybe has something on the new president? We're about to find out if the new president of our country is going to do what Russia wants once he's commander-in-chief of the U.S. military starting noon on Friday. What is he gonna do with those deployments? Watch this space," said Maddow, speculating with very little evidence. Maddow's war-mongering assumption still hasn't come true, in which she inferred that if Trump de-escalated a military threat between two super powers, it would somehow prove that the unverifiable Trump dossier is true. When NBC News' Richard Engel debunked the allegations from the dossier during an interview with Maddow—citing that he has tried to prove its claims for over a year—she ignored it.
Maddow's "breaking news story" on Trump's tax returns was a bust. She willingly exploited them for an easy ratings boost, despite knowing it would benefit Trump by undermining criticisms that he hasn't released his tax returns. The debacle demonstrated the what kind of journalist Maddow is and what the establishment media is focused on. For them, facts, truth and establishing trust with their audience don't matter; only the profit motive does as they serve as puppets for the elitist status quo.