Raf Simons is unabashedly particular about his work. That was evident in Dior and I, the 2014 documentary when he was portrayed going back and forth with the employees of the brand about what he expected from them, regardless of how they typically worked. It was also evident on Wednesday night at the National Academy of Design where the Belgian's latest collection with Kvadrat, the Denmark-based textile company, was presented.
"[Raf] has very clear ideas," Njusja de Gier, Kvadrat's VP of branding and communication told the Observer over drinks during the presentation. "We had a different set up, we had our own ideas, but yesterday he came in and he had his own ideas. We were carrying around furniture for 10 hours just to rearrange everything again," she laughed.
"That's always how it is with him," she continued. "I've been doing this for four years with him and I know I always have to have a team of people ready to change everything." And it's true. Over the past six years (the last four of which have resulted in product releases), Simons and Kvadrat have worked together developing upholstery fabrics inspired by music, contemporary art and modernist furniture. And now, even though he's installed at Calvin Klein, the 49-year-old continues that work.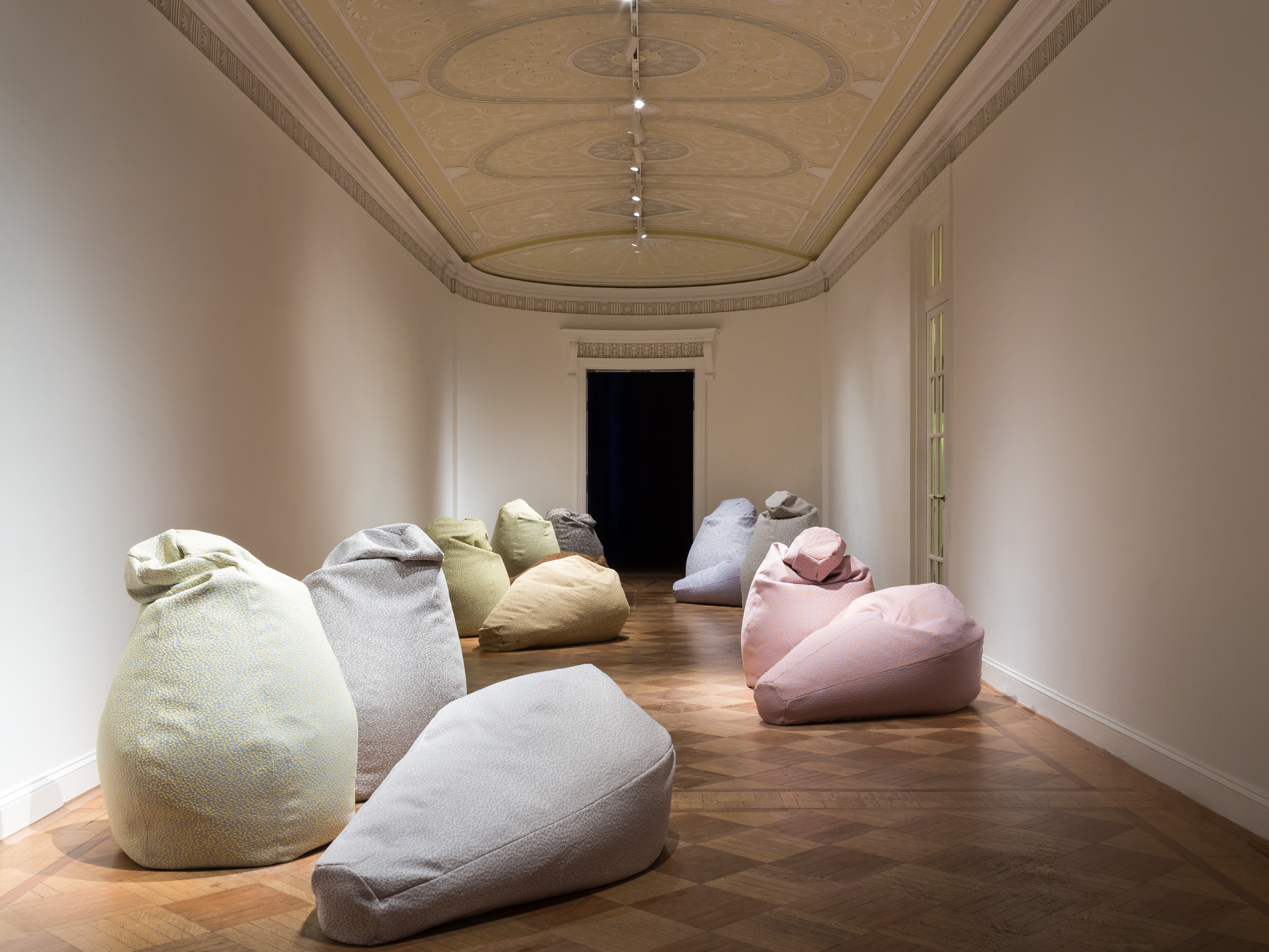 Simons left Christian Dior in October 2015, citing the relentless pace of fashion, but it wasn't the first gig he had ditched because of speed. In fact, he originally transitioned into fashion because he found the pace of industrial design to be quite sluggish. But, after joining forces with Kvadrat—frequent Simons collaborator Peter Saville connected the two, following the designer's use of Kvadrat textiles in the Fall 2011 Jil Sander collection—the designer has come to appreciate the slower clip. For Kvadrat though, Simons brings a new point of view.
"We have always been working with furniture but he brings this fashion aspect," de Gier explained. For Kvadrat, Simons came on board at a time when the brand was looking to fill a space left open by the then recent passing of Swedish textile designer, Fanny Aronsen, who they had been working with. Simons furniture designs for the company incorporate a play on colors, but it's also a space where he can translate his fashion collections into both hardware and furniture. However, that inspiration process goes both ways.
The presentation also doubled as a gallery of the textiles Simons has created for the company. In that selection, de Gier pointed out that some of the creations were inspired by fabrics Simons had worked with at Jil Sander while others were made for and incorporated into the designer's other collections. Most notably, many of the looks for the designer's Fall 2014 (created in collab with Sterling Ruby) and 2015 namesake collections included fabric made as a part of the Kvadrat link-up. Even his final collection for Dior incorporated the textiles.
Launching on April 1, the latest component of the partnership features one weave, offered in 15 different colorways. "Raf is a big art lover so this is based on pointillism," de Gier explained. "When you go back to the 10th century, that's what this is around. You can really see it in the colors." And while some of the color combinations involved the soft feeling of a Georges Seurat-like work, others seemed to evoke more of a Sterling Ruby vibe, with a splatter paint pattern. 
For the preview, Simons created a site-specific installation featuring the designs of some of his favorite mid century modern furniture designs rendered in his fabrics. Of the highlights was a Vladimir Kagan cloud sofa rendered in a bold red. The collaboration also includes a home-accessories range including cushions, throws and blankets in wool, cashmere and mohair, undoubtedly more accessible than the high end furniture that the designer's upholstery will be incorporated into.