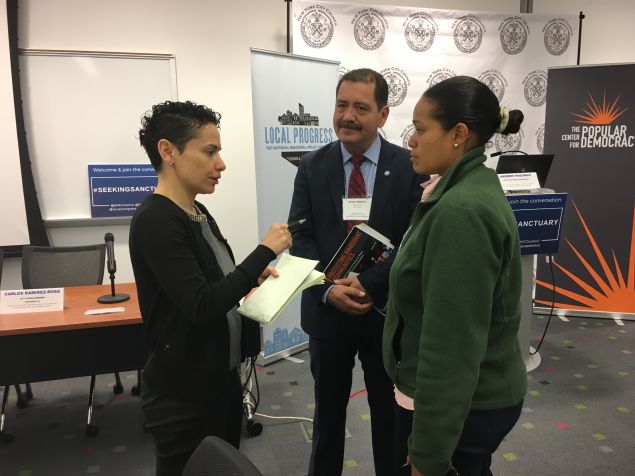 Cook County Commissioner Jesús "Chuy" Garcia—who unsuccessfully sought to unseat Chicago Mayor Rahm Emanuel in 2015—asserted to the Observer that the former White House aide's insistence on maintaining the Windy City's "sanctuary" status was merely part of a "political calculus," and pointed to his history of opposing immigration reform.
Emanuel, like his fellow Democrat Mayor Bill de Blasio, has maintained that his police department will not cooperate with Immigration and Customs Enforcement except in rare circumstances—even after U.S. Attorney General Jeff Sessions announced yesterday that such compliance will be a prerequisite for receiving future Department of Justice grants. Garcia, who ran two years ago as a left-wing alternative to the centrist Emanuel, recalled that the mayor had supported "hardened" and "very punitive laws" on those who enter the country illegally during his time as a top staffer to President Bill Clinton.
The county commissioner also pointed to reports that Emanuel discouraged former President Barack Obama from pursuing a generous immigration reform package while he served as White House chief of staff.
"People recall that he cautioned the president against moving an immigration, comprehensive immigration reform, calling it the 'third rail of politics,'" Garcia said after moderating a panel at the second day of City Council Speaker Melissa Mark-Viverito's sanctuary city convention.
The Chicago pol indicated that Emanuel's move is likely part of a bid to secure a third term—particularly through winning the Hispanic vote.
"There's probably a political calculus that if he is—if he seeks reelection in 2019, he will need Latino votes and that is quite a challenge as the election season gets reared in terms of 2019," Garcia said. "We're glad that he has come down on the side of immigrants with respect to some of the challenges immigrants are facing from this administration."
Garcia has already indicated that he's mulling another run for mayor in 2019, and he confirmed today he was still weighing the possibility. In 2015, Garcia captured more than a third of the vote, depriving Emanuel of the 50 percent needed to avoid a runoff.
The incumbent topped his liberal opponent by 11 points in the second round of balloting.
"I haven't ruled it out but I haven't ruled it in, either. I am taking a serious look at 2019 and the prospects for bringing more progressive change in the city of Chicago," Garcia said, recalling his hasty entrance to the last race at the recommendation of teachers union leader Karen Lewis. "It's still a bit far away. I'll tell you one thing: we'll have more than three weeks to get ready for that run should we choose to enter the frame."
Emanuel's communications director did not immediately respond to a request for comment.