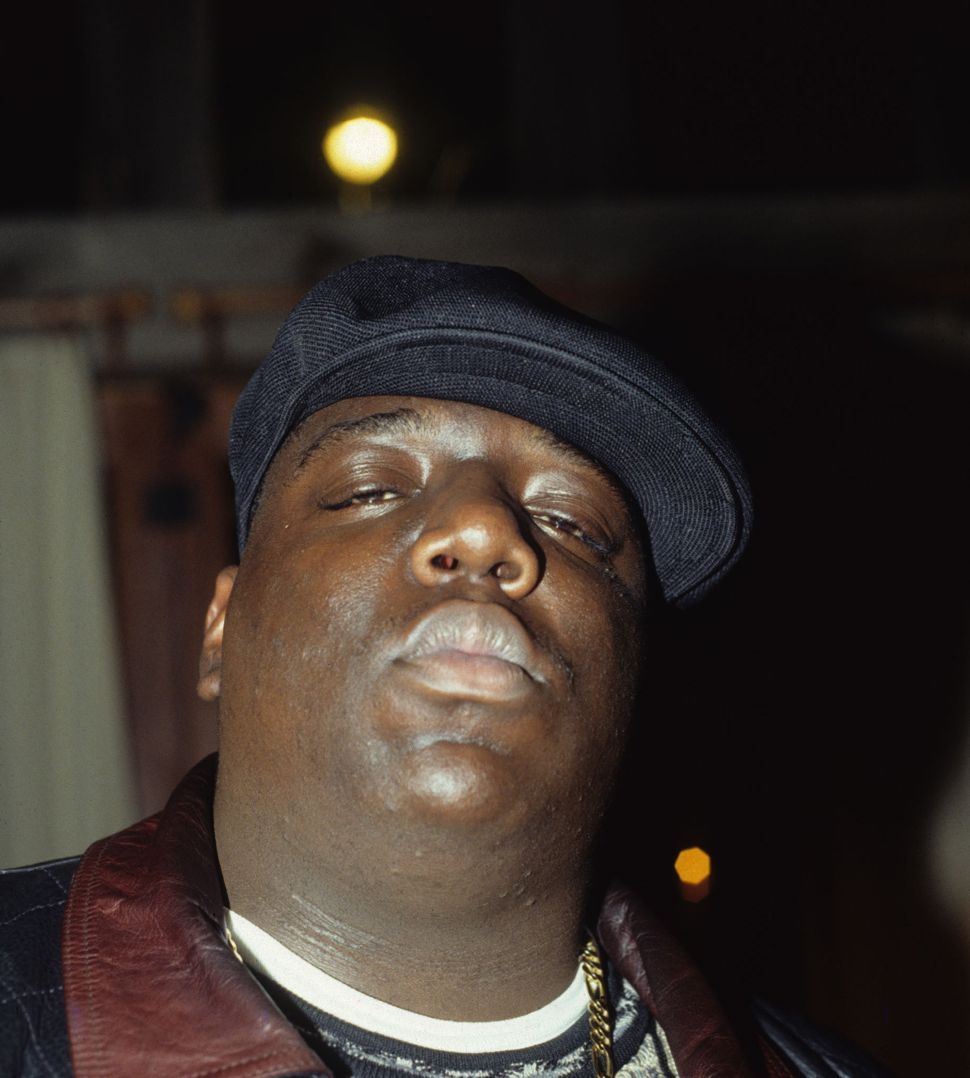 When talking about hip-hop's biggest flashes in the pan, Canibus' name is near the top of the list. A one-time protégé of Wyclef Jean, the Kingston, Jamaica-born MC made a name for himself in the late '90s by picking a fight with LL Cool J and getting his ass handed to him in a rap battle. Canibus' career may be lost to rap obscurity, but he did offer one universal truth in "Second Round KO," his attack rap aimed at LL Cool J: "the greatest rapper alive died on March 9."
Twenty years ago today, Brooklyn rapper Notorious B.I.G. was shot to death in Los Angeles. The victim of one of the most infamous unsolved murders in rap, two decades later, it doesn't get any easier accepting a loss this senseless which claimed the life of the man lovingly known as Biggie Smalls (named after Bahamian actor Calvin Lockheart's character in the 1975 film Let's Do It Again).
Even in a genre riddled with cold case murders of some of its most respected pioneers—Boogie Down Productions' Scott La Rock, Big L from the DITC crew, Jam Master Jay of Run DMC, and, of course, Tupac Shakur, whose assassination on September 13, 1996 many see as the catalyst for the killing of the man born Christopher Wallace—the death of Biggie, and his legend, still cast a shadow over all of modern rap today.
His infamous swagger and masterful grasp of the rhythm of language have transformed him into a pop culture icon in a way that's transcended the misogyny and violence that oftentimes salted his sound. These days, Biggie's spoken of in the same light as such beloved big men in pop as Barry White, Charles Mingus and Clarence Clemons, a larger-than-life figure with a personality that eschews any language and lifestyle foibles he experienced here on Earth.
So large is his legend that you can't help but imagine how the hip-hop landscape might look today had Biggie not gotten into that Chevy Suburban the night of March 9, 1997 (a truck that is now being sold online for $1.5 million, according to The Daily Beast).
Like Kurt Cobain before him, Biggie left a scant catalog of music in his wake that only scratched the surface of his capabilities as a performer. His sole pair of proper LPs, Ready to Die and Life After Death, are both essential listens for any hip-hop fan who appreciates the soul of the art form. But the man had so much more to offer this world. Nothing personifies that more than the portrait of Biggie hanging on the wall of Cottonmouth's office at Harlem's Paradise on the Netflix Marvel series Luke Cage. (The image came from a session Wallace did with photographer Barron Clairborne for Mass Appeal three days before his murder.)
"There are images of black people, rappers or not, that you don't see in American culture. You rarely seem them as regal," Clairborne told the magazine for its series "Contact High: The Stories Behind Hip Hop's Most Iconic Photographs." "When you see something different, you embrace it. The image is very stripped down, you only see his face. The fact that he died made the symbolism stronger. He had to die for this image to have that symbolism. The king sacrificed."
What we see in that photograph of Biggie, his face all business, the golden crown tipping off the top of his head, is the undisputed King of Brooklyn hip-hop looking ready to conquer the world. There isn't a hint of worry about his upcoming trip to Los Angeles for fear of retaliation for Shakur's killing, an event that, as actor Jamal Woolard so poignantly portrayed in the 2009 film Notorious, broke his heart.
If only he hadn't gotten in that car. It would have been so amazing to see how Wallace could have evolved as the trends of hip-hop and R&B progressed in the years following his murder.
Would Jay-Z be as relevant as he is now? Would Puff Daddy not have fallen off the way he has? Would Biggie have linked up with Kanye? Would he have made a record with Rick Rubin? Would he have gone the Ice Cube/Snoop Dogg route and become the most loveable dad in rap? Would Biggie and Faith Evans have made an actual duets album like the one his widow is releasing posthumously sometime this year?
Just like another great voice who was taken from us far too young in 1997 (fellow New York great Jeff Buckley), the death of Notorious B.I.G. hurts even more not just because it didn't have to happen—he was killed at the precise moment his career was beginning to take off into the stratosphere.
If there's one aspect of Notorious B.I.G.'s legend that's fallen through the cracks more than any other these last 20 years, though, it was his titanic fortitude as a team player in rap. Put Wallace in the studio with any knucklehead with a record deal, and you are guaranteed a classic track—even if the other rappers on the cut all suck, a scenario that happened more than once to Biggie during his cameo mercenary days.
In 1995, early Biggie supporter and renowned DJ Mister Cee put together one of the most famous mixtapes to ever circulate on the black market when he dropped The Best of Biggie, which collected the majority of the songs he did in collaboration with other artists. The Best of Biggie is an essential anthology of rarities that continues to be cited as the yardstick any mixtape is measured against today.
When I was asked to pay homage to Biggie in commemoration of this tragic anniversary, I didn't think twice about breaking out that CD copy of The Best of Biggie my friend Aaron burned for me over 10 years ago. It remains such a great listen despite its wavering fidelity, and a document that captures what neither Ready to Die nor Life After Death could with all their studio polish—the pure, uncut essence of the Notorious B.I.G. in all of its gritty realness.
The best we can do to pay our respects to Christopher Wallace is listen to the incredible songs he created. Keep smiling down on us, Mr. Wallace. We miss you dearly.
10) "Flava In Ya Ear (Remix)," Craig Mack
[youtube https://www.youtube.com/watch?v=PMbELEUfmIA&w=560&h=315]
Back in the day you knew you were rolling your eyes at this song when you first heard Puffy and his corny shout-out to The Warriors. But as quick as you scoffed, the combination of Easy Mo Bee's dopest beat and Biggie's voice dropped perfectly in unison as he introduced the opening verse—"Niggas is mad I get more butt than ashtrays/Fuck a fair one, I get mine the fast way."
In an interview with Neneh Cherry for BLURT, she told me that Biggie didn't take kindly to Busta Rhymes when they ran into him in the studio upon recording the remix to her song "Buddy X."
"When he left, Biggie went, 'Ooh, I don't like him—he's too touchy, man,' " she remembered. Yet that didn't stop Wallace from joining the tactile Dungeon Dragon, Rampage and LL Cool J in spicing up the remix for the only track Craig Mack will ever be known for, but what a song it is.
9) "Real Love Remix," Mary J Blige
[youtube https://www.youtube.com/watch?v=EvpbGIZt-7s&w=560&h=315]
When Mary J. Blige hit the airwaves with "Real Love" in the summer of 1992, it was like hearing Aretha Franklin singing over Boot Camp Clik beats, an amazing hybrid that served as a high point of the hip-hop soul era. But when you add a young Biggie to the mix as Stetsasonic's Daddy-O did on his more rugged rendition of the Audio Two groove featured on 1993's What's The 411? Remix, hip-hop's Teflon Don played the perfect foil to Blige's search for true romance in a hoodlum's world.
8) "Come On," The Notorious B.I.G. featuring Sadat X
[youtube https://www.youtube.com/watch?v=8W3YFDEJsDk&w=560&h=315]
Brand Nubian remains the single most underrated hip-hop group there is; they are rap music's Big Star, a group with so much innovative talent yet so overlooked by a commercial market who would've greatly benefitted from their inclusion in the mainstream.
Sadat X was the group's Alex Chilton, possessing a mercurial wit, razor sharp tongue and impeccable ear for melody that yielded some of the best moments on such Brand Nubian classics as All For One. While his solo debut didn't appear until 1996 with the release of Wild Cowboys, this Lord Finesse-produced white label was a promising precursor and features the studio version of that immortal verse Biggie dropped at that Madison Square Garden concert in 1995 with 2Pac, Big Daddy Kane, Shyheim and Big Scoob.
You know how this one goes:
"When I throw my clip in the AK, I slay from far away / Everybody hit the D-E-C-K / My slow flows remarkable, peace to Matteo/ Now we smoke weed like Tony Montana sniff the yayo / That's crazy blunts, mad L's / My voice excels from the avenue to jail cells / Oh my God I'm dropping shit like a pigeon / I hope you're listening, smacking babies at they christening."
7)  "Think Big," Pudgee, Biggie and Lord Tariq
[youtube https://www.youtube.com/watch?v=tstU-xtWwcw&w=560&h=315]
There might not have been a more unfortunate stage name in hip-hop history than Pudgee (Tha Phat Bastard), an otherwise capable MC from the Bronx who didn't rise as far as he could. But the one thing that keeps him in conversation in 2017 is his association with Biggie, who blessed the Phat Bastard's otherwise pedestrian rap stylings with an opening verse that still serves as the most valuable one minute and eight seconds of acetate in the careers of both Pudgee and Lord Tariq combined.
Kicking off the cut like "Big Poppa throwin' niggas off of cliffs, smokin' spliffs/Disappear with my bitch in a Mitsubishi Eclipse," 20 years later, Pusha T would repurpose a line from Biggie's verse on this song for the chorus of his own street banger "Untouchable," keeping the dream of getting blunted in the 600 alive and well in the 21st century.
6) "The What," The Notorious B.I.G. featuring Method Man
[youtube https://www.youtube.com/watch?v=F_Z_B7UQ5bU&w=560&h=315]
If I could only tell you how many blunts were rolled as this song served as the soundtrack, you'd think we were a bunch of old Cubans in Miami. But that's what the combination of Meth, Biggie and that Easy Mo Bee's Leroy Hutson-kissed funk roll called for. And sitting there on my boy's couch with that owl sparked as the chorus comes in—"Fuck the world, don't ask me for shit. Everything ya get you got to work hard for it"—it was pure gutter gospel for a gang of upstate bumpkins bumping rap music like we were living in Bed-Stuy.
5) "A Buncha Niggas," Heavy D and the Boyz 
[youtube https://www.youtube.com/watch?v=lKV3GpSd5kE&w=560&h=315]
There's simply not enough credit paid to the late, great Heavy D about his role in the career of the Notorious B.I.G., and just how well the heavyweight combo worked together on the mic.
This outstanding posse cut off the Heavy One's 1992 masterpiece Blue Funk was Big's official debut on a commercial rap record. Out of the gate Biggie's stood toe to toe with such established players as Gang Starr's GURU, Busta Rhymes and the massively underrated Rob-O of the Pete Rock-affiliated group InI, quick to grab that brass ring with lines like "I bring drama like ya spit on my momma/Cannibalistic, like that nigga Jeffrey Dahmer."
4)  "Let's Get It On," Eddie F. and the Untouchables featuring The Notorious B.I.G., 2Pac, Heavy D., Grand Puba and Spunk Bigga 
[youtube https://www.youtube.com/watch?v=iff2uWAhans&w=560&h=315]
People seem to forget there was a time when 2Pac and The Notorious B.I.G. were actually friends before the beef that claimed both their lives came to define their relationship.
This deep track from '90s super-producer Eddie F. offers an incredibly rare glimpse into the magic of the creative union between Pac and Biggie, if only for a moment. The duo blaze up an inferno of verbiage alongside the likes of Heavy and Grand Puba on this killer crew cut. Like most "Various Artists" rap albums from the era, the title track to Eddie F. and the Untouchables: Let's Get It On is a hidden gem mired in lackluster opportunism.
Yet deep in the mix exists not just one of the only known team-ups between Tupac and Biggie, but a verse from Wallace that eerily foreshadows the dangers that lay ahead for him once the beef between himself and Tupac really started to get heated: "When you throw the drop check 'em thoroughly/The bastard might spin around and try to bury me."
3)  "Buddy X (Remix)," Neneh Cherry 
[youtube https://www.youtube.com/watch?v=LQsWMUe4VX4&w=560&h=315]
When I spoke with alt-R&B icon Neneh Cherry a few years back, she was more than happy to share a story of the time she worked with The Notorious B.I.G. on a remix of her Lenny Kravitz-bashing single "Buddy X."
"Me and Booga Bear were living in Fort Greene at the time, and we went to pick up Biggie in Bed-Stuy to take him to the studio," she recalls. "He was standing on the stoop, and got into our Volvo and rolled a big blunt. I remember we were playing some of the demos of the second Massive Attack album for him and he was freestyling to them in the car."
But once they got to the studio, Biggie set fire to this highlight from Cherry's seminal second album Homebrew, offering a perspective that somehow turns the tables on the singer's blame game: "Some honeys say I'm lovely, but Neneh says I'm wicked/Look at you, you ain't no better/Walking around in your tight sweater, your long leather/No time for the B.IG., so I'm O.U.T."
2) "4 My Peeps," Red Hot Lover Tone feat. Biggie, MOP and Prince Po of Organized Konfusion 
[youtube https://www.youtube.com/watch?v=DdV9IOtkrHE&w=560&h=315]
When it came to '90s hip-hop, there wasn't a more viable team in rap than the Trackmasters. The men partially responsible for the R&B-ification of rap music during the Clinton years produced certified hits like Biggie's "Juicy," "If I Ruled The World" by Nas and Will Smith's "Men In Black," not to mention LL Cool J's new jack swing power move "Hey Lover" off his 1996 LP Mr. Smith.
Trackmaster Tone fancied himself a rapper himself. And while he was barely a threat to the many MCs he built beats for, he utilized his rolodex of big names to his advantage, like the time he brought together Biggie, M.O.P. and Prince Poetry of Organized Konfusion together for this cut off his otherwise forgettable second LP, 1995's #1 Player.
Why Po's partner Pharoahe Monch wasn't in the mix on this track remains a mystery to this day, but to hear Biggie's "black bastard from Bedrock" segue into the Prince's "Universal Solider of hip-hop" on the second and third verses of "4 My Peeps" is one of the game's most rewarding Easter eggs.
1) "Cunt Renaissance," Crustified Dibbs featuring Notorious B.I.G.
[youtube https://www.youtube.com/watch?v=BHR5T96F_6c&w=560&h=315]
I cannot fathom how a song like this unlikely one-off collab between a young R.A. The Rugged Man back in his Crustified Dibbs days and Biggie Smalls, spawned from a scrapped session with Akinyele, could ever be recorded in 2017. The think pieces and Twitter outrage would be never-ending.
However, for better or worse, "Cunt Renaissance" exists and you should be ashamed of yourself for getting so amped about hearing R.A. and the B.I.G. out-gross each other in the most verbose way possible (with lyrics I'll get heat for even mentioning).
"If I did a commercial record like 'Juicy,' it would have been a song like Biggie did with Da Brat or one of those forgotten-ass Biggie songs that made it on the radio for two months," R.A. explains in an interview featured on the bonus DVD of his 2010 collection Underground Classics, Vol. 1. "But 'Cunt Renaissance' is disgusting. It's a fuckin' nightmare to music, like who would have made such an ugly-ass record? Well, it's a cult classic now, and I'm proud of it."