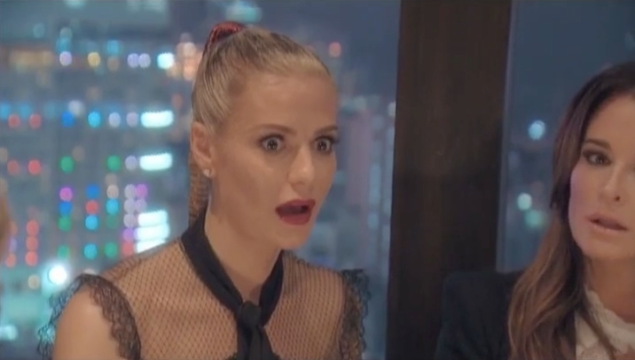 On the boat in Hong Kong and resuming last week's drama, Erika says Dorit is always asking for her validation. "You're dying for my attention and now you have it," she spits. Dorit is incredulous, and tells Erika she's delusional and "not that interesting, not fucking fun" and "cold as ice." Finally, Erika lets loose with what her problem has really been all these months: "Do you really think I'm gonna like you after everything that happened with the underwear?" 
So much for being "over it," Erika. I wish Erika Girardi would take a cue from her alter ego Erika Jayne and speak her mind – without letting months' worth of resentment and anger build to a boil.
Dorit shouldn't try to bring all the details of Pantygate back up. Unfortunately, she does.
Dorit says she's so sorry if she hurt Erika. "Well, Dorit, that hurt my feelings!" Erika snaps. They then have a debate about whether Erika has feelings at all.
Lisa Rinna stirs the pot, asking Dorit why she's not apologizing that PK was staring at Erika's vagina. Dorit says any man would be looking if a girl's genitals are on display. Eileen says in interview that HER husband would never look. You keep believing that, lady.
"I'm sorry that these girls made it very, very big in your head," Dorit says to Erika. Rinna and Eileen lose it. Rinna jumps up and leaps at Dorit. "We did not make it very big, my friend! YOU made it very big, my friend!" Is she on drugs? I'm not kidding. Sit down and STFU, Rinna.
Dorit tells Rinna not to get in her face. "I'll get in your face as much as I want!" Rinna says. She gives Dorit the finger and says, "Fuck off." Dorit comments that Rinna is "real class." Astonishingly, Rinna lectures Dorit on "taking responsibility."
Dorit tells Erika she wasn't trying to make her look bad, defame her character, or hurt her feelings. What a great opportunity for Erika to be gracious and end this. Instead, she replies, "Well, you did all three, but thanks." That's helpful.
Erika has had enough. She walks down to the lower deck of the boat. She says in her interview that "Anyone who knows me knows that I'm not icy." Wait, didn't we just spend all season establishing that you are? She says Dorit was "absolutely out to humiliate me." Maybe so, but it's up to you how to handle that. Dare I suggest this was not the best way?
Erika is crying. Lisa Vanderpump, Kyle and everyone but Dorit is trying to comfort her. She tells Eileen, "Don't hug me." Not icy! Eileen hugs her anyway. 
Erika rides back to the hotel with Eden, Eileen and Rinna. She says she didn't like yelling like that but it's hard to be portrayed as something she's not. Rinna pipes up about how wrong it was of Dorit to do that to her. Has she already forgotten what she did to Kim Richards? Rinna is very proud of how she behaved on the boat. "I just got in her face and flipped her off," she cackles. Eileen laughs along with her. This is so gross. 
Dorit tells LVP and Kyle that she thinks the endless praise Erika gets from her hired glam squad/paid friends has gone to her head. Oh, snap. Erika's friend Kyle doesn't seem to have anything to say about that. LVP says it's a shame Erika wasn't honest about her feelings about the issue all this time. Yup.
Back at the hotel, Eden, Rinna, Eileen and Erika are hanging out. Eileen moves over the sofa to cuddle Erika, telling her she loves her. "I love you, too," Erika says. "I really do," Eileen replies. Is this legit? These women barely know each other.
The next morning, Dorit calls PK and tells him what happened on the boat. She refers to Erika as "diluted" but I think she meant deluded.
The ladies meet up in the hotel restaurant for coffee before heading out on a day trip to see a huge statue of the Buddha. Things are unsurprisingly frosty between Erika and Dorit. They all set out, and we're treated to a 20 minute tourism scene that should have been two minutes max. The best part is seeing them all get rained on in designer outfits, heels, and six pounds of TV makeup. 
Prepping for dinner, Erika is talking to her three-person glam squad about the drama. Dorit is talking to her one-person glam squad about the drama. Friends on the payroll rarely ends well, ladies. 
At the restaurant, they have epic views of Hong Kong and everyone is on their phones taking pictures. Things are quiet when the food comes, until Eden says, "I feel like there's an elephant at the table." Yeah, it's called Lisa Rinna's enormous capacity for cray-cray.
Case in point: Rinna immediately turns to Dorit and says, "Well, did you apologize to Erika about what happened…?" LVP says that's between Dorit and Erika. Erika pouts and says, "No, she hasn't apologized." LVP tries to get everyone to move on, but Erika accuses her of trying to minimize her feelings. LVP says, "I'm not trying to minimize your feelings. I'm trying to minimize its importance to you." Yes. LET THIS GO.
Eileen pokes at Dorit, who rightly points out that Erika had claimed to be okay with things for months. "What am I supposed to do at that point?" Dorit asks. Read Erika's mind, DUH. 
But Erika leans over from the other end of the table and says, "Shut your mouth. That's what you're supposed to do – drop it and not talk about it and not make it a big deal. Like I would have done for you. Common fucking courtesy. I would have said, 'You know what, maybe I don't know,' and I would have brought it to you privately. But you chose to make it a big deal. [PK] chose to make it a big deal." Rinna is nodding and smiling with a smug look on her face. Erika says PK and Dorit suggested, "she must really want to do it." As in sleep with PK? As much as I detested Pantygate, I don't think they ever made that accusation. Dorit says she doesn't remember that at all. RINNA of all people has the nerve to butt in and tell Dorit she can't get away with claiming she doesn't remember. RINNA!!!
"Let me ask you a question," Rinna says to Dorit. "Do you trust your husband?" THIS BITCH.
Dorit isn't the only one who's horrified. Kyle asks Rinna how she could say something like that. Rinna says that if Dorit trusted her husband, she "wouldn't feel so threatened by Erika." Kyle says it's not right to talk about someone's husband like that. Erika says Kyle should be just as upset that anyone would talk about someone's wife like that. Except that the wife signed up for a notoriously messy reality show, not the husband. "Why are we giving all this deference to PK and none to me?" Erika shrieks. "You're worried about her marriage?! What about MY marriage?!" OMG. Kyle says, "Keep everyone's husbands out of it." 
Rinna says she wants to know what was really going on the night of the party where Erika supposedly flashed PK. Erika says what was really going on was Dorit and PK making her out to be a slut, whore, or someone who'd try to seduce another woman's husband. "And I have to live with that."
Dorit tells her nobody was trying to make her out to be any of those things. "But you did," Erika says. She elaborates, saying it sucks that she has to explain all of this to other people – like her husband. In her interview, Erika says people love rumors and they would rather believe BS than the truth. She tells LVP she shouldn't have to explain anything to Tom. Maybe Erika isn't cut out for reality TV, then. It's not about "should" and "should not" – it's about dramatic conflict between rich women. Rinna continues to nod self-righteously, looking like the cat who got the cream. 
"It's a bunch of bullshit!" Erika croaks, and she's crying again. Dorit stops everything. "Erika, I need to say something to you. Because I didn't know all this, and I feel very bad. And particularly about what you just said right now about your husband. Because that…I didn't…" Dorit isn't the most articulate person, and Erika jumps down her throat for it. "Oh, NOW you thought about it?" She tells Dorit she can apologize to Tom, "and then I'll be square with you." Dorit says, without hesitation, that she will do that. "And then your husband can apologize to him, too," Erika replies. Talk about moving the goal posts! 
Dorit says she doesn't run PK and isn't going to order him to do anything. "I would do that to my husband!" Rinna says. Erika says she would, too. Are these women lying or living in an alternate reality?
Dorit is trying to talk to Erika but Rinna keeps butting in. "Dorit! She's in pain! Dorit! Dorit! Dorit!" It's unbelievable. "Dorit, do you see that she's hurting??" Rinna is yelling. "Connect to her!" she orders. Dorit begs her to let them talk, but Rinna keeps screaming, "Dorit! Dorit!" They are in an upscale restaurant in Hong Kong and Rinna is shouting at Dorit to "try to fucking listen!" Dorit's assessment of Rinna's lack of class was spot-on. Rinna snarls at Dorit, "Listen with your heart!" What the hell? LVP tells Rinna to stop. 
"This sucks!" Erika says, almost in tears again. "Erika, I am EXTREMELY sorry if I hurt your feelings. It was never intended to hurt your feelings. I swear on my mother's life." Hmm, not a fan of the "Sorry if" non-apologies. But I think Dorit is sincere. "It's really not a big deal," she adds. Oh gosh. It's true, but why'd you have to say that, Dorit? Erika objects and says Dorit and PK made it a big deal. 
This is where things go downhill fast. Eileen interjects and says she doesn't think Dorit was trying to be malicious. "Eileen, I love you," Erika says in an admonishing tone. "I don't think she's evil," Eileen continues. She points out that Dorit has said she is sorry, and asks Erika what else she can say or do. "She didn't kill your child," Erika says, attempting to put things in perspective and choosing the very worst possible metaphor for doing so. 
Erika has an absolute meltdown. This is very difficult to watch.
Erika's son is a police officer whose life is very much at risk, she points out. Eileen is very contrite, but Erika keeps going for her. "Eileen, your kid doesn't put on a uniform every night and put his life on the line for people he doesn't know." Eileen continues to apologize. "Don't ever talk about my kid again," Erika snarls. Then she lets fly with a scarily intense order: "SHUT. THE FUCK. UP."
Of course, Rinna jumps up and attaches herself to Erika's side. Erika continues berating Eileen at length, including telling her, "Fuck you for that!" 
Everyone is aghast at Erika's reaction. "It's like someone's taken over Erika's body," Kyle says in her interview. 
Erika is breathing heavily and crying. Eileen is apologizing over and over. Erika keeps up her attack, turning on the entire group. "I'm not going to take that shit from any of you!" Eileen is crying. "Don't ever fucking criticize that!" Erika says of her son's job, pounding the table. 
Poor Eileen seems to have all the wrong instincts in situations like this. "You know what," she says to the ladies. "I'm going to take a minute to honor her son." Erika tells her no, please don't. "My family's not looking for that." She says she doesn't talk about it to them even though she could. Eileen says, "You know I have the utmost respect for him." Suddenly, Erika wants to act like everything is fine. "Cool," she shrugs. Eileen is still in tears. 
What the hell just happened?
This is Rinna's last night, and she hasn't caused nearly enough trouble yet. She says she has "one more question" for Dorit. This ought to be good.
"What I wanna know is, when I was at your dinner, you all got up and left. Everyone said, 'Dorit, you need to get touched up,' and you all left at the table. Why? Do you know why?" Dorit looks puzzled as she tries to recall a dinner that happened months ago. Kyle asks Rinna what she's getting at. "Have you ever been at a dinner party and the entire table gets up?" Rinna asks her. "Maybe they hated you," Erika suggests. Heh!
"'What are you insinuating?' is a better question," Kyle responds. 
"Were people doing coke in your bathroom?" Rinna asks Dorit. Kyle's jaw literally drops. "Are you suggesting that I got up from the dinner table and went to do drugs?" Dorit says. "All you have to say is, 'No,'" Rinna replies. 
"No," Dorit tells her. Kyle and LVP go crazy on Rinna, with LVP saying she'd jump across the table at Rinna if she'd asked her something like that. "For Lisa Rinna to sink this low is so offensive. It's disgusting," Kyle says in her interview. But it's not exactly surprising. Next week, there's more where that came from.