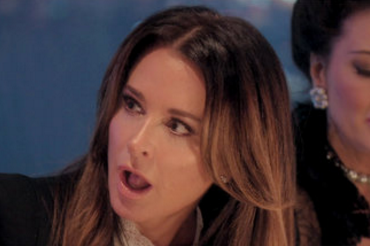 We start off with last week's bombshell allegations in Hong Kong – Lisa Rinna asking Dorit Kemsley if she's a cocaine user. Rinna says since Dorit was calling her a Xanax addict (which…she wasn't), she can ask questions about Dorit. So stupid. Erika Girardi, still drying her eyes from going ape on Eileen Davidson for no reason, looks amused to see them clashing.
The next morning, Rinna calls Lisa Vanderpump to thank her for the trip, as she's leaving early to do QVC in the US. "I wasn't happy about last night, Rinna," LVP says sternly. Rinna plays the innocent, saying, "I didn't mean any ill intent by anything!" LVP says in her interview that it's typical of Rinna to nonchalantly raise an issue that could destroy someone's reputation, with no care about the consequences. LVP invites Rinna to her house the next week for the launch of her daughter and son-in-law's new rosé. LVP says in an interview that maybe Rinna will use the party as a chance to apologize to Dorit for being "a bitch" to her. Yeah, and Erika Jayne might start wearing a burkha. 
Rinna says she has no regrets about what she said. "Dorit doesn't listen. If people don't listen, things need to be said to get them to pay attention." And by "things" she means asking a mother if she was doing drugs with her two babies in the house. What a nasty piece of work Rinna is. "I don't like to have to go there," she says. "But I go there with people if they're not listening. Or if they're saying untruths." This woman needs a lifetime of in-patient therapy. Thank God she goes back to the US and out of our faces for the rest of this trip.
The rest of the women have had little to no sleep, but they're going shopping anyway. Eileen and Erika haven't discussed their clash the night before, and Eileen is going nuts buying jewelry to heal the pain. Eden buys Erika a "friendship ring," and Erika – who still has her sunglasses on in the store – says she doesn't know why Eden is splurging on her. Eden says because she loves her. Maybe I'm a stone cold fish, but I always cringe when women who barely know each other use the L-word. 
Erika goes downstairs and tells LVP, Kyle, Eileen and Dorit about the ring and how Eden wouldn't take no for an answer, insisting on buying it for her. "If this was thousands, you'd better be a REALLY good friend," says LVP, who says in an interview that Eden should be buying her a ring instead of Erika. She says she deserves "one on every bloody finger," she adds, not so jokingly. 
Erika and LVP ask a shop assistant how much the ring was, and she tells them it was nearly $1700. LVP and Erika are blown away but – and this is going to sound so gross – it's not that much money if you're a Beverly Hills resident with multiple successful businesses. Didn't Erika buy Dorit something from Chanel for her birthday? But when she double-checks the price, it turns out the ring was only $172, so everyone laughs and relaxes. 
LVP takes the ladies to the SPCA to a dog sanctuary to meet the 85 dogs that "we" (says her Vanderpump Pets manager) have saved from three truckloads being transported to the Yulin Dog Festival in China. Another 47 of the dogs died, which has all the ladies looking tearful. The dogs are adorable. Hilariously, Kyle asks, "What's a mongrel? There's a lot of this breed here." Someone sell her a mongrel from a breeder for $10,000, please. 
Back in Beverly Hills, Erika and Eileen meet for lunch at Fig & Olive (a fabulous chain you should go to if you ever have the chance). Erika says she wants to apologize to Eileen for blowing up at her in Hong Kong – and not a moment too soon, since they start shooting her appearance on "Young & the Restless" in a couple days. Kyle joins them, and almost immediately starts talking about Rinna's theatrics in Hong Kong. Erika says she was happy Rinna confronted Dorit about whether or not she trusts PK. "I bet you were," Eileen replies.
Kyle asks Erika if she and Dorit are good now. LOL as if. Erika says she doesn't think Dorit was sincere and she doesn't think Dorit or PK know what kind of damage they did by implying she was trying to seduce another woman's husband. Erika is hoping the Kemsleys try to make things right when they all see each other at LVP's party, but she's not holding her breath. Good call. 
Erika turns to Eileen and says she's sorry for blowing up at her in Hong Kong. She was tired and emotional, and got triggered by the mention of her son in the same sentence with "killed." Eileen knew the meltdown wasn't a normal outburst from Erika so hadn't been holding a grudge. These two get and trust each other so their friendship will be fine. 
PK and Dorit are having drinks in their bar at home. Glass of wine or martini? Nope, vodka Red Bulls, the drink of high school seniors around the world. Odd choice. They're doing a post-mortem on the Hong Kong trip, and Rinna specifically. Dorit says she doesn't know where to go with her since Rinna is so capricious. PK refers to Rinna as "schizophrenic," which is worse than a poor choice of words. He's just a dumb big-mouth so much of the time. But PK is right that Dorit cannot trust Rinna. Nobody can. Dorit says she's not prepared to act like nothing happened when she sees Rinna at LVP's party. 
Dorit then starts talking derisively about how Erika went after her in Hong Kong for Pantygate, including demanding that Dorit and PK call her husband and apologize to him. PK says Erika should call her own husband to "check in," since they don't see each other often. Well, Erika's husband is a successful, high-powered, respected professional and she's got her own thriving career – not something one could say about the Kemsleys.
It's finally time for Erika to shoot her scenes on Y&R. She's nervous and excited, but mostly nervous. Her character is Farrah DuBois, a pushy, bratty real estate agent. From the clips shown, she did a great job. Good for her. I'm glad she had fun, but it's not the most thrilling plot line. Can we get back to fighting?
Nope, because Kyle is on the set of her scripted show for TV Land, on a shoot that will go until sunrise. She says she loves it. But of course, she's soon having yet another conversation about how hard it is to work and be a mom. Look, I'm sure that's totally true, but Kyle needs to bear in mind that this show is being watched by millions of women who work and raise kids without the benefit of a multi-millionaire husband or any of the other resources Kyle has (assistants, cooks, party planners, gardeners, etc). It's a nice bunch of problems to have, lady. Mauricio visits her on set, and we're reminded that Kyle also has a hot husband. Stop complaining!
Speaking of party planners, LVP has "chi-chi-chi" Kevin Lee helping her pull together the rosé launch event at Villa Rosa. Her horse trainer Tim is there, and she tells flirtatious Kevin not to even think about it – Tim is straight. "Straight to bed," Kevin laughs. 
On the other side of town, Kyle is stressing about what to wear to the party. She bought a jumpsuit off a mannequin and holds up a handful of material, saying she cut it off the hemlines and it's still too long. Huh? Kyle is literally using old house scissors to trim the hems of her outfit, slicing wonky strips of pink lace off. 
LVP's rules for the event are that you have to wear pink, diamonds, and…wedges. Again: Huh? Erika's glam squad is having kittens over this – especially the wedges. I would, too. It's hard to make wedges look like party attire. "Who wear wedges after dark?" asks "creative director" Mikey. Erika says not to worry – she's not wearing them. Good! But she will be wearing a rosé-colored wig her hairdresser dyed for her. It looks pretty, but nowhere near as spectacular as the gold leaf Dorit's stylists are painting onto her head. Dorit nails her look about 98% of the time, and this is no different. 
Never ask questions you don't want to know the answer to. Rinna learns this the hard way when she asks her daughter, Delilah, to sum up in one word what it's like to have her as a mom. "Crazy," Delilah says without hesitating. She then says Rinna is super fun when she's "on a sugar high" – then intimates that her mother takes other things to get high. Rinna tells her not to say that because people are saying she takes Xanax every morning. Um, no they're not. This is subtle but important: Rinna keeps escalating the severity of what she claims someone told her was said, and none of it is true. None of it.
Lisa Vanderpump's Diamonds & Rosé party looks absolutely stunning – as one would expect from LVP.Lots of pink taffeta tents with crystal chandeliers and thousands of pink roses everywhere – it must have cost an absolute fortune, even if Kevin Lee waives his fee in exchange for the exposure and testimonial from LVP (though I doubt he does). How much rosé will Pandora and Jason have to sell just to pay for the party? It's hard to combine pink, roses, and lots of bling without looking cheap or tacky, but everything looks spectacular. 
Speaking of cheap and tacky, Erika paired the pink wig with a short, black cocktail dress covered in rhinestones. It's not her best or most tasteful look, but it's cute enough. She shows up at Kyle's house, and Kyle thinks the wig makes Erika look like My Little Pony.
Dorit, meanwhile, has paired the gold leaf in her hair with a form-fitting, rose gold lamé gown. Rinna's also wearing lamé, but in way over-the-top gold with a plunging neckline and long, pleated skirt. Oh, dear. She answers the door to Eileen, who's playing it safe in an off-the-shoulder, cream cocktail dress. Eileen is hoping Rinna will "take a little more time to think before she speaks" at the party, "because the ramifications could be huge – huge." Rinna is clearly planning a confrontation with more than one person, and Eileen knows it. 
At the party, LVP tells Dorit she seems melancholy, but Dorit says she just feels super tense about all the Rinna stuff. LVP says Rinna is just very paranoid. "Maybe it's because she's on drugs," PK laughs. Next week is the season finale, and we might all need drugs to get through it if Rinna outdoes herself the way I expect.