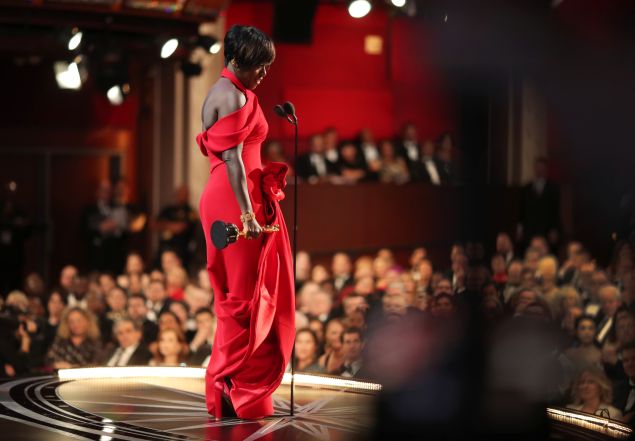 There was a lot going on at the Oscars: the ultimate reveal in a contentious back and forth, as well as many, many looks going down the red carpet. But in the midst of the commotion, we did spot a trend that's been cropping up at fashion week over the past month. It was on Ruth Negga, in custom Valentino when she stepped on to the carpet as a Best Actress nominee for her role in Loving. It was also on Viola Davis, who wore Armani Privé for her turn on the carpet and her moving speech, as she won the Best Supporting Actress award for Fences. It seems like the Fall 2017 trend of head-to-toe red is the choice for winners.
Before the actual award ceremony, actress Kate Beckinsale turned up in the hue at a pre-Oscars event on Friday. For Piaget and Weinstein Company's award weekend party, the Brit slid into a Basil Soda gown with a pleated skirt. The look came off as both comfortable and statement-making. But she was simply picking up where the fashion shows left off, particularly at Milan Fashion Week.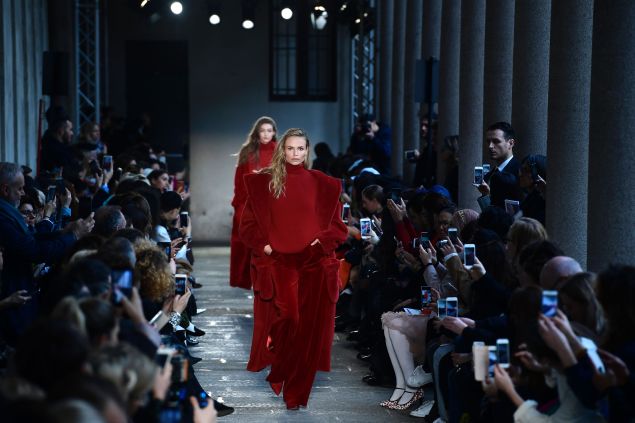 At Max Mara, red made it's most impactful appearance in an ankle grazing, plush red robe coat, crewneck sweater over a turtleneck and wide legged trouser. Paired with a pointy toed stiletto it was a look. But, because of the fabrications, gave off all the cuddly feels one could ask for. Elsewhere, a cloak turned dress over a turtleneck was also drenched in crimson, as was the sheer turtleneck and culotte set that Gigi Hadid wore. The only thing that wasn't red? The models lips.
Fendi kept the Milanese, blood-colored proverbial ball in the air, first dotting their collection with pops of red: thigh high leather boots were the pop of choice, paired with almost every look. But eventually, the shade bloomed into full looks, like a floating, apparition of a sheer dress with chest embroidery or a structured overcoat, modeled by Kendall Jenner. It continued on as a printed dress and jacket at the influencer heavy Dolce & Gabbana show, as well as a checkered dress with a shaggy neck detail at Francesco Risso's Marni debut.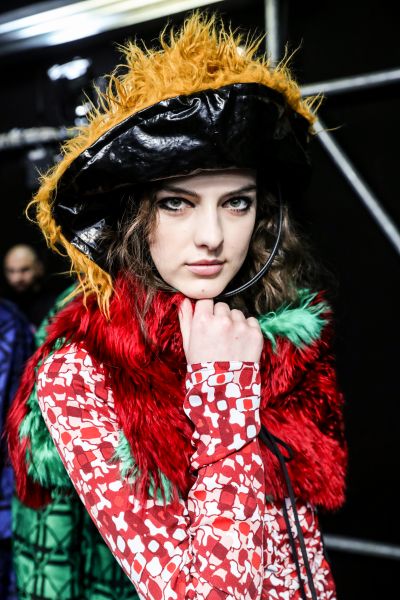 At Jil Sander the red came to life as a luxe, oversized sweatshirt and wide legged trouser combination; the hue deepend into burgundy for a puffer coat and conceptual dress situation. These aforementioned options from Rodolfo Paglialunga were the highlights from the color trend, but we're also partial to the leather red look at Tod's, the one with its quilted sleeves.
Of course this all was a continuation of the rouged options we saw in New York from brands like Jason Wu, Adam Selman and Ryan Roche. The bottom line? Come next Fall, expect to see a lady in red at any of the chic venues you frequent.