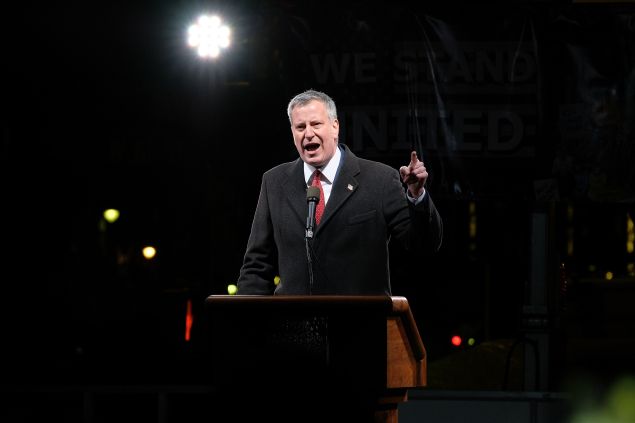 Mayor Bill de Blasio traveled to Washington Heights last night to celebrate New York State Supreme Court Judge Debra James's decision against a coalition of landlords who sued the city's Rent Guidelines Board for its decision to suppress rent increases at buildings in the stabilization program two years in a row.
The Rent Stabilization Association, representing the owners of some one million apartments in the price control system, lost its suit yesterday against the Rent Guidelines Board—the entity which determines how much the cost of leases for impacted units can rise in a given year, and has twice set that rate at zero. All buildings constructed before 1974 and containing at least six units fall under the board's purview, so long as the apartments within have not become deregulated, which can occur if the rent exceeds $2,700.
Rent stabilization is distinct from the older, disappearing system of rent control.
"The people won and the landlords lost," de Blasio declared at the press conference at the Community Health Academy school. "They used all of their power, all of their legal resources, to try and stop us from giving a rent freeze that people deserve."
The mayor handpicks all nine members of the Rent Guidelines Board, and he has publicly advocated capping increases the past. Nonetheless, de Blasio has maintained that his appointees make their decisions without his input, even as he has taken credit for the two successive years of arrested rents in his campaign for another four-year term.
The board is supposed to consider only costs affected landlords incur each year, and compare that to the revenues reaped from rent. The rent freeze in 2015 was the first in the program's history, and the Rent Stabilization Association blamed it on de Blasio's inappropriate influence.
"It didn't surprise us that the landlords would take us to court—it didn't surprise us at all," the liberal Democrat crowed last night. "But, do you know what the court said? The court put the tenants needs ahead of the landlord's greed."
Joining de Blasio at the event were Manhattan Councilman Mark Levine and Brooklyn Councilman Jumaane Williams—rivals to replace term-limited City Council Speaker Melissa Mark-Viverito next year—as well as Manhattan Councilman Ydanis Rodriguez.