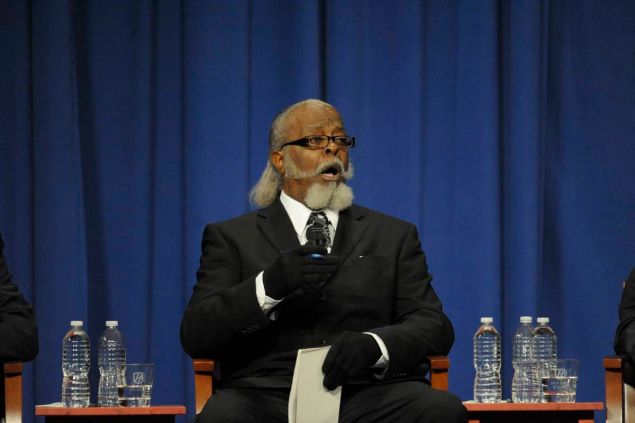 Jimmy McMillan—who has tried to ride his "Rent is Too Damn High" motto and party line into the governor's mansion and the mayor's office—has set his sights a little lower this election cycle, declaring his candidacy today for a soon-to-be-vacant Lower Manhattan City Council seat as a Republican.
McMillan, who became famous for his 2010 debate performance against Gov. Andrew Cuomo and GOP businessman Carl Paladino, revealed he would seek to replace Democratic Councilwoman Rosie Mendez and attempt to join the Council's miniscule GOP minority. As ever, the activist vowed his core issue would be the high cost of leasing an apartment in New York and the unethical behavior of landlords.
But, for the first time, McMillan's message incorporated a traditional conservative talking point about high property taxes and assessments.
"New Yorkers rich or poor understand one simple fact; the rent is too dam high and until we create the affordable housing our city needs, we will see a continued exodus of life-long residents who have been priced out of our borough and our city," he said in a statement. "I'll fight to protect our elderly, our poor and our veterans from rapacious landlords and city government that seems intent on raising taxes so high that only a select segment of society can afford to live in Manhattan."
As a Republican, McMillan will face a steep uphill fight in the deep-blue district, which covers his home neighborhood of the East Village and the Lower East Side. Three Democrats are currently seeking the seat: Carlina Rivera, a local district leader and Mendez's legislative director; community center director Jasmin Sanchez and attorney Mary Silver.
After his unsuccessful run for governor in 2010, McMillan changed his voter registration to Republican and attempted to run in the 2012 GOP presidential primary. He failed to make the ballot in any state, and ultimately endorsed President Barack Obama.
He ran for mayor in 2013 on his own Rent is Too Damn High Party line, despite having endorsed former Brooklyn Congressman Anthony Weiner in the Democratic primary. McMillan received 1,990 votes in the general election.
The perennial candidate failed to gather enough signatures to make the ballot in the 2014 gubernatorial election. He supported President Donald Trump in 2016, citing what he described as the GOP nominee's commitment to veterans such as himself.
More recently, he backed Republican Dawn Simmons' unsuccessful bid to win Harlem's vacant Council seat in a special election held last month.