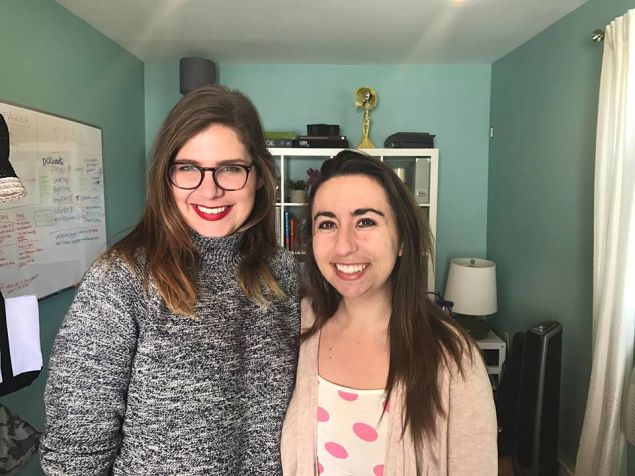 Since the election of President Donald Trump, many communities have banded together to resist his agenda—tech executives criticized his policies, journalists bristled at being called "the enemy" and scientists have marched to protest Trump's rejection of climate change facts.
Childhood friends Sarah Lerner and Devon Handy wanted to find a way to turn their post-election anger into action, too. Handy, a stay-at-home mom, and Lerner, who was unemployed but had previously held jobs at a Santa Monica jobs startup and on the social media team at Major League Soccer, got together for lunch for the first time in almost 10 years to figure out what to do next.
The 29-year-old duo decided to turn to tech and make podcasting their main outlet—they now co-host Hellbent, "a feminist podcast for those who resist and persist" that debuted in January and has become increasingly popular on SoundCloud thanks to Lerner and Handy's catty commentary. They've gained even more fans through their viral Alt-POTUS 45 and Alt-VP 48 Twitter accounts for "President" Hillary Clinton and "Vice President" Tim Kaine.
"This country was on a path directly to hell, and everyone was hellbent on resisting Trump's agenda," Handy told the Observer. "And in a political space heavily dominated by white men, we wanted to bring in intersectional feminism."
"It spoke directly to how we were all feeling—the resurgence in energy, engagement and political activism," Lerner added.
Hellbent's tagline was inspired by Senate Majority Leader Mitch McConnell silencing Senator Elizabeth Warren because "Nevertheless, she persisted"—the phrase has become a feminist rallying cry.
The podcast (new episodes are released every Monday and Thursday) has a seemingly freewheeling structure, with episode titles like "Drip Drip Drip Motherfucker" and "Jefferson Beauregard Fucking Sessions" (in the latter installment, a "Drunkisode," Handy and Lerner get tipsy while discussing the attorney general). Each episode also features a running list of political "dickwads," usually members of Trump's cabinet.
In spite of this, Lerner and Handy explained that the podcast has a structured outline and is thoroughly researched—the duo keeps a running list of sources on their website.
"We want to capture the general mood," Lerner said. "People feel a lot of anger and fear, which is coming from a very raw place."
"The informal style makes it less intimidating," Handy added. "But we want people to form their own opinions."
One group the hosts have a very low opinion of (and which they discuss frequently on Hellbent) is the people who claim that Bernie Sanders could've beaten Trump, that Trump and Hillary Clinton are equally "evil" or that Chelsea Clinton doesn't deserve her success.
"It just feels very counterproductive," Lerner said. "And it's frustrating as a woman, because elections were never re-litigated when men ran against each other. Pushing back against that misogyny is emotionally draining."
"There's a lot of insidious sexism, which is exhausting," Handy agreed.
While Lerner and Handy both described Hellbent as a "labor of love," it's also a source of income—they sell merchandise on their site, and Lerner actually turned down a full-time job at a major media company that wouldn't allow her to continue the podcast.
To boost their profit from Hellbent, the duo is raising funds on Patreon to help with the base costs of software, equipment and posting. So far 22 patrons have pledged $126 a month to Hellbent—rewards include a Twitter follow, a personalized voicemail recording and being a guest on the show.
"If people are interested in our work, that's really a boost to get us to put in the time and research," Handy said.
She and Lerner have also gotten a boost on social media through their satirical Twitter accounts for Clinton and Kaine. The duo was inspired by the rogue accounts set up by government workers following Trump's election.
"It was an act of self-care to reconnect with political normalcy," Lerner, who runs the Alt-POTUS 45 account, said. "I needed to find a way to feel grounded again."
In Lerner's world, Clinton is extremely hyperbolic, telling GOP leaders to "fuck off" and sending "First Dude" Bill Clinton to run errands. The account's 58,000 followers can't get enough of it—many say they'd rather live in that reality.
"I like imagining a world where a powerful woman lets her guard down," Lerner said. "It's a much-needed sanity check in these dark times."
Of course, every Alt-POTUS needs an ALT-VP, so Handy created an account for Kaine as well. Given that a woman is doing the hard work of governing, VP Kaine mostly just supports Clinton on the sidelines while playing his harmonica.
"I'm not nearly as social media savvy or funny as Sarah, but I can tell a good dad joke," Handy, whose Kaine account has over 8,000 followers, said.
The hosts said they wanted the podcast and parody accounts to not only be an outlet for their own opinions, but also a place where people can get a perspective on current events without any "mansplaining."
"We hope that our listeners feel informed on the million and one things that happen on any given day," Lerner said. "We own up to our own fuckups, and we want people to feel like they're not alone."