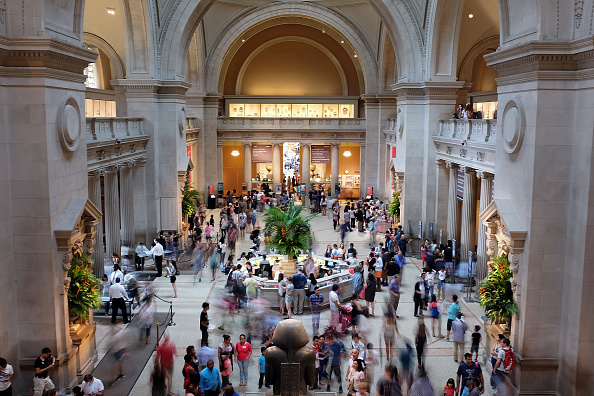 Here is the dilemma: Museums continue to struggle with how to attract younger and diverse audiences while maintaining and enacting high admissions fees. Adults pay $25 at the Boston's Museum of Fine Arts, MFA and $27 at the Isabella Stewart Gardner Museum. It is no less expensive to visit the Museum of Modern Art in New York ($25), the Guggenheim ($22), the Whitney ($20), the Barnes Foundation in Philadelphia ($22), the Art Institute of Chicago ($23), the San Francisco Museum of Modern Art ($18) or the Los Angeles County Museum of Art ($15). And with Americans bent on restarting the manufacturing sector due to pockets of pernicious unemployment, those prices aren't negligible for many.
This past year, the board of trustees at the Fine Arts Museums of San Francisco approved a 50 percent increase in general admission, from $10 to $15 for adults. Considering how much money so many of these and other institutions spend on acquiring new artworks that they rarely have room to display, it is remarkable how dogged museum directors are in keeping and raising these fees, which on the average amount to only six percent of these institution's revenues, according to an "Art Museums by the Numbers Report" issued by the Association of Art Museum Directors in 2015.
The solution that more and more institutions have developed, perhaps to dampen down the potential outrage to the high cost of entry, is free or discounted admission hours and days, known as "variable pricing." In the past year, the Frick Museum in New York made itself free the first Friday of every month, from 6 p.m. to 9 p.m., while Connecticut's Wadsworth Atheneum has eliminated admissions for residents of Hartford and the San Francisco Museum of Modern Art, which is always free for visitors 18 and younger, has added periodic Free Family Days. Mark your calendars.
Pleasure and prestige for museum curators and directors is acquiring more works for their permanent collections, not in seeing more and different people come through the doors. Art museums around the country are struggling mightily to make themselves appealing to millennials and to what we now call "diverse" audiences by creating their own apps, as well as by acquiring and exhibiting contemporary art, as well as art by women, latinos, Africans, Asians and whomever else. However, their goals will continue to be checked by the barrier of high admissions fees; they cannot build new audiences if those audiences are only likely to come on the first Friday of the month between six and nine p.m. or whenever they make the place less expensive to enter.
Museums do have huge expenses and admissions fees can help defray them, but these fees could be reduced or eliminated if these institutions reallocated other, and substantial amounts of, money that they are sitting on, which goes solely to buy more stuff. The Boston Museum of Fine Arts, for instance, "has approximately 25 funds for general purchase and nearly 150 dedicated to specific collecting areas," according to a spokeswoman. Other major museums have the same or more. The Houston Museum of Fine Arts has approximately 37 accession endowment funds, which provide around $20 million in annual acquisitions spending.
How important, really, is it for museums that already are filled with objects, and then far more objects in storage somewhere, to keep acquiring more? Undoubtedly, curators at the Met and Modern and other prominent museums around the country will state at great length how the purchase of this or that item enriches—and not just expands—a particular collection in some very important way, and it is difficult for most of us to argue the point. "This Mughal painting reveals the transitional moment of…." OK, perhaps so. Still, museums can borrow works from other institutions or private collections if they need to fill in a perceived gap and they regularly do just that for special exhibitions, but it doesn't seem likely that gaping holes in art history are the issue. Board members and trustees, as well as other big donors of cash, want their names associated with new purchases. "Children, look at your grandfather's name on that plaque next to this Gerhard Richter! (Oh, come on, I told you all about Gerhard Richter on the cab ride up here.)" Would there be a plaque for people to admire if granddad instead had donated that money so that admissions might be lower or even free? (There could be, or a party can be thrown, or the institution could try to produce the same type of press hoopla for this use of donated cash as it might for a new purchase.)
How about, museum directors might say to some of the people looking to donate money for yet another acquisition endowment or purchase fund: "Bob and Mary, thank you for the offer to establish the Bob and Mary Smith purchase fund. But would you be willing to put that money towards an endowment that reduces or eliminates admissions fees so that more people, particularly those with limited means and who don't want to keep track of which hours and which days we currently make entrance to the museum free, can visit the institution?" The Smiths might say no, they just want the museum to buy more stuff and stick their names on it, but other current or prospective donors might find the idea of value. Museums directors might also go to some of the people who have established purchase funds, or to their heirs, to request that the terms of the gift be altered to allow use of some or all of that money to go toward lowering admissions. It simply takes asking and, more importantly, a commitment on the part of the museum administration to making their institutions more accessible.
There's always more, too: How about museums with artwork in storage that may never ever get hung in the galleries —we have enough Picasso centaurs on display already or we have a better Renoir boudoir scene in Gallery 37—share that work with small city art museums around the country that have less if any work by major artists in their permanent collections? Share the wealth, guys.