One of the weirdest wrinkles of this show is the intensity of literally every parental figure in town with the exceptions of Veronica's mother and Archie's father who aim to carry the least scandalous Scandalous Love affair of all times.
While I stand by the fact that Veronica is the shining beacon of this crop of reinventions, it's hard to share her moral outrage when she catches her mother in "Flagrant Perry" — that is a hilarious pun, recognize — with Archie's father.
While it is true that her parents are technically still married, one party being in jail certainly qualifies for an open arrangement. In a town with cars of drugs, Slytherin-light motorcycle gangs, and pregnant bipolar women on the loose, two single, age-appropriate adults kissing in privacy seems like a rather chaste crisis.
From Cheryl Blossom's nails-into-flesh mother to Jughead's gang leader father there is something in the water in Riverdale and this covenant of emotionally unstable adults might just be on the verge of outshining their dreary teens.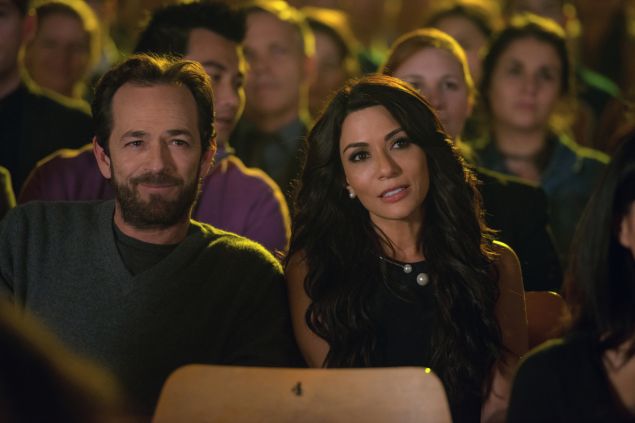 This week's additions are Pussycat Josie's parents who essentially reveal themselves to be Jazz Medicis of the town of Riverdale and way too involved in their daughter's high school band. It's certainly refreshing to see Josie come into her own as a full character rather than just a background singer, but something about the stakes with which musical careers are portrayed in Riverdale just feels forced.
"I suppose there's always room for one more kitty in my litter box." Josie, girl: this isn't Nashville or Glee. You all live in a small, scenic town with a weekly football game: calm down.
While the Dreamgirls power dynamic of this triad is genuinely interesting, it is also dead on arrival by virtue of being tied to the narrative black hole that is Archie Andrews' musical inner life.
"I was born alone. I'll die alone. I'll sing alone." — Archie Andrews.
I mean, really, how has someone not murdered this person yet? Murder seems very easy and accessible in this town.
After much fanfare, to disappointingly little heckling, Archie finally belts out his first soulful performance of the season and the result is whelming; we are whelmed. Can we just admit that this was a very generous crowd, applause-wise? Because Sing Street, this wasn't.
It's not that the actor,  K.J. Apa, is a bad singer. It's all… fine as far as this type of music goes. It's just that in a town filled with so much more interesting plotline, this artistic pursuit feels like an extraneous C-plot we still can't shake off, halfway through the season.
In Betty-er news, we finally get to meet her sister the infamous Polly, the more overtly deranged Cooper sister… who now happens to be pregnant with the bastard child of deceased ginger, Jason Blossom. Another piece of the not-particularly-engaging puzzle is that Jason was crossing the river with sister Cheryl to go meet his baby momma Polly in a car full of drugs… Near a car full of drugs? The point is, there's a car full of drugs on the map now.
The more we learn of the season-long mystery, the less interesting I find the whole thing. Maybe we've been watching too much Game of Thrones, but what a wasted opportunity for some perfectly good incest. Clichéd as it may be, the Blossom twins blossoming one another in the middle of a lake was a much more exciting direction for this plotline.
Betty is left with the uncomfortable task of telling sister dearest of Jason's bullet-in-the-forehead predicament and the ensuing chain of events sets a feral Polly Cooper loose onto the world of Riverdale. Any disappearance that involves the broken window of an asylum nunnery is sure to have me clapping along like a toddler and I cannot wait to see what Crazy Polly has in store for our merry gang. (DeadArchieDeadArchieDeadArchie.)
If Polly Cooper ends up squandered giving season finale birth by that fricking scenic lake, I swear to God.