Jacqueline Kennedy Onassis spent her childhood summers at Lasata.
Corcoran
Russian billionaire Roman Abramovich rented the home this past summer.
Corcoran
Reed Krakoff bought the home in 2007.
Corcoran
There's a guest house and pool house on the property, as well.
Corcoran
The formal dining room.
Corcoran
The home was featured in 'Architectural Digest'
Corcoran
Krakoff split the home into two parcels.
Corcoran
The home was built in 1917.
Corcoran
We assume this is the yellow room.
Corcoran
The master suite.
Corcoran
Lasata is on the market for $39 million.
Corcoran
The two-story main house is 8,500 square feet.
Corcoran
The property is situated on over 7 acres.
Corcoran
Roman Abramovich is in the midst of building an Upper East Side mega mansion, and he's also reportedly looking for a Hamptons summer estate, as well.
It turns out the Russian billionaire and his wife, Dasha Zhukova, were the mystery renters of the historic Lasata estate in East Hampton this past summer, says the New York Post. The house is perhaps best known as the childhood summer home of future first lady Jacqueline Kennedy Onassis; it was owned by her grandfather, John Vernou Bouvier, Jr.
It's currently owned by designer Reed Krakoff and his wife, Delphine. The former Coach exec purchased 121 Further Lane in 2007 for $20 million, and embarked on a renovation and redesign to bring it up to "contemporary standards," while also restoring many original details. He proceeded to put it on the market for a staggering $53.99 million in September 2016, though Abramovich reportedly snagged it as a summer rental in the months before.
Krakoff, now Tiffany & Co.'s chief artistic officer, has since divided the 11-acre estate into two parcels, with the 7.15-acre Lasata now listed for $39 million with Brown Harris Stevens broker Peter M. Turino and Corcoran broker Susan Breitenbach.
The 8,500-square-foot, two-story main house is comprised of ten bedrooms and 11.5 bathrooms, with an eat-in kitchen, breakfast room, formal dining room and great room. There's also a separate one-bedroom guest house, two-bedroom pool house, and a three-car "garage building."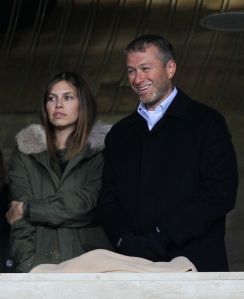 The home was featured in Architectural Digest after the Krakoffs finished renovations, showcasing the home in all its glory—highlights include a Tiffany pendant lamp, a midcentury Samuel Marx dining table with Lucite legs and Queen Anne wing chairs, as well as bedrooms each with their own "dominant color palette."
Abramovich, however, apparently preferred only a temporary stay in the stylish home, since the Chelsea Football Club owner didn't dive in and scoop the place up. We wonder if he'll rent the place again this summer—the season is almost upon us. If he feels like trying something new, there is another home with a Bouvier connection on the market, just a short drive away at 3 West End Road—Grey Gardens. Sure, it's a bit smaller than Lasata, but it's come a long way from all those raccoons.