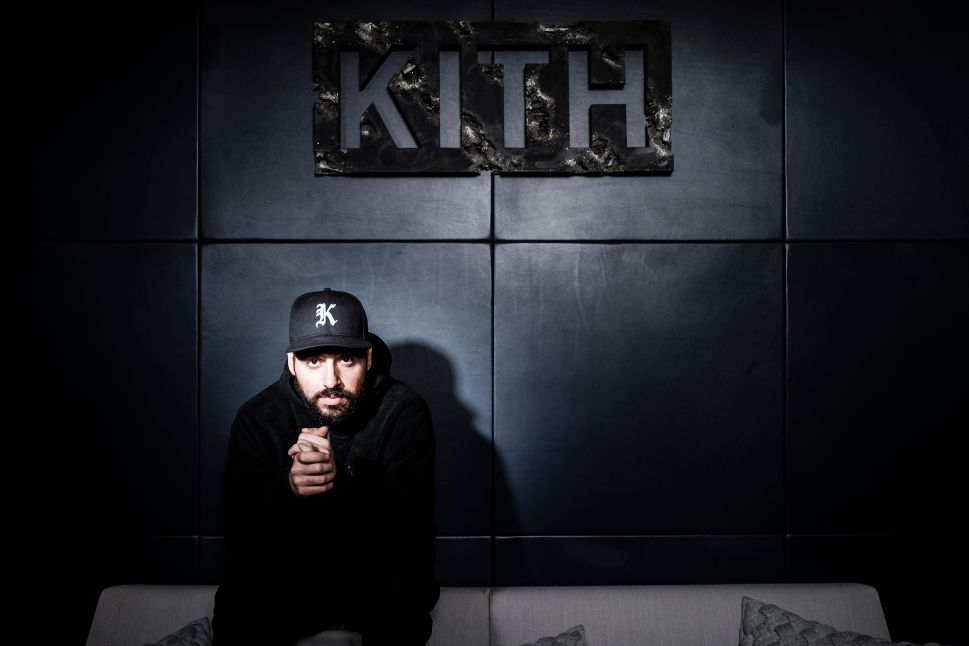 Stepping into KITH's Soho headquarters is a dizzying experience. In one glass paneled room, a team of technical designers are working on a top secret collaboration, while another duo builds a list of celebrity customers who will receive the newly released Virgil Abloh-designed Off-White collection for KITH. "We have Bella, Kylie, Kendall, who else?"
Presiding over it all is Ronnie Fieg, creator of the retail powerhouse now known for their undisputed stronghold on the world of limited edition collaborations and buzzy pop-up concepts. He sits at his desk flanked by white plaster sneaker molds by friend and collaborator Daniel Arsham. A copy of Tommy Hilfiger's autobiography, American Dreamer, sits on his desk. He's just returned from Los Angeles, where he partnered with highbrow department store Maxfield, who gave him free reign to outfit a raw space with his latest vision to spread KITH to the masses. He chose to pay homage to his native Queens, recreating the iconic World's Fair Globe in Flushing Meadows as the centerpiece of the week-long residency. 
Commanding just over 40 employees, KITH has come a long way from its humble beginnings. In November 2011, it opened its doors as a one-room sneaker shop accessed through Atrium, the now-shuttered luxury retailer created by Fieg's uncle, Sam Ben-Avraham. It was briefly directed by menswear staple Nick Wooster under the moniker Atrium Wooster before closing its doors in July 2016. The vacated space, a soaring, double-height boutique on the corner of Broadway & Bleecker Street, made way for Fieg's small outfit to blossom at light-speed. This flagship store is now just one of four permanent KITH locations, in addition to a Bergdorf Goodman shop-in-shop, and, of course, the sporadic pop-ups that have created a global craving for all things KITH. These ever-changing temporary storefronts have been a boon for the business, thanks to Fieg and his team who posses a unique power to put their pop-ups just about anywhere in the world, from Brazil to Tokyo, with lines snaking down the block. 
Inside, the shops offer up wares from high-street brands like Public School, John Elliott, and the Adidas-owned upmarket line Y-3 designed by Yohji Yamamoto, but what most shoppers come for are the products made exclusively for KITH. These collaborative items—dreamed up alongside blue chips like Nike, Adidas, New Era, and Canada Goose—are what cause the often hours-long wait to step inside. "These are all checking off bucket list items for me," Fieg says, taking a sip of KITH-branded water. "Working with brands of that stature are dreams that I've had since I was a little kid. I think that understanding our brand is really tough for many, because we're multi-faceted. We're spreading our wings and showing the spectrum of how wide we can go, not only with one specific product, but more so as a lifestyle and experiential brand. I think we can live in people's closets in many different ways." He's also shown that some KITH products don't live in your closet at all, but rather in the kitchen. Earlier this year, they partnered with both Coca-Cola and the General Mills-owned Cap'n Crunch cereal on a range of t-shirts, drinks, and snack products under the brand's food-centric offshoot, KITH Treats. 
Fieg is often surrounded by a merry band of KITH devotees, 60 of whom took over the St. Regis Hotel for a weekend when KITH Aspen opened a winter-long retail outpost in the tony ski town selling co-branded apparel and accessories from Columbia, Timberland, and TUMI luggage. He was followed there by DJs, athletes, and artists, who collectively fuel the next far flung locale. "Honestly, all bullshit aside, the idea for the pop-ups is always, 'Where can I go with my friends and employees, and have a really good time doing what we do?'" he says. "We thought, 'I want to go to Brazil for the World Cup' or 'I want to got Tokyo, I've never been.' Let's do it."  
Part of being a KITH customer, whether you're one of his pals staying in the St. Regis, or one of the hundreds lining up to shop, there's something to be said for this feeling of inclusion within the KITH clique. Now that big brands count on it for a guaranteed injection of cool, the past year of rapid expansion has brought Fieg to a crossroads at which hype and commercial success no longer go hand-in-hand. Instead, his plan to maintain a legitimate, long-term expansion that doesn't rely on buzz is to allow the products to stand on their own. "I think when I first started I thought, 'What can I do that I love, that will make a strong impact, that will be amazing for now?'" he counts on three fingers. "Within the context of this company, the times have changed significantly. Now everything we work on has to be timeless for years to come." 
This year, he has his sights set on another permanent storefront, a pop-up set to debut in August, and an onslaught of big brand collaborations. According to Fieg, these new projects "will make last year look like a joke," although it's all produced with a valuable measure of restraint to ensure KITH's staying power. "The brand is still small in the sense of where I want to take it, and when I say that I don't mean that I want the brand to be everywhere, because I don't," he explains. "At one point I felt like I was driving this thing, and I felt like I was in control, and now I feel like I'm in the backseat giving directions. I'm this backseat driver, and there's this force that wants to make this jump the rails and become bigger than I'd like it to become. So, it's a battle to not let this thing spiral out of control, and contain it to where people can still feel the emotional connection to the brand. Once you get to a certain point, I feel like you lose that, and you lose the meaning as to why I'm doing what I'm doing. The key is to be as consistent as possible with amazing ideas, and amazing products, and amazing experiences. It's got to feel special."