RuPaul's Drag Race will air on VH1 on Friday nights this season.  The season nine premiere featuring Lady Gaga is set for Friday, March 24th at 8:00 PM ET/PT
9:46 pm: Impressions of the rest of the cast. Early impressions have historically been poor indicators of actual performance, but it's still fun to put the visceral reactions down in writing.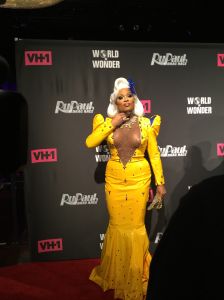 Peppermint: She's been a New York City fixture for years, as was Bianca. The wig line in the video is really unfortunate. Professional and polished, she should be a solid workhorse performer who still isn't enough of an innovator to actually win.
Think: Kennedy Davenport meets Mariah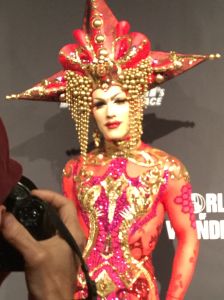 Sasha Velour: Her passion and talent emanate from every pore. Her look in person was a showstopper and her look in the video was the most unique. Art queens tend not to do as well as they should on Drag Race but it's far past time one of them took home the crown.
Think: Ongina meets Nina Flowers
Shea Coulee: Her outfit is thought out and flawless. This queen obviously knows that every entrance is an opportunity to make jaws drop. It is hard to see how someone this talented, well-rounded and hungry doesn't make it to sixth place at the very least.
Think: Bebe meets Tyra Sanchez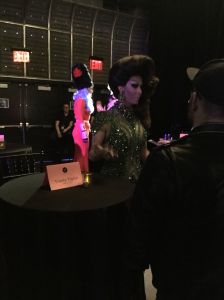 Trinity Taylor: Everything about her screams filler.
Think: All those queens who are gone but soon forgotten
Valentina: A clever queen knows how to deliver quick, biting one-liners. Then there are the ones who like to hear the sound of their own voice. It's hard to find fault with her fishy look, but she seems ready to be cut down to size tout suite.
Think: Lineysha Sparx meets Shannel
9:13 pm: First half of the cast impressions: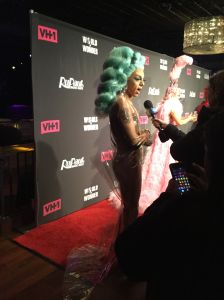 Aja: Queens who boast about calling people out don't really do well. Despite not being RuPaul's Best Friend Race, there has never been a winner unpopular with the fans since the show switched to a live finale. Her confession about not being competitive is also a bad sign, since these other girls are hungry.
Think: Pearl meets Trinity K. Bonet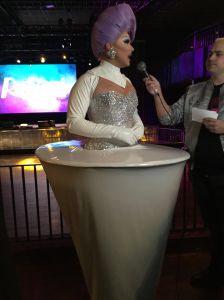 Alexis Michelle: Don't let those broad shoulders fool you, this queen came to win. Usually not having a fun drag name is a bad sign but this queen's looks are innovative and her charisma is quite apparent both in person and on screen. She seems to have what it takes to go the distance.
Think: Roxxxy Andrews meets Violet Chachki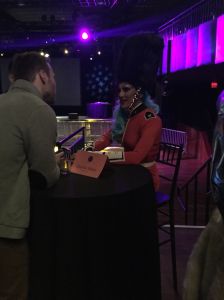 Charlie Hides: Her beefeater look was well-executed but her "I'm so old" one-liners are antique jokes themselves. The fact that she hopes to put people in a good mood with her performances might make her a welcome bit of sunshine on the series. Still, there seems to be little outstanding so far.
Think: Tempest DuJour meets Jinkx Monsoon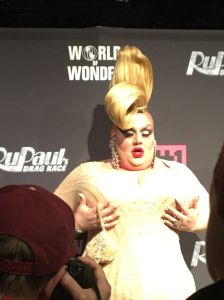 Eureka O'Hara: Easily one of the best "Meet the Queens" videos, and very self-deprecating and fun in person. Fans of the show might not realize how funny fellow big girl Mimi Imfurst can be, and Eureka brings that alongside a put-together ensemble. Already one of the most memorable queens, and a funny big girl who can dance and looks good might be close to unstoppable.
Think: Mimi Imfurst (at her best) meets Jaidynn Diore Fierce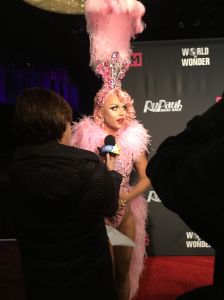 Farrah Moan: Looks like Courtney Act but seems much more open and genuine. The Vegas shtick is usually a bore, but if she combines that with a fetish vibe it could be quite innovative and original. This one could fly under the radar and get to fifth or sixth.
Think: Courtney Act meets Robbie Turner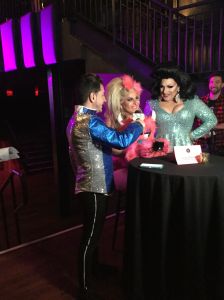 Jaymes Mansfield: The affected speech pattern is a problem, but she's young so maybe it's nerves. The look seems pretty uninspired too; contrast Milk when she does her JonBenet Ramsey routine. From first impressions it doesn't seem like Ms. Mansfield will go very far.
Think: The babyfaced Laila McQueen meets the vocal stylings of Laganja Estranja
Kimora Blac: She's feeling herself but nowhere near as fishy as she thinks she is. Less Barbie, more Bratz. The vocal fry creeps in here and there and is not the business, at all. For someone who prides herself on look it's not very original or special.
Think: Kandy Ho meets Vivienne Pinay
Nina Bo'nina Brown: Her paint in the video was pure art. She clearly knew this would be among the first things the fans would see and she brought a show like a true entertainer. The fierce makeup combined with the fun, almost silly personality is a very strong combo. Even if she doesn't go far she will surely be remembered for some of her outfits.
Think: Acid Betty meets Dax ExclamationPoint
7:45 pm: All right, we've met the queens and snagged the pics. We'll updating with first impressions and predictions by morning.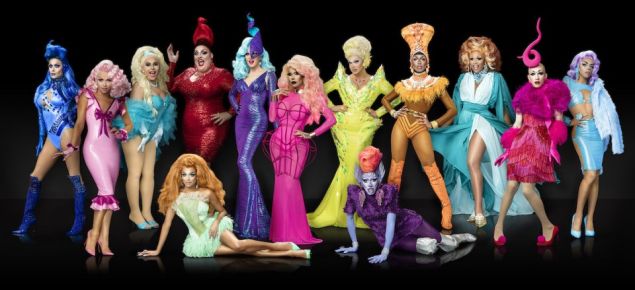 Who's makeup is terrible? Who was the biggest bitch of the season? And what can we expect from Snatch Game? All these questions will be answered when we meet the queens tonight and live updates featuring performances from the entire cast. GAGGED!!! Keep checking back for live updates from the red carpet premiere event for RuPaul's Drag Race season 9, starting at 6 p.m. ET.