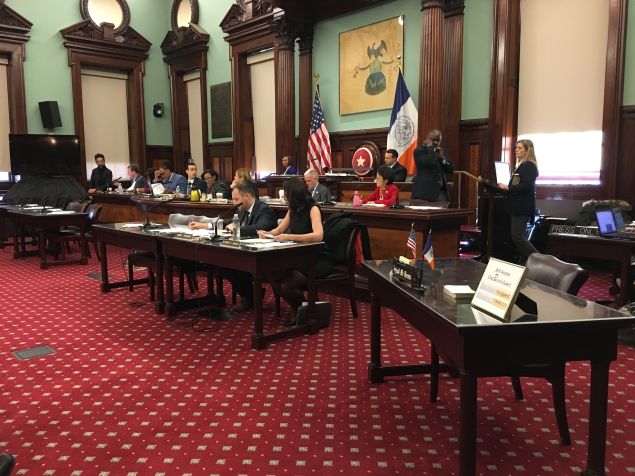 The City Council and Comptroller Scott Stringer urged Mayor Bill de Blasio to adjust his budget proposal to acknowledge the uncertainty of federal outlays under President Donald Trump—given the Republican commander-in-chief's vows to sever funding to so-called "sanctuary cities" like New York.
The mayor refused to make allowances for the potential loss of Washington dollars when he laid out his preliminary budget, asserting Trump is a "moving target," and that there were "no guideposts at this point." The first draft spending plan includes $84.67 billion in expenses for Fiscal Year 2018 and $84.6 billion for improving and maintaining city infrastructure over the next decade, along with increased set asides for the city reserves.
But Stringer, who has estimated the city could lose as much as $7 billion a year under the Republican president, argued that City Hall must boost its back-up funds even more.
"Well let's say that we have to be more prepared and what I had testified today about this notion that we do have to put aside more money," Stringer told reporters after he testified before the City Council's Finance Committee at the preliminary budget hearing. "We now have $8.6 million that we have put aside for our rainy day but look, given what we know may be coming from the federal government, I recommend that we should probably add at least a billion dollars to the 8.6."
And he suggested that agencies find ways to come up with the additional funding, even though de Blasio's plan already calls for the city to identify $1.6 billion in savings.
Stringer's analysis found that most of the city's $2.1 billion savings in fiscal years 2017 and 2018 came from "spending re-estimates, funding shifts and debt service" and that $139 million—seven percent of all savings—originated from "city agency efficiencies."
"Agencies should scrub to see if there's more efficiencies," Stringer continued. "We wanna do that now so that if the economy takes a turn for the worse, we'll be in a position to mitigate whatever comes our way."
In her opening remarks, Council Speaker Melissa Mark-Viverito said that there are a number of federal initiatives that fund city programs that could be targeted for elimination.
"We will continue to monitor these proposals closely and I will stand with our other elected officials and the millions of New Yorkers who are resisting this administration's attempt to hurt our most vulnerable residents," Mark-Viverito said. "At today's hearing, I look forward to hearing from OMB about the administration's plan to strengthen the city's finances against risk posed by the federal government."
Among the federal programs Mark-Viverito warned could come under threat are $64.1 million the city receives under the Workforce Innovation and Opportunity Act for job training and youth employment programs; the Public Housing Capital Fund, which covers $296.2 million for the New York City Housing Authority's construction and maintenance budget; and social service block grants that provide $69.7 million for the Department for the Aging's senior services. In addition, Head Start also gives $129.3 million a year to the city's Administration for Children's Services.
The speaker also noted Trump's proposals to increase defense spending by $54 billion with cuts to non-defense discretionary programs and large tax breaks aimed at high-income households and corporations and possible cuts to Medicaid, the Supplemental Nutrition Assistance Program and education services.
Dean Fuleihan, de Blasio's director of the Office of Management and Budget, admitted in the hearing that the city would need to make "constant adjustments" to changing realities in Washington.
Fuleihan noted the mayor's plan would baseline $250 million a year into the city's reserves, which he said would it could deal with anticipated federal cuts. He also said that they approached the preliminary budget "with a great deal of caution" and that they want to ensure that they protect the mayor's initiatives such as universal prekindergarten "and the other things that we've instituted."
"You're absolutely right, we don't have certainty what they're going to cut and what those are going to be and we need to be very proactive in Washington and with our congressional delegation to do everything we can to make sure that those do not occur," he added, also saying that the city is continuing to seek reimbursement for he NYPD's security perimeter around Trump Tower.
De Blasio has vowed to sue if Trump follows through on his plan to yank federal allocations in retaliation for the city's policy of noncompliance with Immigration and Customs Enforcement in most cases.
Councilwoman Julissa Ferreras-Copeland, chairwoman of the Finance Committee, noted that in the 2017 House Budget Committee-approved budget plan, Congress proposed block grants to SNAP and potentially cutting funding by 20 percent for $150 billion over 10 years.
"A cut this large as SNAP funding will jeopardize food assistance for millions of low-income families," Ferreras-Copeland said. "States will be left to decide whose benefits to reduce."
Fuleihan agreed, and said that although a small number of Medicaid dollars goes through the city budget, "more than $17 billion in Medicaid funds flows into the city, as well as $2 billion for the cash-strapped NYC Health + Hospitals system. He also noted the adverse impact that repealing the Affordable Care Act would have on the city, reiterating that they "need to fight very hard at the federal level."
"Any attempt that would hurt, that would harm Medicaid and would change the very nature of Medicaid and the resulting cuts to that vulnerable population for the city would be very dramatic and we are doing everything we can to make sure that doesn't happen," he said. "We should be joining together to make sure that doesn't happen."
The city's Independent Budget Office also noted the instability of the present political moment in an analysis of the mayor's spending plan released this morning.
"We are over a month into the Trump presidency and there still is very little clarity on how changes in policies in Washington could affect New York City's budget," it reads. "The threat of any loss of federal funding still looms over the city's budget process."
Like de Blasio, IBO predicted that funding for the NYPD could be in greatest danger under the president's anti-sanctuary city measures, since those monies bear most directly on the facilitation of federal immigration actions. However, the executive order Trump signed imposing the new policy allows the U.S. Attorney General and Secretary of the Department of Homeland Security to exempt funds necessary for law enforcement.
The IBO also argued the mayor had severely underestimated the costs of homelessness and education, but had also lowballed the revenues the city could expect from property taxes.
This story has been updated to clarify how Comptroller Stringer determined that the city should come up with additional savings.