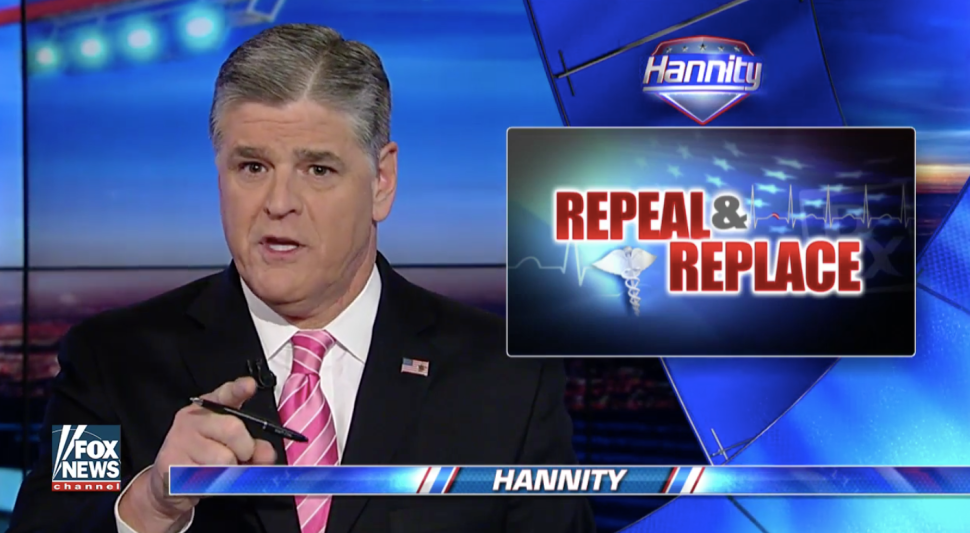 As head fluffer for amateur President Donald Trump, Sean Hannity of Fox News Channel takes a loyal and predictable White House position on most issues.
On Thursday night, he did this regarding the troubled Republican bill to attack and destroy American health insurance.
Thursday's scheduled vote in the House of Representatives was postponed after Speaker Paul Ryan failed to recruit enough support from his own Republican side.
Trump has demanded a vote on Friday. If the Trumpcare-Ryancare bill fails to repeal and replace the Affordable Care Act—a real possibility now—Hannity knows who to blame.
It's all Ryan's fault.
"Where did this process go so terribly wrong?" he asked, calling it "contentious, unorganized and disjointed."
Then he unloaded.
"The legislative branch did not do their job," he said in the 10 p.m. hour on Hannity. "They're the gang that can't shoot straight . . . Fix this mess that you have made for the president . . . For the love of God, after eight years, can you please do your job? . . . It's time to serve your president."
Hannity didn't mention Ryan by name. For that, he brought on his buddy, Lou Dobbs, a Fox fuddy-duddy.
"He has failed," Dobbs intoned of Ryan. "This is a man who's been anti-Trump . . . I don't know his motivation and I don't care."
Dobbs didn't like the idea of this vote being the first of Ryan's three-step approach that is doubted by even his colleagues.
"This business of phases was a tragic and stupid mistake on the part of the Speaker and his leadership team," Dobbs har-rumphed.
Similar sour grapes—or sour gripes—were heard on Fox earlier, at 5 p.m., when Eric Bolling said on "The Five" that you should "make no mistake. This is on Paul Ryan, not on Donald Trump."
This amused colleague Greg Gutfeld.
"So the deal-maker didn't get the deal," Gutfeld said of Trump, "but it's not his fault?"
During the same hour, a similar thought was presented by Chuck Todd on MTP Daily on MSNBC. Todd showed a selection from Trump's book The Art of the Deal after Trump spent the day pleading with right-wing Republicans of the so-called "Freedom Caucus" who have him at their mercy.
"The worst thing you can possibly do in a deal is seem desperate to make it," Trump wrote, words that Todd gleefully displayed. "That makes the other guy smell blood and then you're dead."
Most shows on the three major cable news channels covered the story all day, with a peak in prime time as angry Republicans met behind closed doors then stormed back to their offices or to the White House.
The major exception was Tucker Carlson Tonight on Fox.
Instead of covering real news, Carlson did yet another show about last week's alleged rape of a high school student in Maryland by two undocumented immigrants. Carlson even played part of Trump's campaign launch speech in 2015 regarding Mexicans.
"They're bringing drugs," Trump said then. "They're bringing crime. They're rapists."
Carlson then brought on a lawyer representing one of the accused, and told him that he would have to justify himself "before God" and that he is putting his "soul on the line" by defending the man.
Carlson then went on to mock the school superintendent who had warned the community about "racist, xenophobic calls and emails."
Carlson's screen showed a headline that shouted of "Staggering Statistics, Immigrants & Crime in America." With ominous music playing underneath his voice, Carlson showed mug shots of scary "illegals," the only immigrants Carlson seems to care about.
As usual, the most balanced of the three networks was CNN, where host Anderson Cooper said on AC-360 that the White House has made a risky ultimatum on the health-care bill.
"A lot of political futures are on the line," Cooper said. "So are the lives and well-being of tens of millions of Americans, people who vote."
One of many on his busy panel was Gloria Borger, the CNN political analyst, who said "it's clear the President is really frustrated" by negotiations that have not gone as he promised his cheering, chanting mobs during the campaign
Trump recently marveled that nobody realized health care is so complicated.
"These are not the kinds of negotiations he's used to," Borger said of The Great Leader. "He's used to going in a room, cutting a deal, shaking hands and other people working out the details .  . . They're playing 'Whack-a-mole' and they don't want to play it anymore."
During the same 8 p.m. hour on Fox, Bolling was subbing for Bill O'Reilly on The O'Reilly Factor and he peppered White House press secretary Sean Spicer about Ryan.
BOLLING: "Is the President disappointed with the Speaker of the House?"
SPICER: "No, not at all."
BOLLING: "If the bill doesn't pass, should the Speaker resign?"
SPICER: "Absolutely not."
In the next hour on MSNBC, The Rachel Maddow Show opened with a refreshingly direct montage of video clips from street protests and angry town hall meetings that have spooked Republicans.
Maddow said the Republican attack on healthcare was thought to be a sure winner right after the election but that the growing resistance is organic and massive.
"It started early," she said, "and it didn't let up."
One of her guest was Bernie Sanders, the independent senator from Vermont.
"People are catching on," Sanders told Maddow, "and they're telling their Republican representatives 'Do not sell us out. Do not let my mother die.'"
Even if the Republicans can win a vote on Friday, the legislation faces considerable opposition in the Senate from some Republicans. One of them, Mike Lee of Utah, scoffed to Todd about cries of doom from the Ryan-Trump alliance.
"If this particular bill doesn't pass it's going to be Armageddon," Lee said, with sarcasm. "Dogs and cats living together in the streets. Book of Revelation type of stuff. That makes no sense. That is absurd. They know better. They shouldn't say that."