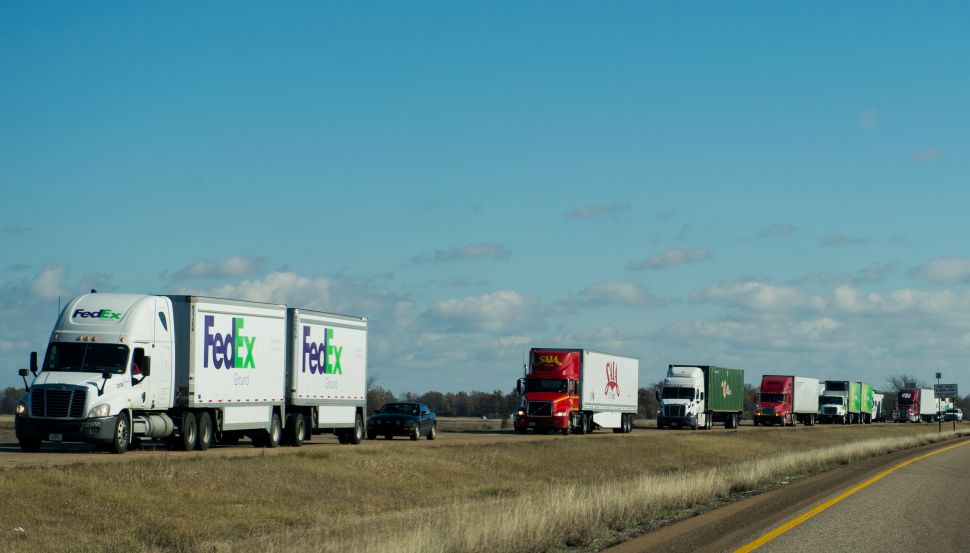 We're witnessing a shift in how an industry operates. In a few decades, C.W. McCall's "Convoy" is going to seem as quaint as ballads about blacksmiths.
It began in 2015 with Daimler's Freightliner Inspiration road tests. The Freightliner Inspiration is semi-autonomous—it only takes over driving from humans on an interstate, and if things get confusing for the sensors and computers (snow covering lane lines, for example), it prods the human driver to take over.
Last year, Uber bought self-driving big rig start-up Otto and announced its plans to get a fleet of 15 self-driving cargo trucks on the road this year. Otto claims it can retrofit a standard big rig for autonomous driving at a $30,000 cost—that's a one-time expense that runs 25 percent less than one year of a truck driver's average annual salary.
Uber isn't the only one hoping to grab a piece of the $700 billion-a-year trucking industry. (In fact, it may have actually grabbed its stake from Alphabet, the parent company of Google and autonomous vehicle startup Waymo, as a recent suit alleges ex-Waymo manager Anthony Levandowski stole proprietary intellectual property and used it to launch Otto.) There are a rash of startups competing with Daimler, GM and other automakers to have their automation systems be the ones that America's trucking fleet adopts as it moves to a driverless future.
So what? Expect a push to welcome our new automated auto overlords. There's a strong safety argument waiting for an advocate: In 2015, the number of large trucks involved in fatal crashes increased by 8 percent, from 3,749 to 4,050—killing 4,067 people. Although that's below the 1979 high of 6,431 deaths caused by large truck crashes, it's still part of an uptick in fatalities since 2010. The first trucking firm that can draw a bright line between their fleet of automated large trucks and a year-over-year drop in accidents and fatalities of any kind will win a PR victory that could ripple across the industry and even into trucking regulations.
The auto industry tends not to do massive leaps forward—we're talking about an industry where its customers use (and expect maintenance and service for) products that are a decade or more older, and it's an industry where how people use its products is regulated on both the state and federal level. The first phase of self-driving vehicles was about testing and normalizing autonomous driving as a feature in cars where humans are still ultimately the ones at the wheel (e.g., the Freightliner Inspiration tooling along the highway or your own car tidily parallel-parking you). The next phase is about the car taking over more of the driving, with humans handling nonstandard scenarios like navigating during a hailstorm or going down an unmarked rural road. But by the 2020s, Morgan Stanley predicts autonomous driving will be a robust capability in vehicle fleets.
Safety isn't the only reason why self-driving trucks are going to hit the roads. It will be cheaper to set up a fleet where a caravan of eight trucks—one lead driven by a human with seven self-driving vehicles following behind—requires only one driver.
Who cares? People who work in the trucking industry and people whose local economies depend on people who work in the trucking industry—and that second group is spread nationwide. In 2014, NPR found that the most common job in 29 U.S. states was "truck, delivery and tractor driver." The American Trucking Association says there are 3.5 million professional truck drivers in the U.S. The U.S. Bureau of Labor Statistics has slightly more conservative numbers, asserting that of the approximately one million people employed in the truck transportation sector, more than 900,000 are truck drivers: 51,080 people are employed as light truck or delivery drivers, and 848,640 people are employed as heavy or tractor-trailer drivers.
However, the quantity of people employed in a job is no guarantee of a job's future: In 1900, 20 percent of American workers had factory jobs and 40 percent of American workers had farm jobs. In 2015, 8.7 percent of American workers had factory jobs and 2 percent of American workers were on farms.
Specialized knowledge won't save a job either. While automated trucks and cars may be dependent on humans to handle snowy conditions or rainy roads now, machine learning and pattern recognition will soon eliminate that requirement. It's already happening to jobs that used to rely on human expertise in reading radiology or skin images for medical diagnoses.
Any job where the industry-specific knowledge can be turned into a consistent dataset—and Alain Kornhauser, head of Autonomous Vehicle Engineering program at Princeton University, says long-haul trucking is perfect for this—is a job where automation can augment a human worker or replace them entirely.
Want more? There's a whole archive of So What, Who Cares? newsletters at tinyletter.com/lschmeiser. In addition to the news analysis, there are also fun pop culture recommendations.