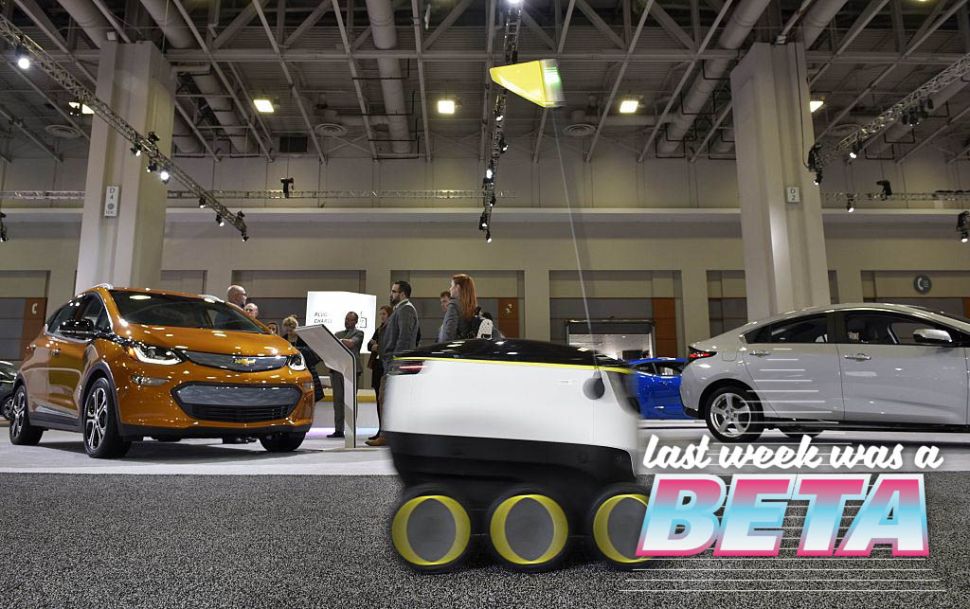 Welcome to Last Week Was a Beta, our Monday look back on the big stories in tech last week.
We were at SXSW in Austin, Texas, last week and thinking about the big trends in tech as soon as we reached baggage claim, because there was a guy there at a folding table promoting Ride Austin, a non-profit ridesharing app. Uber and Lyft checked out of the city shortly after last year's events. Rather than download a new app, I opted for a taxi cab from the airport and it was easily the worst cab ride of my life.
With so many tech reporters in Austin at once, the visit became a study in city life without Lyft or Uber. TL;DR: it's fine. Lots of people wrote about ridesharing in Austin, but we liked Mashable's take.
The good folks over at Uber, though, don't even have time to think about the Texas capital right now. We worried it might have been premature to refer to the world's most highly valued unicorn as "beleaguered" last time, but it seems more than fair following this weekend's announcement of the departure of the company's president, Jeff Jones, after only six months.
He was quoted by Reuters saying "that the beliefs and approach to leadership that have guided my career are inconsistent with what I saw and experienced at Uber, and I can no longer continue as president of the ride sharing business."
We all confirmed something down in Austin: no one is loyal to any ridesharing service. So the only way they can really compete is on price, and competition there has gotten so fierce that it doesn't seem like money is getting made. The problem for Uber and Lyft is drivers. They need to pay drivers enough to make the work worth it, but they also need to keep fares low enough to hold onto customers.
As our time in Austin illuminated, brand loyalty runs no deeper than a user's reluctance to put their credit card into a new app. So what's the solution? Self-driving cars, which we called inevitable, but that doesn't mean they will get here in time to save the companies that pioneered ride-hailing. They might, however, return one of computing's true giants to its '90s glory. The chipmaker Intel made a $15.3 billion acquisition of Mobileye, a suite of sensors for cars. Mobileye has been used in New York City taxis, Tesla cars and currently has gear inside the NIO vehicles we recently checked out.
The AP did a nice roundup of companies worming into this industry, and there's a lot of non-carmaker names on the list.
Intel's play looks similar to that of the electronics maker, Harman, who has bet heavily on autonomous vehicle accessories. The car market in the future could look a lot like the personal computer market of the past. Ford and Audi could one day be brands like Gateway and Dell once were, the sort that people take seriously, but not so seriously as companies such as Intel and Windows that build the stuff that worked inside those manufacturers' chassis.
Self-driving cars are just one of the many forms of robots that will one day take over all of life's drudgery. Other robots where all over the news last week, as well. Techcrunch spotted a food delivery robot from Yelp out for a photoshoot. Imagine what basically amounts to rolling cooler showing up at your doorstep when you order Thai food. That day is coming.
Y Combinator wants to take it a step further. They are looking for companies that want to further refine robotics in manufacturing. In particular, they want robots that can assemble and fix and other robots, as Techcrunch reported in another story.
These machines only work well if they can connect to the internet though, which is why it will pay to move slowly into hackable hardware.  A huge indictment came down against Russian cybercriminals who broke into Yahoo and used stolen information to make money though a wide array of nefarious means. More to the point, a maker of smart vibrators announced a settlement after hackers demonstrated that the devices could be remotely turned on and off by third parties.
A cautionary tale if ever there was one, but will it stop the tech bros of the world from lining up to buy the sensor-laden cock ring announced earlier this month for precisely tracking one's amorous conquests? We doubt it.
The robot overlords will be coming soon enough, but smart sex toys are still a dumb idea here in 2017. Don't put the internet on your thing.