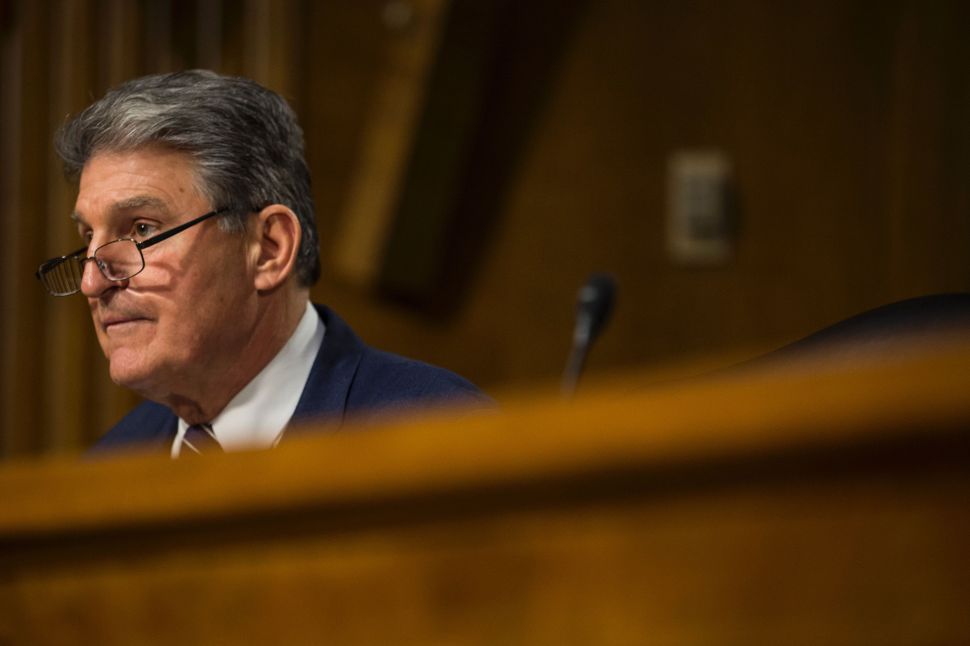 Sen. Joe Manchin was a relatively unknown Democrat in the Senate until his name began appearing alongside the Republican majorities approving President Donald Trump's nominees. Manchin has voted for nearly every Trump nominee, except Betsy Devos for secretary of education and Wilbur Ross for commerce secretary, and he was the only Democrat to vote in favor of former Sen. Jeff Sessions, who is now facing calls for his resignation.
Shortly after Hillary Clinton's election loss, Senate Minority Leader Charles Schumer appointed Manchin to a Democratic Party leadership position. However, in response to Manchin's increasing abrasiveness toward Sen. Bernie Sanders' supporters, progressives are now petitioning Schumer to remove Manchin from the Democratic Party leadership.
On March 1, progressive activists delivered a petition with 225,000 signatures demanding Manchin's removal. "Joe Manchin is a phony Democrat who often votes or acts in conflict with the core values of the Democratic Party," said CREDO senior campaign manager Heidi Hess. "Manchin has failed time and time again to fight back against Trump's racist, sexist and xenophobic agenda. His willingness to collaborate with Trump makes him unqualified for Democratic leadership."
On February 24, Politico reported that Manchin condescendingly dared Sanders' supporters to run a primary challenger against him for his re-election in 2018. "Bernie Sanders is not even a Democrat," Manchin told an activist during a conference call focused on scheduling a town hall between Manchin and his constituents in West Virginia. This criticism has been frequently lobbed by establishment Democrats to attack Sanders and his supporters, who push the Democratic Party to take a more progressive stance in order to better reflect the enthusiastic, younger base that strongly supported Sanders in the Democratic primaries. Sanders easily won West Virginia in the Democratic primaries, though Clinton loyalists falsely attributed his win to Trump's supporters voting for Sanders to stop Clinton.
Manchin already faces a difficult re-election, so he may be trying to appeal to conservative voters by cozying up to Trump by praising him on Breitbart and Fox News. However, he does so at the detriment of the Democratic Party and its campaign to resist Trump.
When Politico followed up with Manchin's communication director, they were told, "Sen. Manchin is very happy to have you quote him saying Bernie Sanders is not a Democrat."
Sanders is one of the most popular politicians in the country, and Democratic Party leadership maintains lower favorability ratings than even Trump. The Democratic Party has passed on opportunities to make concessions to progressives since the election. Instead, they preserve the status quo.
However, Democrats are more than willing to ingratiate themselves with Sanders to reap political benefits. Schumer appointed him to outreach chair for the Democratic Party. Sen. Cory Booker and Sen. Bob Casey introduced a bill with Sanders to allow for cheaper prescription drugs to be exported to the United States after facing immense backlash for refusing to support Sanders' amendment on prescription drugs. The bill is a compromised, watered-down version of Sanders' initial amendment.
Manchin's statements against progressives are symptomatic of a Democratic Party that no longer values or represents its voters. Democrats opt for manufacturing outrage against Trump over mobilizing the party's voters with enthusiasm from good policies. Ultimately, the Democratic Party needs to recover from its past failures by reforming or it will be abandoned and replaced.