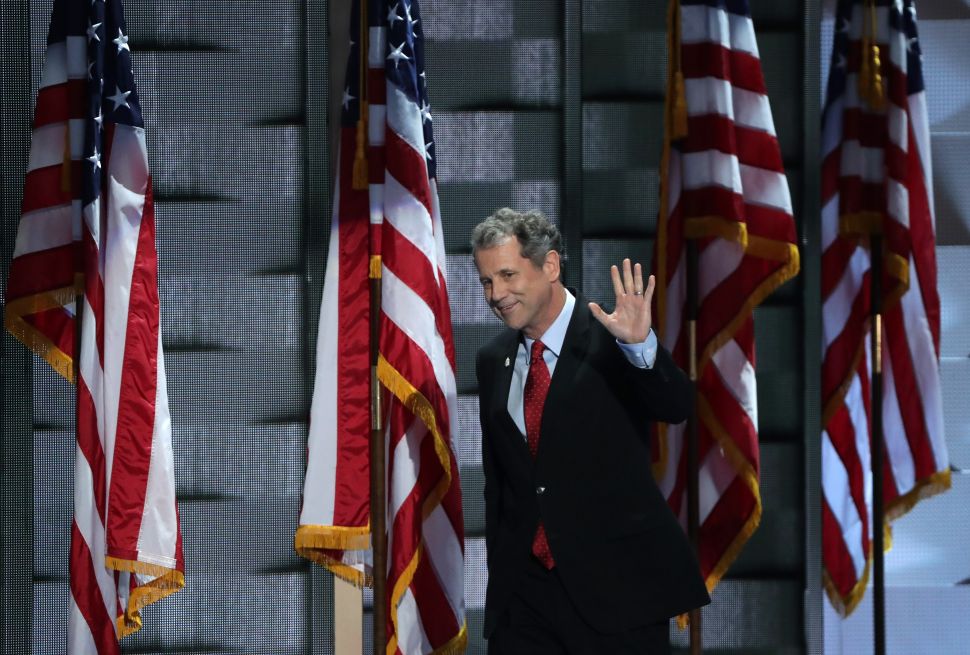 The Democratic Party's biggest problem is the ongoing civil war between economic progressives and social progressives, which recently manifested itself in a proxy battle for the chair of the Democratic National Committee. While neither side particularly opposes the other's goals or ideals, a rift has formed between those who primarily see the nation's ills as stemming from Wall Street and those who are more focused on the discrimination of minorities.
One thing is for sure: Unless Team Bernie and Team Hillary can bury the hatchet somewhere besides each other's skulls, Republicans will keep both chambers of Congress in 2018 and the White House in 2020. The Democratic Party desperately needs somebody who can unite these warring factions, and nobody is better positioned to do it than Sen. Sherrod Brown. Should he run for president in 2020 and win the nomination, he could very well reclaim the White House for his party.
I actually have some experience working with him. From 2001-2003, I was a press secretary for a Democratic midwestern congressman who strongly supported organized labor in his union-heavy district. Brown was also in the House then, and he represented a blue-collar district in Ohio. Whenever my boss wanted me to put together a multiple-member press conference on trade or labor issues, I knew I could count on Brown.
Brown moved on to the Senate in the Democratic Party wave of 2006, but he has never forgotten where he came from. The Midwesterner remains a staunch friend of labor, continuing his habit of wearing a pin with a caged canary in support of Ohio's coal miners. (Canaries were used to alert miners of toxins in the mine; if the canary died, it was time to leave.)
The gravelly-voiced, sometimes disheveled-looking Brown oozes the down-home authenticity that the public craves from politicians. This factor would serve him well in Rust Belt states that were Democratic for a generation but voted for Trump in 2016. With a pro-labor, fair-trade, Main Street philosophy, he could reclaim enough blue-collar, white voters in Pennsylvania, Michigan and Wisconsin to offset the party's narrow margins of defeat in those states in 2016. He could also put Ohio and Iowa back in play.
However, when Democrats begin talking about courting the white working-class, other segments of their coalition—particularly voters of color—push back and brace themselves for a "sell-out."
One cannot blame them. There's a long history of selling out voters of color for political gain. Even the revered Franklin Roosevelt, fearing that the Southern congressional committee chairmen would tank his beloved New Deal, went along with the exclusion of African-Americans from many of the program's benefits.
However, Brown has repeatedly demonstrated support for all segments of the progressive coalition. He has a strong civil rights voting record, has consistently advocated for gay-rights, and has strongly supported pro-feminist legislation. It's hard to imagine many people getting to the left of the senator in regards to social issues.
Still, a multicultural presence on the ticket would help solidify the coalition, and an excellent choice for Brown's running mate would be Sen. Kamala Harris. A rising star in the Democratic Party, the smart, polished senator made all the right moves as she ascended from California's attorney general to the Senate in 2016. Part Asian, part black, young and female, she epitomizes the "coalition of the ascendant" that Democrats have long anticipated as the vanguard of their future majority. By 2020, she will have more than three years in a national office, which is exactly what President Obama had when he cinched the Democratic presidential nomination in 2008.
Yes, 2020 is a long way off, and anything could derail these potential contenders. Assuming he seeks a third term, Brown will face a challenging reelection race in 2018. On one hand, if he is planning a presidential run, it might be smart to pass up the race and avoid a possible loss. On the other hand, with the party defending 25 of 34 Senate seats up for re-election, Democrats probably would not forgive Brown for ducking out.
If Trump's first month is any indication, 2018 might not be a bad year for Democrats, and if Brown can survive it, he could certainly be in position to unify his fractious party in 2020. With Harris by his side, the Democrats could be in 1600 Pennsylvania Avenue in 2021.
Cliston Brown is a communications executive and political analyst in the San Francisco Bay Area who previously served as director of communications to a longtime Democratic Representative in Washington, D.C. Follow him on Twitter (@ClistonBrown) and visit his website at ClistonBrown.com.