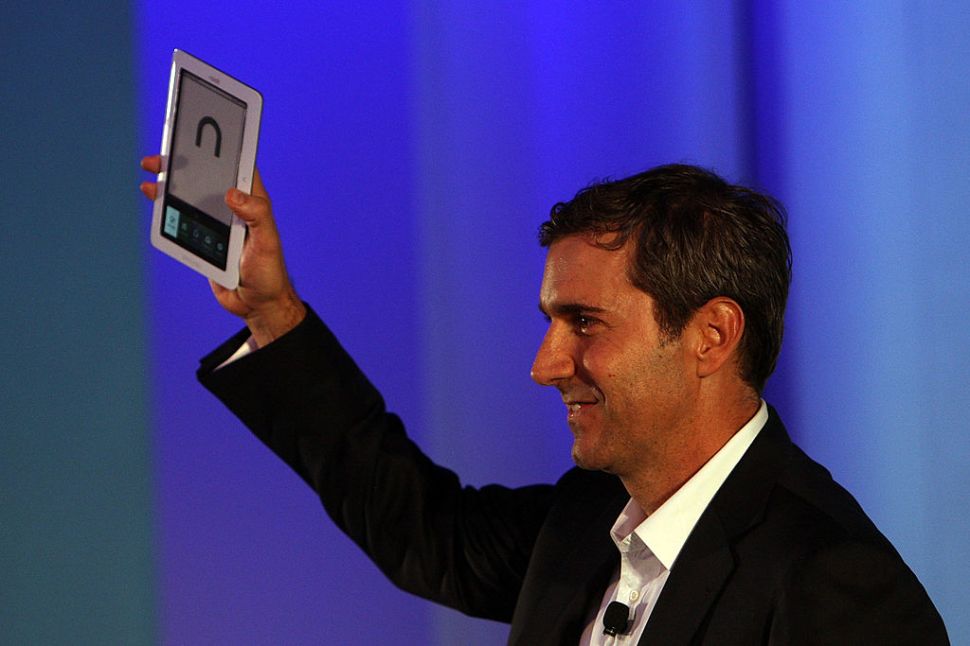 We have been closely following the ascent of indie publishing superstars here at the Observer. They aren't driving the conversation at the New York Review of Books yet, but these writers do have their hands on the wheel of the actual economy of writing fiction.
Lately, the best source of information on what's going on in this new market is the website Author Earnings. It's a joint venture between one of the most successful indie authors, Hugh Howey (whom we have talked to at length) and his collaborator, Data Guy, an anonymous numbers cruncher who devised the methodology for answering the questions Amazon (AMZN) won't. Author Earnings just released a new report, and this one goes beyond Jeff Bezos' baby, estimating total e-book sales at Apple (AAPL), Google (GOOGL), Kobo and Barnes & Noble as well.
We recently covered Data Guy's report on the still growing market for e-books, despite wide media reports to the contrary.
Thanks to this report's wide view, Author Earnings is able to provide substantive guidance on whether or not indie authors should make titles available exclusively on Amazon, or if they should go wide and sell them via every possible retailer. Books sold only through Amazon get invited to join the Kindle Unlimited program, the company's Netflix for e-books. In fact, Amazon pays authors in that program more money than non-exclusive authors earn in all the other channels combined, the report explains. But it's not quite that simple.
The report also says:
"'Wide' authors who are able to effectively take advantage of promotional opportunities at other retailers often see far more than the a quarter of their sales coming through non-Amazon channels; some high profile indies are doing so well at other retailers that Amazon now represents less than half of their sales."
It further points out that the Amazon market can be fickle. The market share for indie books at Amazon took a nose dive through part of last year, though it has largely recovered. Other sources of revenue can smooth overall income streams.
Sci-fi scribe Howey told us that he experimented with both wide release and exclusivity, finding he made far more money and reached far more people by gaining access to the Kindle Unlimited audience. Romance superstar Marie Force, by contrast, told us that she would never close a road by which a new reader could find her work.
The two stances illustrate the question facing every indie author. Amazon is by far the largest market for e-books and, if Kindle Unlimited were its own company, it would be the third largest e-book seller. "To completely ignore a retail channel of that size makes zero sense," the report contends.
On the other hand, writers without a following may feel they can ill afford skipping any market. There's more than enough money changing hands on any of the major channels to afford any writer a very good living if they can only attain a small piece of any one.
Author Earnings muddies the waters by noting that "if a title appeals to Canadian or Australian audiences, it will be unavailable in the retailer channels where almost half of those countries' e-book purchases occur."
Author Earnings ultimately settles on a recommendation that can only work for writers who have more than a few books out: Put some into Kindle Unlimited and go wide with others. When an author blows up on one channel, readers who like the book that becomes popular often want to go back and read the rest, as another popular sci-fi writer, Christopher Nuttall, explained for us. But if a book becomes popular in Apple's iBooks, readers won't be able to buy the writer's Kindle Unlimited books there.
On the other hand, Amazon only requires exclusivity in three month increments. So a writer could wait for that window to end, then add the books they held back to the other pools. Even if they lose money in the short term by leaving the Kindle Unlimited pool, it could be worth it in the long run to solidify new fans.
If it's your first book: flip a coin.
The report provides a number of interesting insights about the market for e-books across the English speaking world. For example, while Amazon dominates all of these markets, Kobo is putting up a respectable fight for the $136 million spent on e-books in Canada, and Apple is making a strong showing for the $126 million market in Australia (the US e-book market represents more than $3.2 billion). Read the report itself for other insights.
Author Earnings derives its data by scraping the sales rankings off of various e-book retailers' sites and correlating that with final sales data shared with those that run Author Earnings. These two pools of information allow it to derive estimates for all e-books sold. More on its methodology can be found here.