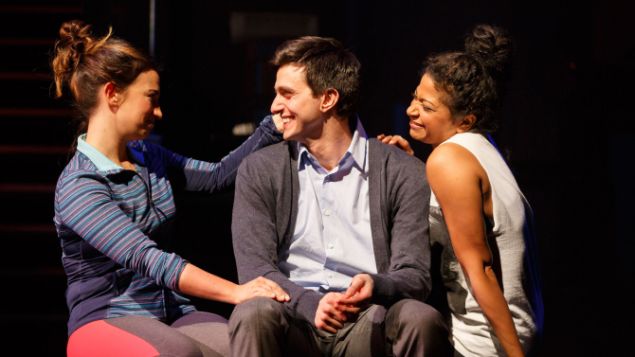 A dreary New York theater season has suddenly come vibrantly to life with Significant Other, the surprise Off-Broadway hit of the summer two years ago that has made a triumphant return—this time to the cherished Booth Theatre on Broadway itself. The star of the original production, Gideon Glick, has returned with it. He is simply marvelous, and so is the play and everyone in it.
In Joshua Harmon's touching and exuberant comedy, expertly directed by Trip Cullman, the bony, bouncy Glick does a career-defining turn as Jordan Berman, an undeniably funny, desperately lonely gay man who works in an advertising agency churning out copy for vaginal creams. He's 29 years old, and nobody has ever told him, "I love you." His three closest gal pals—Kiki (Sas Goldberg), Vanessa (Rebecca Naomi Jones) and Laura (Lindsay Mendez)—say it constantly, but when, one by one, they find guys of their own and get married, their priorities change and Jordan is left to face just how weird life can be when you're living it all alone.
With no gay friends in high school to lean on, Jordan depended on his holy trinity of female screw-ups who were always there to compare miseries and share everything except their bras. They tried to fix him up, through years of formative ups and downs, with various Mr. Rights. They held his hand, kicked away his clouds, cheered his near-successes and discounted his failures as somebody else's losses. But as time passed, high school morphed into college, disappointing jobs, career decisions and serious relationships, and all three girls grew up and found their own Mr. Rights while Jordan always ended up with Mr. Right Now.
Unhappily, Jordan's hopes for love waned, like his craving for pop tunes and pop tarts. He turned for triage to his wise and loving grandmother, but she grew tired of growing old and became preoccupied with chalking up variations on suicide with no pain and no mess to clean up for the people left behind. And sometimes Jordan just fell for the wrong guys—like a handsome fellow office worker named Will (John Behlmann) he met at an office-party swimming pool. Hopelessly uncertain of how to show either love or lust, Jordan asks him to a movie, but it turns out to be a dull documentary about the Franco-Prussian War, and Will repays his attentions with indifference.
In the play's best scene, he writes an ill-advised email to Will pouring his heart out, despite howls of objection from his entire female support team. With the kind of hopscotching, forehead-thumping, soul-searching torture that are Gideon Glick's sailing, soaring, slumping, slurping hallmarks, he struggles visibly with his dilemma, jumping and dancing and bouncing off the walls around his laptop, then finally jabs his finger on "Send." The object of his obsession not only ignores him but moves away.
Jordan and his overweight best friend and former roommate, Laura, still talk about having kids with the help of a turkey baster, but he is always left alone—without a mate, a pal, a chum, or a confidante. When Laura checks off an annoying list of elaborate plans prior to her own impending walk down the aisle, Jordan's whole world flashes before his eyes and he at last floods the stage with pent-up feelings of abandonment, frustration, loss and regret in a torrent of tears and rage. It's a brilliantly written second-act tirade that stops the show. Once again, he's without a significant other, and only his book knows how he looks in bed.
Unlike most of the young playwrights today who have not yet deserted the stage to write for the kind of real money they can earn in Hollywood, Joshua Harmon writes with heartbreaking truth and bittersweet honesty. Trip Cullman has directed with warmth and a refreshing lack of sentimentality. Although the entire cast is splendid (especially the glowing, intelligent veteran actress Barbara Barrie as his grandmother), it is the career-defining centrifugal force of Gideon Glick that holds center stage captive, and he's not just house-sitting.
In the leading role of Jordan, he joins Ben Platt of Dear Evan Hansen in delivering one of the season's greatest performances by newcomers. (Both shows are about the despair of loneliness, but Significant Other is better.) When Jordan is at the end of his rope and cannot reach the girls in his support group except to leave cries for help on their answering machines, Glick's near hysteria is like an alcoholic sending out distress signals to a sponsor in AA before reaching for a whiskey that might prove to be fatal. Full of libidinous charm and energy, he looks as though he could fold himself, like an envelope. Sometimes you cheer him when he melts poetically about the multiple choices he faces on the highway of life, and other times you want him to shake him when he forgets how to pick up the pieces and make a move in the right direction, or the wrong direction, or any direction at all. But even if he fails, that's O.K. too, because Gideon Glick is such a pleasure to be around that we'll take him any way we can get him. Delight is leavened by emptiness, and we realize that behind all that banter and bravery lies a mortgaged heart.