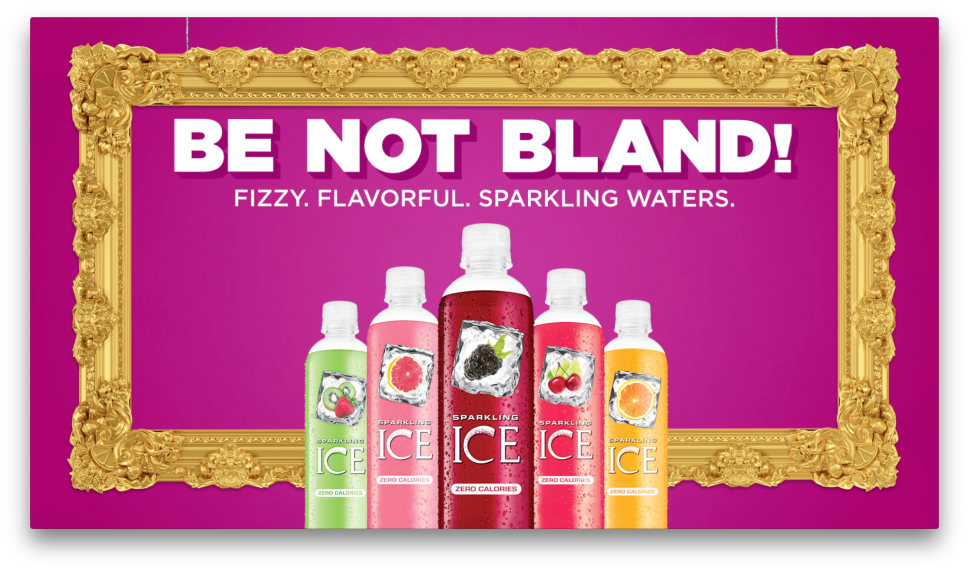 Sparkling Ice's new ad campaign "Be Not Bland" is truth in advertising. How could it be bland when it involves a helium-huffing bulldog, an upside-down family dining room and lots of popping color? With the help of Seattle-based ad agency Wexley School for Girls, Talking Rain's flagship brand has somehow managed to make a bottle sparkling water look exciting through their commercials.
For years, as Talking Rain Beverage Co. President and CEO Kevin Klock admits, Sparkling Ice hasn't been doing very well in terms of name recognition. "The thing that was really upsetting was you'd tell somebody, 'We're with Sparkling Ice.' And they're like, 'What's that?' " he said at a roundtable meeting at The Nomad Hotel. "Then you'd have to show them a picture and they'd say, 'Oh! I have that. It's in my fridge! I drink it all the time.' "
For the past couple of years, the Sparkling Ice marketing team has been trying to give the brand a personality that better fits its image—a personality that made the brand easily recognizable and distinct. Klock believes they've found that in their new campaign. "We're very excited because this is something that now has a callout to the consumers."
Their new ads have a Super Bowl commercial feel to them, with a weird quirkiness that keeps your eyes glued to the screen. It's hard to ignore the high-pitched helium-induced voices of parents catching their son sneaking in the house late at night, or a family trying to have a nice meal upside-down and Sparkling Ice pouring up down to the ceiling.
Klock says it's their goal to be on the grocery list, and not just something you pick up last minute on the way to the counter. As a beverage brand that prides itself of serving up the healthier alternative to soda, Sparkling Ice seeks to be a mainstay in the fridges of people looking to shift lifestyle choices.

But whether these new commercials will ever beat Coca-Cola's advertising home runs is a whole different story.