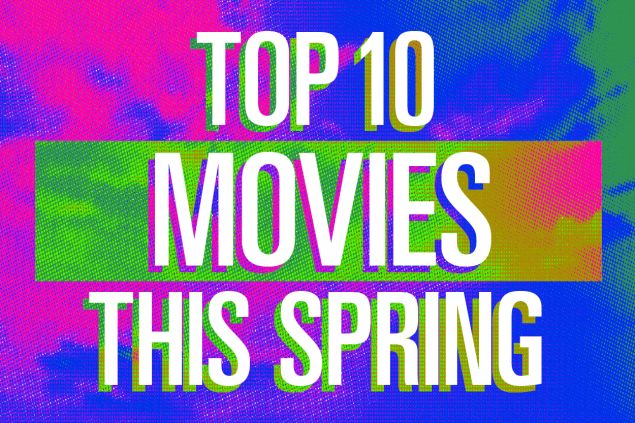 Contrary to popular belief, we here at Observer HQ know how to enjoy a good superhero movie—and we have no problem calling out a bad one. It's just that we consider them to be part of a well-balanced movie diet, one that also includes quieter, more introspective fare. Here is a 10-track mixtape that includes a little bit of everything on offer this spring and early summer from a sick podcaster to a galaxy in peril. Now, if we could just do something about this weather.
The Fate of the Furious (April 14)
Starring: Vin Diesel, Dwayne Johnson
Everyone knows that the fate of the furious is to end up commenting on articles online. As for the characters in this unlikely Universal franchise? Expect them to travel to the far corners of the earth—from sunny Cuba to the Arctic Ocean—to blow things up, drive fast and make a lot of witty one-liners while doing both. This movie has the added benefit of Charlize Theron onboard to antagonize the regular cast. If Mad Max: Fury Road is any indication, this is a path she knows well.
The Circle (April 28) 
Starring: Tom Hanks, Emma Watson
It is a creepily ideal time for director James Ponsoldt (The End of the Tour) to unveil his adaptation of the Dave Egger's novel that served as the author's receptacle for his surveillance state agita. But then pretty much everything about The Circle (not to mention America in the spring of 2017) is creepy. This one looks like tasty highbrow pulp, with Hanks playing villain as one of the "three wise men" behind the titular internet corporation and Watson as an ambitious employee in their social media department who is discovering the company's dark secrets. (The part originally went to Ex Machina's Alicia Vikander who had to drop out to make Jason Bourne—a.k.a., Bourne 5). You will never look at tech company perks—Ping-Pong tables, cool—the same way again.
Casting JonBenet (April 28)
The latest film in the continuing creative revolution taking place in nonfiction filmmaking, Kitty Green's film is less a whodunnit exploring the 1996 murder of the titular 6-year-old beauty pageant contestant than it is a rumination on the nature of American obsession. The film builds on a premise Green use for her 2015 short film The Face of Ukraine: Casting Oksana Baiul, following the casting of a JonBenet film as a means to discuss both the case and the nature of representation. In an era of "alternative facts," the certainty with which the actors auditioning for their roles discuss the "truth" of the case resonates well beyond this bungled Boulder, Colo., murder investigation.
Guardians of the Galaxy Vol. 2 (May 5)
Starring: Chris Pratt, Zoe Saldana
The 15th Marvel Universe film is the second in its most unlikely franchise. It follows the motley crew immediately after the end of the first film, as they search for the truth about their leader's parentage. It's sort of like an adult Harry Potter but with an ironic soundtrack. While you can expect an extra helping of comic action, the film forced Pratt to face some personal issues, including the death of his father three years ago. "The truth is I ripped open some wounds that had been healing for some time," the actor told British GQ.
The Wall (May 12)
Starring: John Cena, Aaron Taylor-Johnson
Movies don't get much more nihilistic than this taut little nightmare. Look for an oh-now-I-understand-the-hype performance from Golden Globe-winner Taylor-Johnson as a soldier in Iraq pinned down by a lethal sniper who has gained control of his radio communications. Directed by the Bourne series originator Doug Liman, the film—think The Hurt Locker as conceived by Samuel Beckett—is the result of Amazon Studios' first spec deal and was written by newcomer Dwain Worrell while he was teaching English in China. Now he lives stateside and has a CAA agent. Don't expect his movie to have such a happy ending.
Alien: Covenant (May 19)
Starring: Michael Fassbender, Noomi Rapace
Do we really need another cinematic universe? The answer is an emphatic no. However, we have been in need of space horror ever since returning director Ridley Scott invented the genre with the 1979 original. The second chapter of the prequel trilogy that kicked off the head-scratcher Prometheus, Alien: Covenant promises to return the Alien franchise to its horror roots. It tells the story of a colony ship that encounters the sole survivor of the last mission, Fassbender's paranoid android David. Prepare for multiple David units facing off against each other, which is fine by us: One Fassbender is never enough.
Wonder Woman (June 2)
Starring: Gal Gadot, Chris Pine
To properly gage the headwinds facing a female superhero, just know this: No think pieces have been written about Thor's armpits. That means that the weight of our feminist hopes and the fate of the dark and bitter DC universe rests on the shoulders of Gadot's Princess Diana. Raised on a secluded island to be humanity's ultimate savior, the Amazonian comes face to face with the patriarchy and a potential love interest when Pine's American airmen recruit her to fight in a massive conflict. With Monster's Patty Jenkins at the helm, this is the rare superhero smorgasbord whipped up by a woman, meaning if we all don't see it at least twice, we'll like never get another. Do your part.
All Eyez on Me (June 16)
Starring: Demetrius Shipp Jr., Danai Gurira
In contrast to his gangsta image, Tupac Shakur could at times be a real goofball, according to his friend. (If you ever get a chance, ask Jada Pinkett Smith about the dance they did together that one summer at Kings Dominion.) Whether we will see that side of him in this biopic that promises to hit all the major notes—from his time in prison to the rap beef that took his life—we will have to wait and see. One thing we can be sure to expect: After Straight Outta Compton caught lightning in a bottle, there will be many more hip-hop biopics to come. So why are we still waiting for the Too Short story?
The Big Sick (June 23)
Starring: Kumail Nanjiani, Zoe Kazan
Silicon Valley breakout and Twitter stud Nanjiani turns his courtship with podcaster Emily Gordon and her subsequent life-threatening illness into heartbreak and giggles in this Judd Apatow produced, Michael Showalter (The Baxter) directed dramedy. Already touted for achieving a level of maturity rare for the Apatow factory following its Sundance premiere, the film is also an oasis in a season nearly bereft of romantic comedy. Plus, one can bet that Gordon is getting a lifetime of material out of the fact that she was replaced by Kazan in her own life story.
https://youtu.be/sWFNMJbQJnA
The House (June 30)
Will Ferrell, Amy Poehler
Can you believe it has been a decade since Blades of Glory, the last time Ferrell and Poehler shared a marquee? Expect this movie, about a mom and dad who try to rescue their daughter's college fund by opening a casino in their basement, to harken back to this simpler, sillier time. While the jury is out on whether The House will right the Ferrell comedy ship after a string of underperforming films, we honestly couldn't care less. A few moments of divine madness from the SNL vets could tide us over for the whole summer.