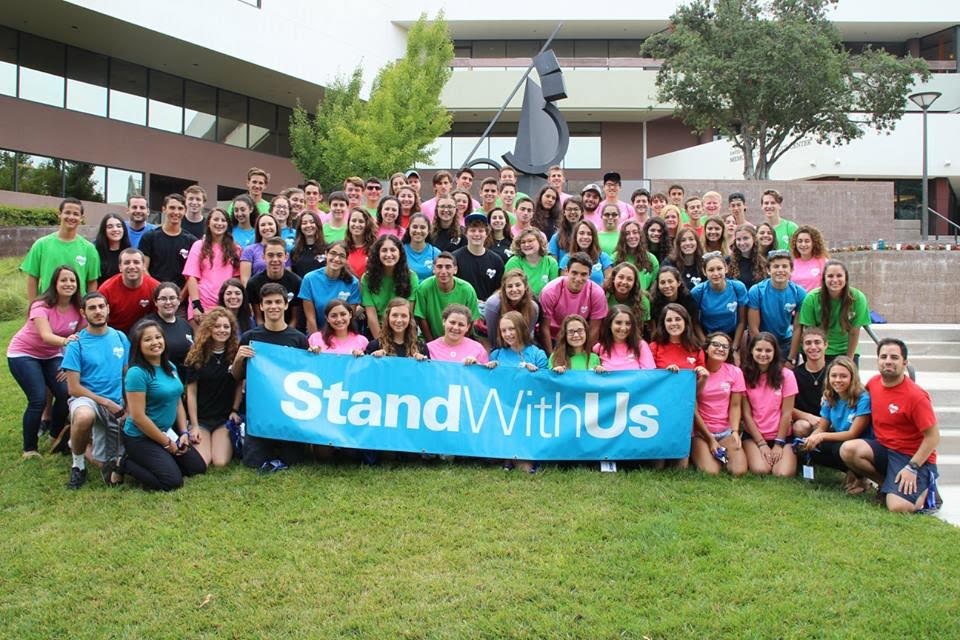 In the fall of 2007, while a freshman at the University of California, Los Angeles, Miri Kornfeld stumbled upon an "apartheid wall" for the first time. The wall—a symbol now synonymous with the divisive international Boycott, Divestment and Sanctions (BDS) movement—was a part of a public display of hate against Israel.
Distressed over what she witnessed, Kornfeld recalls running back to her dorm room in tears and phoning her mother. "I grew up in a Jewish bubble in Denver and knew in my heart it was wrong. It was erected on Holocaust Remembrance Day and was one of the most tasteless things I have ever seen," she said.
The apartheid wall was a rude awakening for Kornfeld, who realized in her young adulthood that she was unequipped to combat a movement whose sole aim is to demonize and delegitimize Israel.
"I didn't know how to stand up against it. I made up my mind then and there that what I went through is something I never wanted another high school student to go through—arriving to college unprepared to defend Israel like I was," she said.
Today, in her capacity as the executive director of High School Affairs in North America for StandWithUs—an Israel education organization more traditionally known for its work on college campuses—Kornfeld works to arm high school students with the tools and information needed to better advocate for the Jewish state and confront BDS activity when they step foot on campus.
"In 2012, StandWithUs launched its High School Internship Program. We found that the majority of students entering college were simply not prepared for what they would be facing on campus and had no idea anti-Israel sentiment even existed. We quickly realized that if we want to be as proactive as possible when it comes to defending Israel, we need to prevent the fires beforehand," she said.
The StandWithUs fellows are part of a select group of high school juniors and seniors from across North America who are invited to join the program following a rigorous nomination and vetting process. Just last school year, the program has worked with some 315 schools and organizations, run 650 programs, has an alumni network of approximately 400 high schoolers, and has impacted over 50,000 students. This academic year, around 80 fellows are registered in the program.
Following intense training with their peers, the StandWithUs fellows are tasked with certain requirements they must accomplish by the year's end—such as running at least three Israel-related programs in their communities and starting or reinvigorating Israel clubs at their schools—as well as monthly continuing education courses.
The overarching goal of the internship, Kornfeld explained, is to empower high schoolers to reclaim Israel's narrative when they reach campus. Indeed, more than one-third of Jewish students, according to an October 2016 study by Brandeis University, often feel silenced in the debates surrounding Israel.
"Zionism used to be a dirty word and standing up for Israel is something people were ashamed of. We are looking to take back Israel's story of Jewish self determination, of a beautiful movement for the indigenous people returning to their ancestral homeland after thousands of years," Kornfeld said.
The StandWithUs fellows appear to be taking the education they receive to heart. According to Kornfeld, as of 2016, 96 percent of the program's participants who went to college joined pro-Israel clubs or got involved in related activity on their campus, with at least half taking on prominent leadership roles in student government and organizations.
However, even before entering high school, StandWithUs is hoping to gain a head start with students in strengthening their personal connection to Israel, beginning in middle school with a new, groundbreaking educational program.
Mina Rush, director of Middle School Education and Programming at StandWithUs, is spearheading the initiative, whose "main goal is to reinforce the history of Israel and the Jewish nation through the lens of Jewish continuity," she said. Following two years of development, the curriculum is currently in its pilot phase, undergoing testing by 600 students from 20 schools that cross all denominational lines.
The impetus for the program, Rush said, "is due to several red flags we saw as an organization, the most significant being the increasing disconnect between our youth, the modern state of Israel, and the ancient nation of Israel."
"Israel is becoming less and less relevant because the traditional ways of learning about Israel, which largely focused on military conquests and the Holocaust, are not made relatable to our youth today. We might as well be talking about the Exodus of Egypt. It's ancient history for them," she explained. "We realized that what we had to do is connect them to Israel on their terms, relevant to their core values."
Using the latest technology to allow students to "discover Israel for themselves," the curriculum is broken down into six units that highlight the country's diversity, humanitarian efforts, innovations, and its status in the Middle East. "All the information contained in the program is documented evidence, like photographs and archaeological discoveries, and is not biblical in nature so as to avoid any religious barriers," Rush said.
In one unit, for example, while discussing Israel as compared to its neighbors, students are given the opportunity to put the country's small size into a personally relatable perspective. "No one really relates to numbers. When you say Israel is 290 miles long and nine miles at its widest point, what does that mean to a 12-year-old? We created an interactive activity where we have students type in their address and they are given a nine-mile radius from their location. They can zoom in and out and find markers they know, such as a soccer field, candy store, a friend's house, so that the size becomes tangible," Rush said.
While the curriculum is still undergoing testing, Rush said she hopes the exploratory nature of the program will "spark middle school students to be open to continuing their relationship with Israel."
"We are taking them on a first date with Israel and hope that when these students get to college and start hearing a revisionist narrative, they will remember their personal connection to the land that touched them as a young teen. At least this will be enough for them to dig deeper, question what they are hearing, and seek more information," she said.
Approaching Israel advocacy and education among high schoolers from a different angle is the Jewish National Fund, an Israeli nonprofit founded in 1901, renowned for planting millions of trees across the country. Over the last 45 years, through its Alexander Muss High School in Israel (AMHSI) study abroad program, JNF has brought 26,000 students to experience the land first hand.
"We strongly believe that spending up to a semester living and breathing Israel puts steel in the spine of students and instills a level of conviction on how to advocate for Israel that you can't get anywhere else," said Yishai Goldflam, executive director of Israel Advocacy and Education at JNF.
AMHSI participants spend up to eight weeks studying the history of Israel and Judaism in depth "in a language that speaks to them and appeals to their values," Goldflam said. Students also take part in advocacy training so that "when they are approached with half-truths and accusations in college, they can speak with conviction and call out the lies when they hear them, by virtue of the fact that they lived in Israel and took part in our rigorous program."
"If you wait until college to connect high school students with Israel, you miss the train. We need Israel education 3.0 because this is a new generation that has its own way of looking at life. It's not about Jaffa oranges or winning wars anymore. Israel is more than a boring, archaic thing students are learning about from a rabbi in Sunday school," Goldflam said. "We must speak in their language, show them how Israel is relevant to their values and only then can we begin to have a conversation on strengthening their identification with the land and getting them to stand up for Israel when they reach campus."
College campuses have historically played host to a battlefield of ideas. Over the last several years, the war against Israel on campus has reached an apex of hate, with student BDS activists and their allies openly working toward the downfall of the state. For many students who support the state of Israel, both Jewish and non-Jewish, being armed beforehand with the tools to successfully fight this evolving war has proven crucial.
"I can't even begin to absorb the volume of calls and emails we get each day from parents, students and educators," said StandWithUs' Kornfeld. "Unfortunately, I tell people business is good."
Lea Speyer is a New York-based journalist and contributor to the Haym Salomon Center, a news and public policy group.