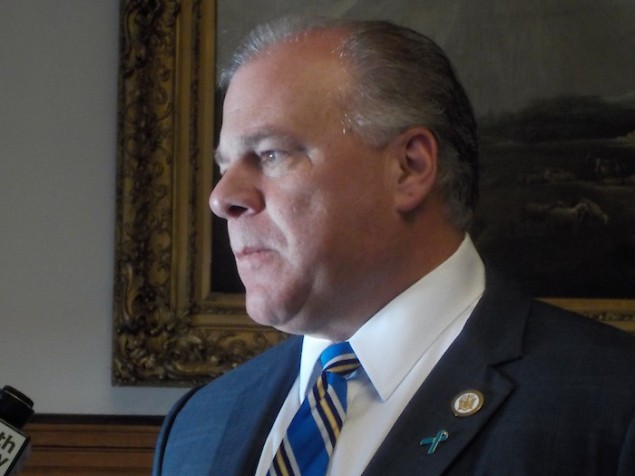 Earlier this week, the powerful New Jersey Education Association (NJEA) declared that they were hoping to oust state Senate President Steve Sweeney from his position following the 2017 legislative elections. While that feud has been long standing, the recent union threat brings into question Sweeney's future in the role. While it appears he has no intention of stepping down after the inauguration of New Jersey's next governor in January 2018, there do appear to be a lot of moving parts in New Jersey that make Sweeney's future—and the future of other New Jersey leadership roles—unsteady.
When considering the future of New Jersey's legislative leadership, the first dynamic that must be examined is the balance between north and south Jersey, according to Ben Dworkin of the Rider University Rebovich Institute for Politics. If Democrats keep their majority in both houses and win back the governorship from Republicans, Democrats from all parts of the state will likely seek representation in legislative leadership roles. Currently, Sweeney as senate president, brings a leadership role to south Jersey while Assembly Speaker Vincent Prieto—also the chairman of the Hudson County Democratic Organization—gives the north representation.
According to Dworkin, because it is still unknown how many Democrats and Republicans will be in the legislature come 2018, it is hard to draw lines of support for Sweeney or any possible successors. Dworkin cited potentially competitive races in legislative districts including district 2 and district 11 that might alter the makeup of the legislature.
"We are at the earliest stages of leadership battles," Dworkin told PolitickerNJ. "We have to get through primaries and more importantly we have to get through the general election and see how that all plays out. There are going to be some very competitive races in New Jersey, the outcomes of which are going to seriously effect any Senate President aspirant."
One Democrat that has been floated as a replacement for Prieto as Assembly Speaker is Middlesex County-based Assemblyman Craig Coughlin (D-19). According to one Democratic source, there are backroom murmurs that Coughlin and fellow Middlesex Democrats are hoping to work with South Jersey to strike up a leadership deal for their two regions, a deal that would help secure Sweeney in his position. However, because Prieto is still speaker and long-time aspirant for the position Assemblyman Gary Schaer (D-36) has not taken himself out of the running, Coughlin's future in the position remains unclear.
According to the source, one thing that will have a huge bearing on New Jersey legislative leadership is who becomes New Jersey's next lieutenant governor if a Democratic ticket wins the governorship in November. Currently, names like Assemblywoman Shavonda Sumter and Speaker Emeritus Shiela Oliver—both from northern counties—have been floated as possible LG options for a Democratic governor. The announcement of who will join Democratic and Republican nominees as candidates for lieutenant governor should come shortly after the June primary. If Democrats proceed to win in November, a north Jersey LG could open the door for  Coughlin and keep Sweeney in his position. Of course, if Republicans keep the governor's office, the role of LG will have no bearing on the moves of Democrats who control the legislature.
One possible way Sweeney's spot could become available is if the congressional seat in New Jersey's first district opens up. Again, that shift would depend on a confluence of events and would hinge on the outcome of the corruption trial facing U.S. Senator from New Jersey Bob Menendez. If Menendez is convicted and has to leave his seat—something the senator is adamant will not happen—Rep. Donald Norcross (D-1) has been rumored as a likely candidate for the seat, something that would foster a potential congressional run for Sweeney.
According to a source, names that have been floated on the Democratic side for the senate presidency include state Senator Teresa Ruiz, state Senator Paul Sarlo and state Senator Joe Vitale, among others. However, when the NJEA announced their goal for a new senate president, they also expressed that they would consider supporting a Republican candidate. According to a Republican source, since the entire senate is up for re-election in November, current senate Minority Leader Tom Kean might take the opportunity to make a run for Sweeney's position if the opportunity presents itself.
Of course, until a new governor is decided, it is hard to know where the chips may fall in New Jersey's legislature. In June, Democrats will select from the  likes of former U.S. Ambassador to Germany Phil Murphy, Assemblyman John Wisniewski, former Undersecretary to the U.S. Treasury Jim Johnson, and state Senator Ray Lesniak, among others. Republicans will also select from among a crowded field where frontrunner current Lieutenant Governor Kim Guadagno is facing stiffer and stiffer competition from Assemblyman Jack Ciattarelli.