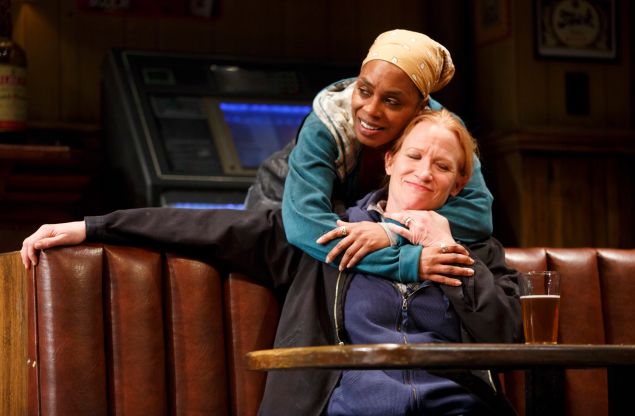 The play marking Lynn Nottage's long-overdue Broadway debut March 26 could be called Curse of the Starving Class, save for the fact Sam Shepard got there first. His play was about people who work the land; hers is about people who work the line.
So she went with a word that's dropped three times during the course of her play: Sweat—an inspired title since it's both a sinewy badge of honor and the common denominator for minimum-wage factory workers. And, yes, it's a bit incongruous outside that former Mecca of party-hearty frivolity, Studio 54, where the marquee art, framed in bright lights, shows two dames having a helluva good time inside.
They aren't. Johanna Day and Michelle Wilson play best friends and line workers on the floor since high school, caught up in an old socioeconomic squeeze play brought on by hard-nosed, cost-cutting plant management. Rumors of layoffs, union-busting, and cheap rival labor—all these keep the steel workers of Reading, Pa., reeling from 2000 to 2008. By 2011, this was the poorest cog in the Rust Bowl, but the outcries weren't truly heard till the Presidential election of 2016.
Dramatizing this zeitgeist in human terms is tough enough, but Nottage actually physicalizes the conflict with an ending that approaches the blue-collar tragedies of Arthur Miller. "I think it's important to go there on stage," she contends. "So often in theater, a play is afraid to go into very dark emotional places, and the result is very polite. We're not living in polite times. We have to reveal some of the underbelly. We can't shy away from it, not talk about it. Sometimes, it must be brought to the stage."
As is her wont, Nottage examined this whopping wound herself—up close, with field trips to Reading—interviewing the unhappy inhabitants, gathering ambience, details and evidence and then assembling an accessible story out of these shattered lives.
Accompanying her was her director of 16 years, Kate Whoriskey. These two pieced together Intimate Apparel, an affecting saga based on the life of Nottage's great-grandmother, a black seamstress' who rose to prominence in 1905 New York. In 2006, the two trekked to Uganda and recorded the harrowing plight of Congolese women surviving civil war in Ruined. The first play won the 2004 New York Drama Critics Circle Award for Best Play; the second play won the 2009 Pulitzer Prize.
Nottage has more award-hardware where these came from—the Drama Desk Award, the Obie, the Lortel, the Outer Critics Circle Award—but Sweat (which, like Ruined, came out of the chute winning the Susan Smith Blackburn Prize), constitutes the playwright's first clear shot at the Tony Award. (A Broadway bow will do that.)
Having gotten authentic mental pictures of the people she would be writing about gave Nottage and her director a leg-up in casting the play properly. "When Kate and I were thinking about who could play the role of Tracey, Johanna Day literally was one of the first people who came to mind. It's a role that requires someone who can bring warmth and raw fierceness to the character. It's really important for the role that, at the very beginning, you like this person and can invest in her, so, when it turns dark, you will be able to take that journey with her without sorta shutting down. Johanna Day is one of the rare actresses who can really cover all those bases.
"I encountered plenty of Johanna Days in Reading—people who, under different circumstances, might have been people you'd sit down and break bread with, but, because of the economic hardships, demons rise out and they find they're in touch with their darker selves. The reality of what's happening in the play is pervasive."
Sweat is essentially an ensemble piece of several moving parts, and each of the cast of nine has his or her moment. If Day quietly dominates, it's because she's a team player of the old school, capable of fitting in anywhere. Where does that come from? "Maybe," she suggests with a lusty laugh, "it's being the youngest of nine children.
"But, also, I'm genuinely excited about collaborating in the arts, anyway. Even if it's just working with the director and the writer in the room, it's so satisfying for me. You feel like you're really a part of it. Then, when you get on stage with eight other actors—all that brilliance coming at you at once—it just makes you better, too."
Her character, Tracey, is a something of a Norma Rae Minus—a flickering firebrand with a compatible mix of compassion and prejudice. When she loses a cushy, air-conditioned (no sweat!) desk job to her longstanding friend on the factory floor, Cynthia (Michelle Wilson), she assumes racial quotas count more than 24 years of loyalty, reaching this conclusion almost by speed dial. A third-generation employee, she oozes entitlement, coming from a time when craft outweighed cost efficiency.
"When I first read this play, that character scared the hell out of me," Day admits. "I didn't see the depth at first. All that was bouncing out to me was 'Wow! This lady has no filter.' But you know what? Those flaws make her human. That's what's beautiful about this play. Everybody is complicit. Everybody is faulted. It's human behavior. These are things that happen—the prejudice, the racism that flies up."
Tracey's hot-headed, plant-planted Jason (played with scary fury by the always-excellent Will Pullen) and Cynthia's much brighter and grounded, college-bound Chris (Khris Davis) have a close-knit friendship like their moms, and it unravels even more tragically when job issues come to a violent head at the grungy no-name Everyman bar where workers regularly stagger after long, painful, boring shifts.
The play is framed in flashbacks, after the fall, so the spiraling descent of characters governed by forces they have no control over is not noticed or noted. We just see the results—the wreckage of lives once the guardrail of employment has been removed. It's a huge arc to play, and this is a case where, one way or another, everybody pays.
Tracey reaches basement level before the final flashback. "I can't even think about it," says the actress. "When I get on stage, it's like 'I'm just going to do this one scene' because, if I think about the rest of it, I'd just run out of the theater into the night. It's what happens to a town when a factory shuts down. When workers are locked out their livelihood, a lot of them go to drugs and deep depression."
Their helplessness sometimes frustrates audience members, according to Day. "A friend of mine saw the show and told me, 'God! I got so mad at those characters. Why couldn't they just get another job or get another skill?' But life's not that simple. Most of the college graduates I know are just paying off student loans and working in a restaurant. It was not wrong that these steel workers expect security—especially because there was a union. It's a privilege we have in America—to get a skill and work hard and expect your pension. It's not The Rich Life, but it's comfortable, and they deserve at least that. They believed in the company line."
Sweat was co-commissioned by the Oregon Shakespeare Festival and Arena Stage and presented at both places before arriving in New York at The Public Theater. All but one of its nine-member Off-Broadway cast made the big jump to Broadway.
The one and only performance of Sweat that was given between Off Broadway and Broadway returned the play to its origins. "We rehearsed on a big stage in Reading and presented the show to the townspeople," says Day. "It was probably the best audience we ever had. The Reading folks were amazing. They really hosted us and took us to the bar that bar in the play was modeled on. We were all so tired from having done the run, but we hung in there. I was, like, 'Let's just go back to the hotel and hit the bar there.' The next thing you know, it's three o'clock in the morning, and we had to be up and out of there by seven. It felt like we were still doing the play."