With the minutes ticking away before South by Southwest 2017 begins, the festival's press and publicity team is still working overtime to rehabilitate their image in the wake of last week's news that the Austin fest was threatening to deport international artists who didn't comply with their rules.
Last week, Felix Walworth of "bedroom punk band" Told Slant catalyzed a torrent of dissent against the million-dollar mega-festival, simply by tweeting a snippet of his artist contract.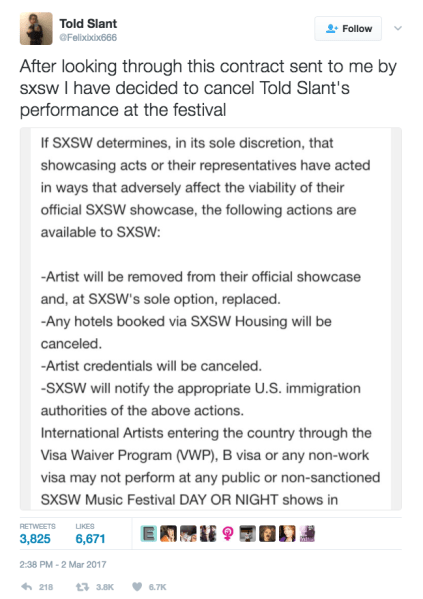 When exposed verbatim, the written contract's threat to notify U.S. immigration authorities about international artists who don't comply with their agreement to "not perform at any public or non-sanctioned SXSW Music Festival DAY OR NIGHT shows" quickly snowballed into a global outcry regarding language which, as it turns out, had been used in SXSW artist contracts since at least 2013.
These clauses, which detailed the ability of SXSW to report contract violations to immigration officials, became known as the "deportation clauses" and hit the web with a velocity that no one expected. A mere 3,800 retweets later, intensive backlash had SXSW reeling from a frenzy of mixed press and a swelling roster of petitioning artists claiming they'd boycott the festival if something wasn't changed.
While fragments of the contract come stuffed with menacing statements that threaten the cancelation of artist credentials, hotels, and performance showcases, SXSW has stated that in its 31 years of existence, the festival has never reported any of their artists to an immigration agency.
The language stated that SXSW could "notify the appropriate U.S. immigration authorities" upon violation of contract terms while maintaining that "performing unofficial events may result in immediate deportation, revoked passport and denied entry by US Customs Border Patrol at US ports of entry."
SXSW's confrontational rhetoric arrives at a time when immigration bans and venomous domestic policy are facts of everyday life, facts that didn't play well with the artist communities involved in SXSW, who leveraged a formidable combination of social media and Google Docs in response.
In an open letter to SXSW, a scrolling list of prominent artists are demanding an end to collaboration with U.S. Immigration and Customs Enforcement (ICE). At its peak, the group of protesting artists counted 80-plus acts threatening to boycott the festival if language was not amended alongside an explicit apology.
Interspersed with the smaller artists threatening to boycott were bigger names like Zach de la Rocha, Talib Kweli, Kimya Dawson, Joe Steinhardt of Don Giovanni Records and many more.
"The language related to deportation in the artist agreement is not reflective at all of SXSW, the spirit of their conference and organization, or the sanctuary city of Austin, TX," Steinhardt told Observer.
His sentiment now seems prescient—SXSW has since backpedaled and issued an official apology just days before the festival is set to commence.
We had the opportunity to speak with SXSW CEO Roland Swenson recently just prior to the delivery of the official apology. Swenson delved deeper into the context of the agreement in question and told us what it might take to ensure that SXSW 2017 goes off without a hitch, despite this rocky prelude.
If the "deportation contract clause" under dispute was effective in prior SXSW artist agreements, why did it receive such an adamant response in 2017?

The political climate has changed and people are understandably concerned and afraid about what's happening and what's coming.
Just under a week before SXSW 2017 is set to start, over 80 performers signed "An Open Letter to SXSW" threatening to boycott their showcase if the contract is not revised. Are you considering revising this contract?
We will review and amend the agreements for 2018 and beyond. So far, the only official showcasing artist that has dropped is the original, Brooklyn-based band [Told Slant].
Do you have a message for international artists who may have been hesitant to perform considering the strong verbiage in the current artist agreement?
Over the past 32 years we've worked with more than 10,000 foreign artists, often assisting them with understanding the necessary requirements for Customs and Border Protection to gain entry to the U.S. We will continue to help and support them, and we have issued language clarification to all SXSW showcasing artists.
What obligation does SXSW security have to report to the US Customs Border Patrol, as expressed in the following line of the artist agreement? "Accepting and performing at unofficial events (including unofficial events aside from SXSW Music dates during their visit to the United States) may result in immediate deportation, revoked passport and denied entry by US Customs Border Patrol at US ports of entry."
Our intention with this language is to prevent deportation, not facilitate it.
Foreign artists entering the country through the Visa Waiver Program (VWP), B Visa, any non-work visa, or any other visa, should be fully aware of and follow U.S. immigration laws. U.S. immigration authorities can deny entry to the U.S. and enforce those laws at their discretion if an artist violates visa requirements.
SXSW will not share an artist's immigration status unless required by law, and we have never reported an artist to CBP (Customs Border Patrol) in the history of the festival.
What is needed to make SXSW 2017 a success?
We hope that our diverse group of participants will be open to the unexpected discoveries that SXSW has to offer. Nearly 2,000 artists will be performing, we have speakers from every walk of life who are innovators, creatives, leaders, and pioneers in their fields, and another slate of thought-provoking, fascinating films.
It's difficult at times to put a human face on SXSW as an organization, but we are a group of people who are deeply committed to the community we serve. We are an organization who opposes discriminatory legislation of any kind. And we are an organization who believes in and supports civil rights for all.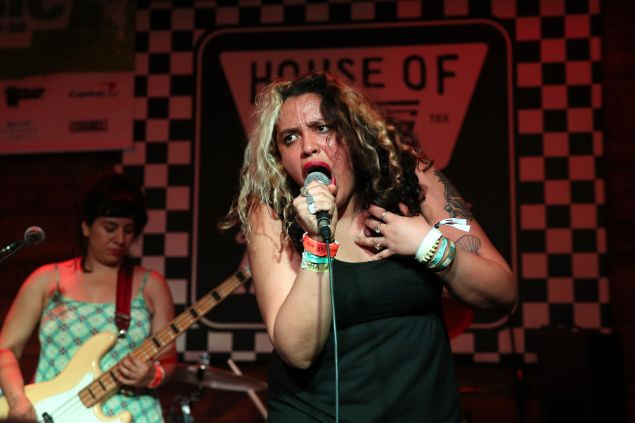 One day after our interview with Swenson, it was confirmed that the rallying cries were successful: SXSW published an official statement that commits to changing the verbiage in the artist invitation letter and performance agreement for 2018 as well as future festival dates.
Perhaps most notable is SXSW's commitment to remove the option of notifying immigration authorities of contract violations. The fest's perceived allegiance to ICE has been disavowed, effective immediately.
SXSW's new statement details that "it is not SXSW's duty or authority to escalate a matter beyond local authorities," which helps to alleviate a great deal of concern that the allegiance of the festival is tilted toward law enforcement agencies rather than the artists that have been invited and permitted to perform.
In response to SXSW's promise to rescind the language found in the initial artist agreement, many of the petitioning artists and their supporters have declared victory in a larger fight for the rights of the artist community and against hostile policy that marginalizes those that it should instead protect.
The following statement was issued via The Huffington Post:
"After mounting pressure from artists and the public, SXSW has chosen to do the right thing and has apologized for their contract language, pledged to remove deportation language from future contract, and promised not to work with ICE at this year's festival. They also strongly condemned Trump's immigration policies and his Muslim ban. We applaud SXSW's decision to stand with immigrants and against ICE, and are thrilled that collective action from musicians has worked to push a massive institution into taking a principled stand on an issue with ramifications far beyond next week's festival in Austin. 
SXSW's decision was made following our collective effort from over 80+ artists – most of whom are scheduled to perform at the festival – to pressure the festival to make the changes. We sent out a public letter, a public petition was passed around, and masses of people called, tweeted, and emailed SXSW demanding that they make the changes. After some negotiating, the festival finally agreed to our demands. The effort shows that artists can and must take collective action to fight unjust policies within the cultural sphere. At this critical time we need to bring the struggle to every institution, and with this victory we've shown how it can be done. We've not only sent a message to large music festivals everywhere, but also to ICE and the Trump administration. We will fight them at every turn." 
While national policy from the Trump administration caused a heightened response to what otherwise may have been shrugged off as heavy-handed contractual rhetoric, it ultimately created a luminous discourse—that's a success for SXSW and every international artist traveling to Austin to play the fest.
Quotes have been edited for grammar and clarity. 
The official SXSW statement regarding the controversy can be read here.