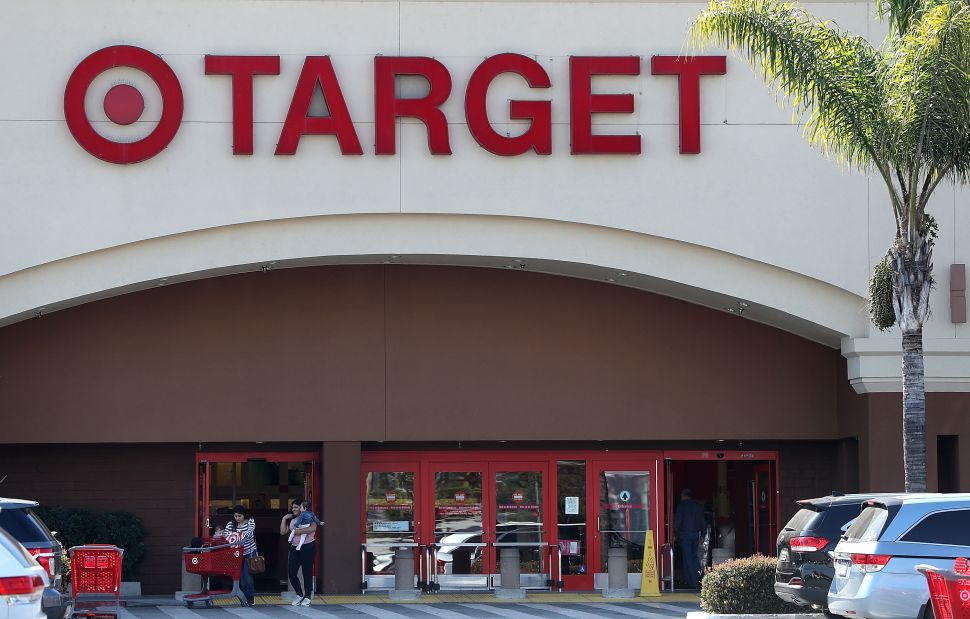 It's no secret that the retail industry is in decline. Most retailers have been closing stores and laying off employees. With the exception of Wal-Mart and Amazon, most retailers have also been losing money.
One of the unexpected losers is Target. The Minnesota-based discount retailer reported that its sales were down in the fourth quarter of 2016. This caps off a terrible year for the company in which it got itself involved in culture wars and saw its growth slow to a crawl. Target's stock is down 26 percent from a year ago. On the other hand, Wal-Mart, its major rival, is gearing up to take on Amazon (AMZN) for dominance in e-commerce.
Target seems to be left out of all the fun. How can Big Red get back on target?
Get Back to Its Roots
Target became successful when it established itself as the retailer that delivered higher quality merchandise than Wal-Mart with better customer service, but below the price point of department stores. However, Wal-Mart started to address all three issues.
Target needs to get its comparative advantage back from Wal-Mart: It needs to update its product selection, focus on customer service and find more ways to help families stretch their dollar.
Better Stores
Walmart improved its standing is by improving its stores. Wal-Mart stores have not gotten prettier. Instead, the supercenters' offerings have improved. Not only do Wal-Marts have hot delis serving things such as fried chicken, but they usually have a McDonald's or a Subway in the store as well. In contrast, Targets typically offer a Starbucks, Pizza Hut Express or a cafe that sells various items such as hot dogs and nachos.
In 2015, Target realized that its food selection was poor, so they teamed up with Freshii, Pizza Hut and a local Minneapolis Italian restaurant to revamp the stores' food selection. However, the resulting options were geared more towards "foodies" than the average consumer. Target should revisit improving its hot food selection and gear the selections towards the palate of average Americans.
Wal-Mart also has a much larger grocery selection than Target. There's no hard data available, but it's a good bet that Target has lost potential sales to Wal-Mart due to its weak grocery selection.
To fix this, Target should model itself after one of its more successful partnerships. In 2015, Target sold its pharmacy to CVS. Not only did Target profit from the deal, but the pharmacies became better run. Target should consider a similar partnership to revamp its grocery selection. The company could contract with Safeway, Kroger or even Whole Foods or Trader Joe's. In addition to expanding the selection of offerings, Target should offer higher quality foods than Wal-Mart. Many grocery chains across the country have done done the same to fend off competition from Wal-Mart.
Finally, Target should consider building bigger stores. Many Wal-Marts have tax preparation services with Jackson-Hewitt, a money center that offers MoneyGram, a hair salon and even a nail salon. Target is missing out on these opportunities.
Start Pushing e-Commerce
The retailers that are surviving are beefing up their online options, and Target needs to do the same. For example, it could build a marketplace for independent retailers to sell their products. To make its e-commerce presence competitive, Target needs to either buy a major online retailer or enter into a partnership with one. Target should also consider offering options such as free shipping to store.
The Good News
One of the bright spots for Target in the fourth quarter was its growth in digital and online sales.
Target is not in danger of going the way of K-Mart, which is on its last legs. It is still a vibrant brand, and it still has quality merchandise and excellent customer service.
Target simply needs some updating. With new leadership and by returning to basics, it should be able to get back on target.
Disclosure: Writer owns Target stock.
Kevin Boyd is a Louisiana-based writer and commentator who has been previously published by Rare.us, IJReview.com, the Foundation for Economic Education, the R Street Institute, the Capital Research Center, and other media outlets. He also serves as the Blog Editor at PracticalPoliticking.com. You can follow him on Twitter @TheKevinBoy