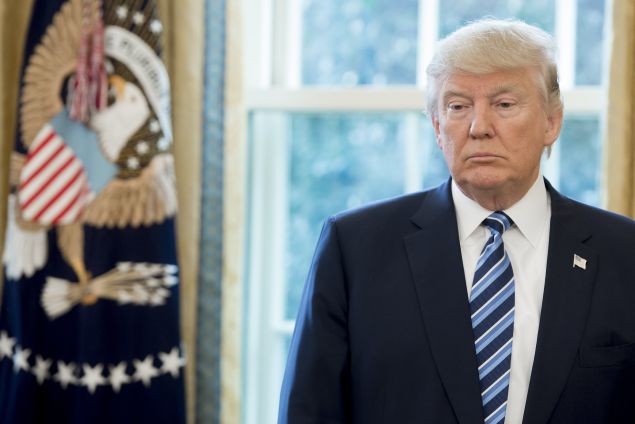 Yesterday, President Donald Trump's administration announced a new flight restriction stating passengers traveling on foreign airlines from majority Muslim countries cannot carry electronic devices larger than a cellphone. The restricted items include laptop computers, tablets and cameras, which ISIS and al-Qaeda have used to smuggle explosives.
The order, which takes full effect on Saturday, applies to passengers flying to the U.S. from Jordan, Egypt, Turkey, Saudi Arabia, Kuwait, Morocco, Qatar and the United Arab Emirates. The Department of Homeland Security stated, however, that the ban was not based on any specific or credible threat or attack—and only about 50 daily flights would be affected.
Even the agencies supposedly enforcing the new rule are at a loss. An official with the Transportation Security Administration (TSA) told The New York Times that not everyone at the agency had been briefed on it.
Trump's latest ban is also problematic from a tech standpoint. Richard Blech, founder and CEO of cybersecurity firm Secure Channels (who has spoken to the Observer about several issues involving air travel and electronics) said that the order addresses "a little part of the problem but not all of it."
"The intent is good, and it's good the thinking is going that way, but a terrorist's intent is gonna work around that," Blech told the Observer.
There are several workarounds that terrorists could employ, according to Blech: One is to simply use a device smaller than a cell phone that isn't banned under Trump's criteria.
While these tiny devices haven't been used in airborne terror yet, ISIS is making use of them: When computer technician Samata Ullah was arrested in Wales last year, police discovered a USB key in his cuff link. The stick "had an operating system loaded on to it for a purpose connected with the commission, preparation or instigation of terrorism," police said.
"The methods get smaller and smaller as technology improves," Blech added.
If terrorists don't want to update their tech, another option is to book a connecting flight from a country that's not on Trump's list.
"Instead of going from Saudi Arabia to the U.S., they're gonna fly to Frankfurt and then come to America from there," Blech explained.
According to Blech, the ideal way to deal with the problem of cybersecurity in the air is to simply ban all electronic devices from all flights—this would be an especially wise move given that many airlines have not outfitted their Wi-Fi networks with the proper security.
"You can't do measures that are only attacking part of the problem," Blech said. "Convenience is great, but if you want security, you need to have a full ban."
Blech acknowledged, however, that a measure like this would be a tough sell in an increasingly connected world—which is why governments should be smart about what they ban so terrorists can't take over the airplane.
"You can't take all devices when the world is open," he said. "But this order is like putting a drop of water in a frying pan."
The rushed rollout of the cell phone ban is reminiscent of the controversies surrounding President Trump's immigration ban on majority Muslim countries.
"Like the travel ban, this focuses on limited areas, but people are gonna come in another way," Blech said. "This is just a small impediment or inconvenience for terrorists. It's lip service with zero impact."
Other experts took a more measured view. James Lewis of the Center for Strategic & International Studies in Washington, D.C., admitted that Trump's action was somewhat random. But given that the British government has enacted similar airline cybersecurity measures, it may not be completely off base.
"It means there may be something going on," he told the Observer.
Lewis cautioned that this measure should be temporary rather than permanent since a long-lasting rule will be challenged just as the Muslim ban was.
"Is it worth the pain?" he asked.
Not according to Kenneth Button, director of the Center for Transportation Policy, Operations and Logistics at George Mason University. While he echoed other commentators' concerns, he also pointed out that the ban is so broad that it can't stand up in court.
"Is there a legal definition for what a cell phone is?" he asked. "Some of the biggest iPhones are bigger than the smallest iPads, and a large cell phone can hold a pretty large amount of explosives."
Button concluded that the speed with which the rule was pushed through also presented an issue.
"Even if it were a good policy, it would have to be put in place in a sensible way," he said. "There are a lot of games being played, but nobody's sure what the game is."