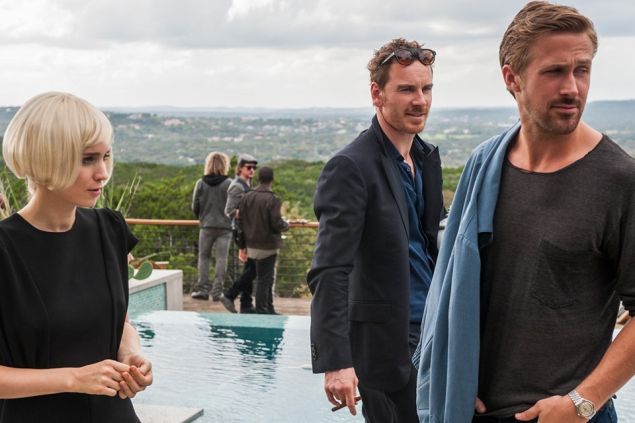 I gave up on Terrence Malick years ago, but when any movie boasts a cast that includes Ryan Gosling, Rooney Mara, Michael Fassbender, Cate Blanchett, and Natalie Portman (plus cameos by Holly Hunter, Val Kilmer, Iggy Pop and a battered, beat-up Patti Smith), as Arthur Miller wrote in Death of a Salesman, attention must be paid. Unfortunately, two hours and 10 minutes is too much attention to pay another lethal boring and relentlessly inert load of self-indulgent twaddle cut from the same maddening bolt of existential cloth as the Texas-based writer-director's other pseudo box-office bombs, including The Tree of Life, To the Wonder, Knight of Cups and The New World. This one is nothing new, but it's another astonishing example of the lengths movie stars will go to help out their friends. While his pals still shuffle down to Austin to help him out every time he cranks up the camera and the film starts rolling, I consider suffering through a Terrence Malick film nothing short of waterboarding in Afghanistan.
---

SONG TO SONG 

 (0/4 stars)

Directed and written by: Terrence Malick

Starring: Michael Fassbender, Ryan Gosling, Rooney Mara and Natalie Portman

Running time: 120 minutes

---
Wandering in and out of this mindless tedium in a dreamlike trance mumbling stuff like "Any experience is better than no experience," Rooney Mara is back to her weird Goth routine from The Girl With the Dragon Tattoo, wearing an ugly wig of a different color in every scene, in a formless, tasteless gumbo of overlapping lives on the periphery of the Austin music scene, where lost, empty people wander around like zombies from bed to bed and song to song (hence the title, get it?). Not one of them is real enough to show up in an MRI, or interesting enough to sustain curiosity or keep you awake, but the three most often pointlessly photographed are songwriter Ryan Gosling, record producer Michael Fassbender, and wannabe pop star Mara, who first try a three-way love affair, then without anything that resembles even a shred of a plot, they all start sleeping around—Fassbender with Natalie Portman as a local waitress in a bleach blonde wig, Gosling with a series of unknown groupies who all look alike, Rooney with a lesbian who enacts a series of modified and simulated sex scenes so awkward and phony they evoke laughter instead of titillation. ("I played with it. I played with the flame of life," she mutters in the offscreen narration that passes for dialogue.) Proving, I guess, that you can take the girl out of Carol, but you can't take Carol out of the girl. After an hour and a half, Cate Blanchett shows up, hits the sheets with Gosling without removing so much as a mink eyelash, says a total of four lines without wincing, and disappears forever. Some people have all the luck.
For plot, that just about does it. None of them play roles. They play presences. Since the last thing Terrence Malick has on his mind is telling a story, none of it makes one lick of sense. For technique, he has an aversion to scenes that threaten to further along any kind of narrative coherence threatening long stretches of improvisation and then editing out the dialogue, replacing real conversation with pretentious voiceover narration like "We exhausted every kind of poison, he knew every kind of love, he'd scare you with names, like wickedness" and "There's something else—something that wants us to find it." This forces the actors to fend for themselves without a compass, with the unfortunate result of looking like emotionless zeroes. One assumes it's all improvised. Who would think of actually writing anything this dumb?
Don't expect anything as old fashioned as a character-driven narrative that features memorable acting, logic or anything that sounds like real people saying real things to each other in real time. Instead, they say…nothing. But they spend an inordinate amount of time staring out of windows watching grass grow and cumulus clouds gather in slow motion. Malick trains his floating camera on whatever he sees—donkeys, a barbed wire fence, kids busting up a piñata, blowing up a hot air balloon, Mara walking a dog, Gosling making a chicken out of a napkin. You could read the collected works of Marcel Proust between scenes. Matter of fact, you could read the collected works of Marcel Proust during scenes! When the Gosling-Mara duo finally shows something that resembles profound emotion, the camera cuts to a closeup of a caterpillar crawling through her hair.
I call it cinematic freebasing. It's tired, repetitious, superficial, dreary and done to death before, by the same director, movie to movie and—forgive me for the unpardonable pun—song by song. The narrative meanders, the fumbling sex shots are as erotic as a popcorn ball, and the vibrant pulse of Austin, Texas has the faded, forlorn feel if Moscow in January.