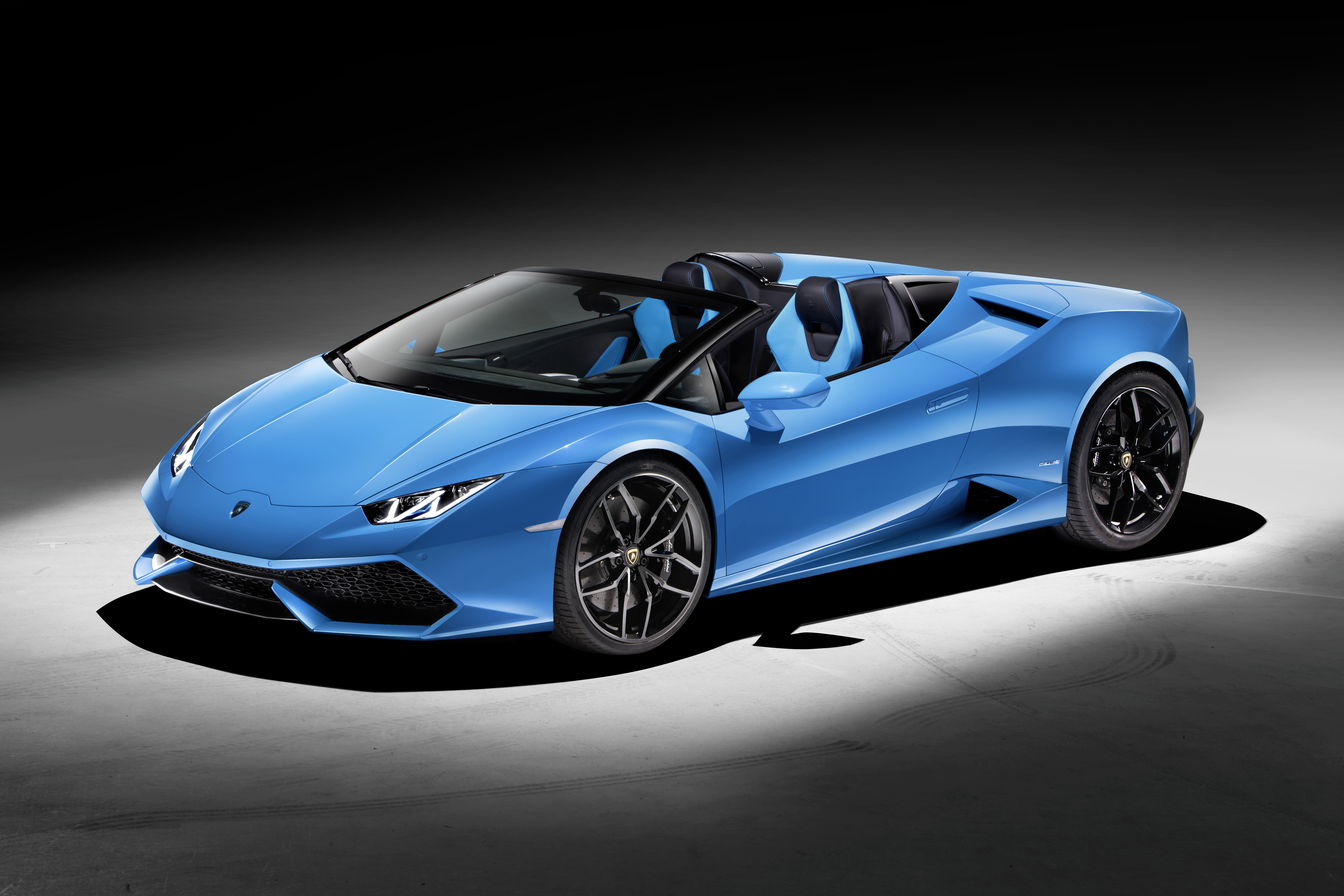 It's 80 degrees in Indian Wells, Calif., which makes sense because it's 9am in March. This is the desert, of course, where everything is hot. And in a minute, or, actually, 3.2 seconds, things are going to get hotter. We're standing in the brick driveway of the La Quinta Resort & Club, courtesy of Waldorf Hotels and Resorts, surrounded by attractive hacienda-style buildings and a riot of pink, white and red flowers. But all anyone can see is blue. And yellow. And black. Three 2017 Lamborghini Huracán Spyders and one Coupe, each as jagged and edgy as the nearby Santa Rosa mountains, await drivers.
I am one. My companions are dressed in tennis whites, ready to play after the ride, or to watch the BNP Paribas Open semifinals at the Indian Wells Tennis Garden, a few minutes away. Either way, they perfectly illustrate the point of the Spyder, the everyday Lamborghini, described to us as perfect for daily driving to the grocery store and gym. You don't need a racing background to be comfortable in this model. You don't even need previous supercar experience. Though everyone around seems to have at least that, if not ownership.
The first thing you notice when you drop into the Lamborghini Huracán LP610-4 Spyder's leather seats is that you are really low. I adjust my seat and mirrors, tilt my steering wheel and am immediately comfortable, but wonder what it would be like to be taller (I'm 5'6"). I also wonder what groceries are fitting into this $262,350, two-seater during my everyday activities. Perhaps a bottle of Kona Nigari water and five St. Erik's Brewery potato chips.
Not that you want the pressure of any errands after you hit the ignition button in the center console and hear the engine fire up, then purr, reminding you it's waiting.
Last year 1041 of the 3,457 Lamborghinis sold worldwide landed in the U.S.; about three quarters were Huracáns, its most successful V10 ever, first introduced in 2014. Since Lamborghini is based on production, availability is based on order, so how many cars will be made and sold this year is unknown. From 1963 to 2002 Lamborghini made an average of less than 250 cars per year. From 2003 to 2012 that average increased to more than 1700. 2016 was the first year the brand surpassed 3,400.
Coming soon is the Aventador S and the one-off Centario, a centennial birthday celebration of Ferruccio himself (April 28, 2016).
Back here in Southern California, one of Lamborghni's key U.S. markets, I'm top-down, a 17-second process possible when driving up to 31 miles per hour. Just push the switch.
That's actually a command. If you're driving this car you absolutely want to hear as much of the 610-horsepower, V10 engine as possible. Not to mention optimize the crackles in the exhaust. At the bottom of the steering wheel you can to do so when choosing from the three drive modes, aka the Adaptive Network Intelligent Management system, designed to adapt to personal driving style. This is an all-wheel-drive, seven-speed, dual-clutch automatic transmission. The car varies steering to the ideal response for every condition.
Strada, which means Street, is the most stable and controlled, most fuel economic (16 mpg) and most inconspicuous, if that's possible, which it's not—everyone behind an open window or on a bicycle within shouting distance had a comment for me, mostly jokingly offering to race.
Sport is slightly more aggressive while still easy to steer and control, shifting seamlessly, automatically. Here the exhaust is opened up a bit, resulting in crackle and pops on deceleration that are downright addictive. I spent much of my time in Sport. In the third mode Corsa, which means Track, the driving assistance of the car is removed. Shifting is on you.
Speaking of racetracks, a professional driver lead me through the Coachella Valley on this drive, he in the Coupe on a walkie talkie, preparing me for turns (this car is ideal for zipping around the many U-turns in these parts, official and created) and offering suggestions: "This is your big chance to open it up." Watching him I quickly realized how late I could brake. Very. Understanding my carbon ceramic brakes with fixed calipers, six in the front, four in the rear, enhanced my desire to speed, which of course I would never do on city streets. This car can get to 201 mph. I had a moment or two of, er, topping out at the designated speed limit. Obviously.
An hour after my drive I was still amped. Also a day later. This morning, needing to run to the drug store, I was thinking how much more fun that would be in a Huracán. And I'm pretty sure that's exactly the point.