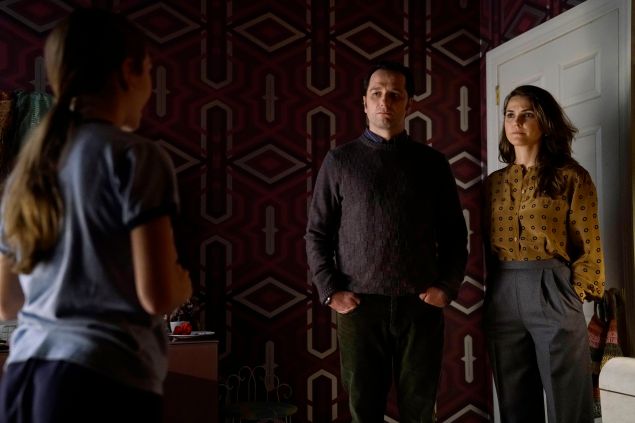 The Americans likes to let it linger. Ever since the show hit its stride toward the end of its second season—before then it was a perfectly fine spy thriller with sexy leads and a killer soundtrack rather than the prolonged moral autopsy of patriotism it became—it has specialized in letting both storylines and individual scenes simmer, or perhaps fester, for longer than most would dare. On a macro level, the revelation of undercover KGB agent Philip Jennings's true identity to his duped "wife" Martha and her reaction to it spooled out over the better part of two seasons. Last year, his real wife Elizabeth maintained a friendship with her charming South Korean immigrant target Young Hee for episode after episode before the series revealed her intentions. And on a micro level, the show has specialized in rubbing its viewers' faces in the horrifying nature of the Jennings' trade for minutes on end. Think of Philip shattering the bones in the nude corpse of his informant and lover so that he and her killer could stuff her body in a suitcase. Think of Elizabeth having a heart to heart with the kindly older woman who ran a repair shop she'd infiltrated, both of them knowing all the while that death was on the way. Think of the necklacing of the apartheid-era South African enemy agent they helped capture, of how he screamed and sizzled during his seemingly endless immolation.
"Amber Waves," The Americans' fifth season premiere, closes with another case in point. Its entire final segment is devoted to the drudgery of Philip, Elizabeth, their young South African protégé Hans, and a team of spies digging up the unmarked grave of William, the bioweapons expert who deliberately infected himself with a lethal contagion rather than give up their secrets to his American captives. But for a long time, it's not clear that this is what they're doing; it's not clear what they're doing at all. After getting the lay of the land from an anonymous driver outside the facility's perimeter, they cut through Fort Dietrich's fence, find a patch of grass beneath a hill, unpack a tarp and tools and shovels, and start digging. Thoughtful editing reveals the passage of time by showing the agents taking turns in the increasingly large and deep hole they've dug, pausing to wipe the sweat from their brows or take a swig from a canteen while the other agents rest and recuperate on solid ground above them. At one point it becomes clear that they've brought a rope ladder, a wordless indication that they've got a long way to dig—they'll literally be in over their heads.
Finally, Philip hits paydirt: a metal container with unknown cargo inside. Another cut and we see that the container is no briefcase, but a large rectangular box big enough to, well, lie down in. A member of the team breaks out a welding helmet and an acetylene torch and gets to work on opening the thing as Philip and Elizabeth don surgical masks and elbow-length rubber gloves—whatever's inside, it's dangerous. That's the first time the box's contents become obvious: It's William's corpse. Have they come to retrieve his body to give him the hero's burial Philip and Elizabeth and their handler Gabriel all feel he deserves? Isn't that an unnecessary risk? No, they haven't, because yes, it is. The true nature of their mission is revealed when they produce an exacto knife and carve a pound of flesh out of the dead man's carcass. William may have died before he could deliver his virus to his comrades, but that needn't stop them from getting the virus from him at all. It now lives on in his blood, and that's something the Jennings have never had trouble extracting.
Hans learns this the hard way, though that's not quite the right way to put it since we leave him in no position to learn anything. For several seasons he's been kept on the back burner, his initial prominence as a promising, idealistic trainee—and a puppy-love devotee of Elizabeth—receding into wordless cameo appearances as the pair's third man. He'll drive past their quarry's house to ensure it's empty and unguarded, he'll stroll through a neighborhood where a deal's getting done to double-check that the coast is clear. This is the first he's gotten his hands dirty in quite some time, and they get far dirtier than he bargained for. Losing his balance on the lip of the grave, he falls in, slicing his hand open with the knife and landing right on top of William's body. In the scene's first and only dialogue, Elizabeth reassures him that it's okay, he asserts that the wound doesn't hurt, and Philip gives him leave to climb back out and leave the rest of the job to them. Once he turns away, they shoot him in the head and dump his body into the coffin to prevent the spread of the contagion. Just another victim. Roll credits.
This extraordinary sequence—all the more so for its lack of fight-scene fireworks or Big 80s pop accompaniment—is indicative of The Americans' strengths and overall approach at this point in its evolution. As is custom, it depicts the Jennings' spycraft with keen attention to detail, dwelling on the mechanics of the task at hand, delaying the point at which the audience gets to know what they know, but not in the gimmicky guessing-game way endemic to "smart" television. It's unsparing in its depiction of the total lack of sentiment or scruple the Jennings and their cohorts must maintain to do their dirty work: desecrating the grave of the man who gave his life for theirs, treating his mutilation as "one last job" for the deeply lonely and unhappy man to do, persuading the college kid they'd mentored for years that they mean him no harm and then erasing him from the world.
But again, the approach carries over into the show's long-term plotting. If anything, The Americans has entered something like stasis in terms of its primary conflict, the fate of the Jennings' teenage daughter Paige, whom the KGB wants them to recruit now that she knows who they really are and, to an extent, what they really do. The details have changed since the plotline was introduced several seasons ago: Instead of the mystery of her parents' obvious deceptions, Paige's main trauma is now having seen her mother kill a mugger with barely a hint of hesitation or remorse; instead of the hippie Christianity of Pastor Tim, she's now dangerously distracted by the hormonal appeal of Matthew Beeman, the teenage son of the Jennings' FBI-agent neighbor Stan.
Other plot elements have been swapped out fairly neatly. Instead of wondering if Philip's fake wife Martha will make it out alive, we're now focused on whether his real Russian son Misha will make it in. Instead of wondering whether double-agent Nina will survive captivity in the Soviet Union, we're focused on whether her former lover, the lanky and goodhearted KGB agent Oleg Burov, will escape the consequences for colluding with Stan now that he's in the Soviet Union himself. Instead of watching Philip work a teenage asset and Elizabeth work a foreign asset, we're now focused on a combination of the two, as they pose as the parents of a young North Vietnamese agent named Tuan in an attempt to get close to the defector parents of a Russian high-schooler.
All this could seem repetitious in lesser hands. It's possible it may seem that way here as well. But perhaps this is just an extension of the same thinking behind the slow-burn storylines and the endurance-test wetwork. The life of the Jennings grinds on and on, the jobs come and go, pyrrhic victories are amassed, and the moral ditch into which they've dug themselves gets deeper and deeper. They're left wiping the blood from their hands as they walk from the grave. No one was saved.