At the Park Avenue Armory, near the entrance to the annual Art Show of the Art Dealers Association of America, the sculpture Untitled (Wedge) by Larry Bell defies the proportions of neatly arranged booths.
The Art Show used to be the staid event happening at the same time as the Armory Show and the ever-expanding gaggle of fairs that sprout up like weeds in the landscape. Over the years, contemporary art has found its way in. The good news is that it hasn't choked off everything else.
Or, to put it differently, there are contemporary artists and there are contemporary artists.
Larry Bell, who is now 79, constructed his sculpture from 1981 to 1984, for General Electric. It was a time when corporations were moving to the suburbs, and they needed something to put on the lawn, or in the case of this sculpture, in a courtyard. You can see it at Anthony Meier Fine Arts of San Francisco, and you can own it for $1.2 million.
Bell's medium is glass, but it's also light. The effect is spatial ambiguity. Three triangles are the forms that take shape as you first look at it. A closer look reveals an interplay between transparency and reflection. I'd love to know what the engineers at General Electric thought of it.
On the other end of the scale spectrum are the miniscule paintings of Elisheva Biernoff at Fraenkel Gallery, also of San Francisco. Fraenkel specializes in photography, which may explain why these tiny paintings look like photographs. Yet they are not. They are not even painted photographs. Instead, Biernoff creates these tiny scenes and portraits with acrylic paint on paper. There's a game going on in her hyper-precisionism. On a closer look, the pictures that look like snapshots are not as precise as they seem. They have all the imperfections of consumer photography from that time, and their dramatic power comes from the medium of paint. You'll need a magnifying glass to see that. For at least one kind of precursor to these jewels of pictures, consider "Small Wonder: Gothic Boxwood Miniatures," the ultra-miniature wood carvings on view at the Met Cloisters right now.
As delicate as those non-photographs by Biernoff are, they and nothing else in the fair come close to the photograms from 1839, the dawn of photography, at Hans P. Kraus Jr. Fine Photographs. Kraus is showing some of the first photograms ever created, including William Henry Fox Talbot's Maidenhair Fern, probably made in spring 1839, in which Talbot placed a fern on sensitized paper, and then exposed it to light. The camera-less process darkened the paper, leaving a spectral image where the fern had been.  Photograms would be an inspiration for Man Ray, who made his own in the 1920's and later, and you can see why the images were a hit among abstract artists. These are glowing monuments to the emergence of a medium that we now take for granted.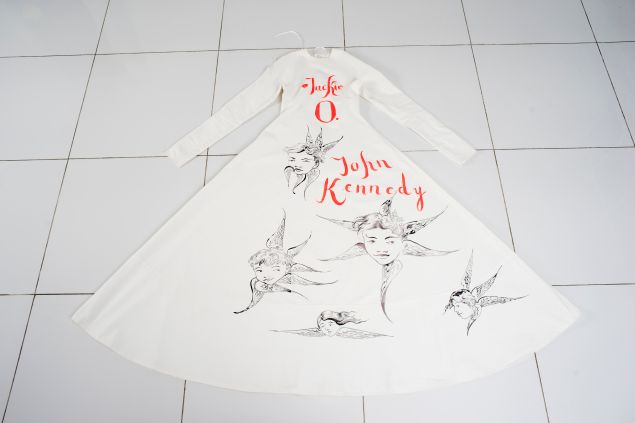 Some monuments beg for satire, and the Art Show has that in at least one booth. At Julie Saul Gallery, watercolors by the Russian artist Pavel Pepperstein are reveries that channel Jacqueline Kennedy Onassis in a whimsical art diary that includes her first and second husbands, Maria Callas, and figures inspired by Greek mythology. The moment seems right, given Natalie Portman's star role in the film, Jackie, which chronicles anguished days with a restrained eye, reminiscent of the Kennedy photo-essays that were a staple of LIFE magazine. The works by Pepperstein, anything but restrained, seem to have taken more time in their conception than in their execution, and were priced to sell at $9,500. Cheaper than the Warhol Jackies, in case anyone didn't notice.
Also in the booth was a white gown, in canvas, designed and decorated by Pepperstein, and modeled by a young woman. Its selling price was $27,000, almost $20,000 more than the watercolors. No surprise. Fashion was Jackie's preferred medium.
Mid-century painting from before Kennedy Camelot is all over the Art Show. And why not? When too much art is uninspiring or unaffordable, dealers and collectors turn to history.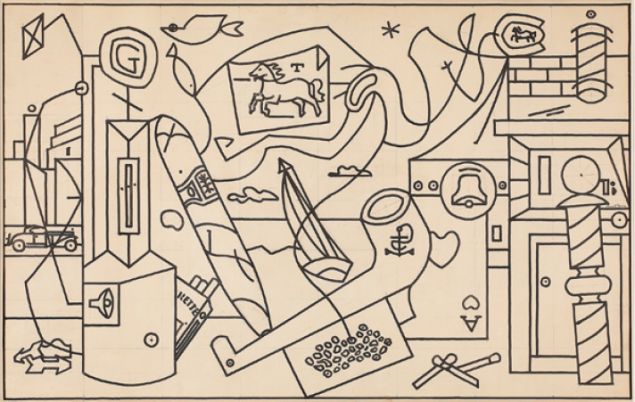 At James Reinish, the influence of the dealer Edith Halpert was all over the walls. Halpert opened her Downtown Gallery in 1926, and was active over the next decades in showing new artists, funding exhibitions with government money (remember those days?) and exhibiting American art in the Soviet Union. Among the artists who passed through her gallery were Stuart Davis, whose monochrome Final Study for Radio City Music Hall Mural (1932) is a cocktail of accoutrements for the American male. A surprise on the wall is Charles Sheeler's Ephrata (1934), a view of buildings of a religious community painted from photographs in tempera on Masonite, a nostalgic lyrical departure from the painter's industrial subjects. Call it hardheaded sentimentality.
Around that time, in the 1930s and 1940s, artists were experimenting with abstraction. Hauser & Wirth is exhibiting Nighttime, Enigma and Nostalgia, Arshile Gorky's drawings from 1931 to 1933 that twist and turn in the grey area between recognizable forms and invention.  We'll see more from Gorky at this gallery now that it represents the artist's estate.
In a corner at the booth of Meredith Ward Fine Art, Untitled (1947) by Ad Reinhardt was a radiant interplay of small rectangular-ish shapes in color, in what looked like the original frame that fans out from the picture like a megaphone. Reinhardt would move to black on black abstraction later, but here you sense colors that are alive, with an artist exploring what was then new territory.
Collage was part of those experiments with abstraction then, and the art world seems to have rediscovered collage now. There's plenty at the Armory Show on the piers. One gallery devoted to the medium that stands apart from those newcomers is Pavel Zoubok Gallery, which is devoting its booth at the Art Show to three practitioners, Sari Dienes, Addie Herder, and Stella Snead.
These three artists were well-known in the New York scene in the 1950s and 1960s, but showing them now after years of relative obscurity involves some archaeology. Credit for that goes to Zoubok, who represents the estate of Addie Herder (1920-2009), represented by several rows of her small paper collages on a wall of his booth. Herder and her husband had a parallel career in advertising, and machine shapes intermix with totemic forms in her constructions, although Herder would later add elements from a Pop vocabulary. The subtle works are refined and clever. Each one seems to be holding its own repository of secrets. Like the best collages, they reward a close view.
A close view is what Egon Schiele dares you to take. A watercolor and two drawings are at Galerie St. Etienne's booth, where you can also see a glowing still-life by Emile Nolde. Galerie St. Etienne, now in its eighth decade, is known for selling Schiele and Klimt, which can translate into atmospheric prices. (Note that a 1907 Klimt painting, Bauerngarten, sold for $60 million at Sotheby's London this week.) Yet the booth's offerings were evidence that the works of other artists from the same region and period can be acquired at lower prices. The Schiele watercolor on view could be had for around $1 million. Yet for the low six figures, you could buy a 1911 Schiele drawing, and a double-sided one at that. Jane Kallir, whose grandfather founded the gallery, noted that "there's the X-rated version on the other side," taking the frame off the wall in the interest of full disclosure. Two for one. Never rule out a bargain.