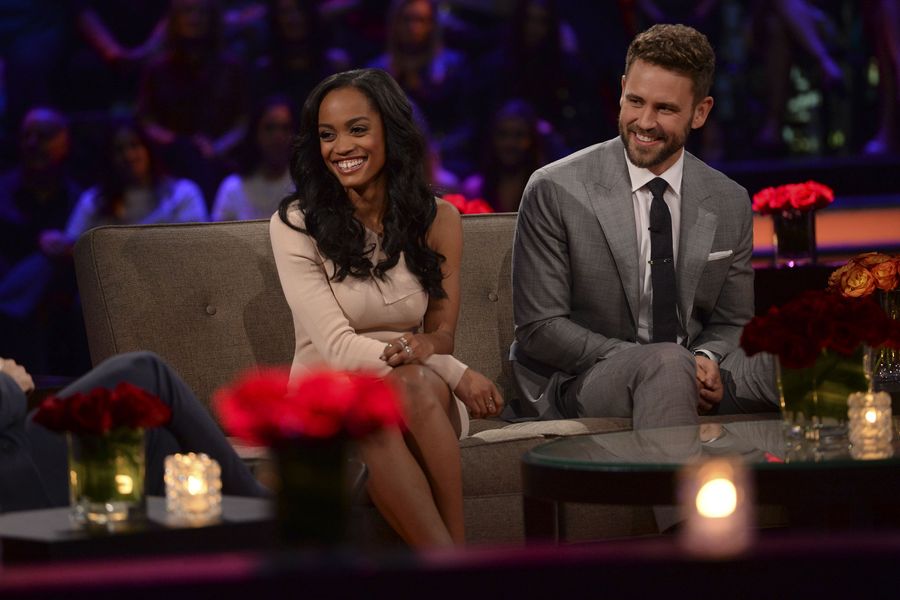 As Nick Viall's time mumbling on The Bachelor comes to an end, it's clear Rachel will soon leave to pursue men who know how to enunciate, in her role as the new Bachelorette. The Dallas-based lawyer will soon be doling out roses of her own, instead of forced to compete against women in their early 20s for a man who loves CrossFit more than the numerous women he's been with on previous seasons.
With only three women left, it's likely Rachel will soon be eliminated, to leave Raven Gates and Grimaldi alone with Viall and his turtleneck. Here are five ways Rachel might say goodbye.
Nick realizes she's far too good for him and eliminates her. 
This is the most obvious option. Rachel is age appropriate and doesn't wear rompers and going out tops like the younger girls on the show (ahem, Raven). Plus, the two seem to actually like each other. When Rachel told Nick okra was disgusting, his rebuttal was "you hate everything." The quick exchange proved the couple had actually spent time together, and potentially even shared a meal. It's still unclear if he's ever spent any time with Raven, other than their romp in the mud and that ill-fated grain bin excursion.
Rachel finally decides to leave the mansion behind. 
Throughout the season, Nick has been nervous that the woman he chooses will say no to him, since his multiple attempts at love on camera have ended in failure. Before the ill-timed announcement of Rachel's next role as The Bachelorette, she was a clear front-runner. She did receive the first impression rose, which often ends with elimination, but it didn't when JoJo Fletcher chose that football player's brother last season. It's entirely possible Rachel will finally realize Nick has nothing going for him, other than a turn on Dancing With the Stars and a lifelong love of scarves, which he was able to show off in Finland.
Rachel stages a much-needed turtleneck intervention. 
The only man who can successfully wear a turtleneck is Drake. Nick Viall is no Drake, although both consistently fall in love with the wrong women, are scorned and then get stuck in their feelings. Hopefully all of his past Bachelor loves can come, including shunned wedding date Liz Sandoz.
https://www.instagram.com/p/BRPLxMNAJ9S/?taken-by=colympios&hl=en
Corinne makes her triumphant return.
Bachelor bad girl Corinne Olympios has been very busy, what with hitting the swimming pool at the Fontainebleau in Miami, making television appearances and becoming an Instagram model. But if she has some free time, perhaps she could revisit the mansion and bring a bouncy house with her, though Nick seemed more excited about the bouncy house than any of the women who are currently competing for his attention.
Nick decides to leave everything behind to pursue his true calling as a lifestyle blogger.
He already has the men's grooming line, now he just needs the hair gummies.