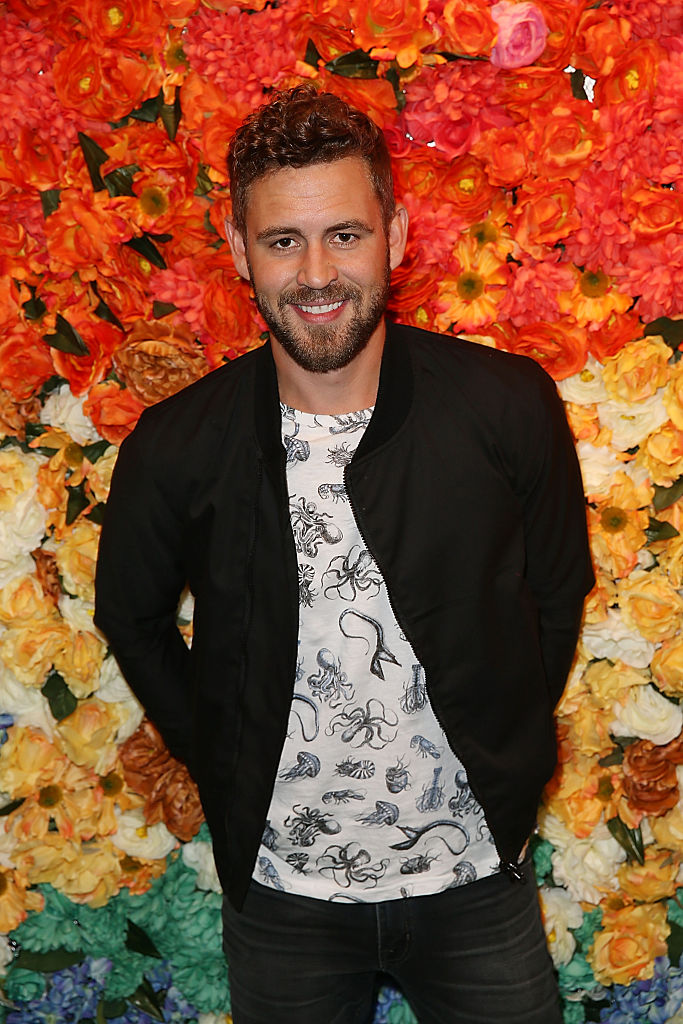 If you've ever wondered how Nick Viall, the mumbling, turtleneck-wearing Bachelor, grooms his facial hair, you're in luck. The former three-time contestant, and current leading man of the franchise, is pursuing his post-Bachelor career before the last episode airs. It does make sense, as this season has already been spoiled by the announcement of the next Bachelorette.
Viall has been busy taking acting classes, signing on to Dancing With the Stars (which he may quickly regret, as the rest of the cast is made up of professional dancers) and now, he's launching a men's grooming line.
On The Polished Gent, there's a dramatic photo of Viall, who is also an experienced model. (In fact, he's signed to Wilhelmina models and we highly recommend checking out his current portfolio.) The text on his site reads, in all caps, "Since my my mid-twenties I have put more time than I would like to admit into keeping a youthful appearance." Understandable, since Viall, 36, has been dating women who are more than a decade younger than him, including finalist Raven Gates, 25.
"Most of that time was spent just buying random products hoping some of them might actually work!" he continues. Obviously, Viall was the middle schooler most likely to douse himself in Axe Body Spray; hopefully his new line won't smell like those products.
Viall ends the short post by promising that he's going to share the handful of products that have helped him over the years. While it might seem as if he's going to be hawking #sponsored products on Instagram like former contestants and/or a beauty blogger, he's truly "launching a business," according to the Women Tell All taping. On the episode, which is meant to be an opportunity for all the women he scorned and discarded to air their grievances, he went on to say his line will include hair and facial products.
Regardless, we still think he should move to Brooklyn and sell organic beard oil.