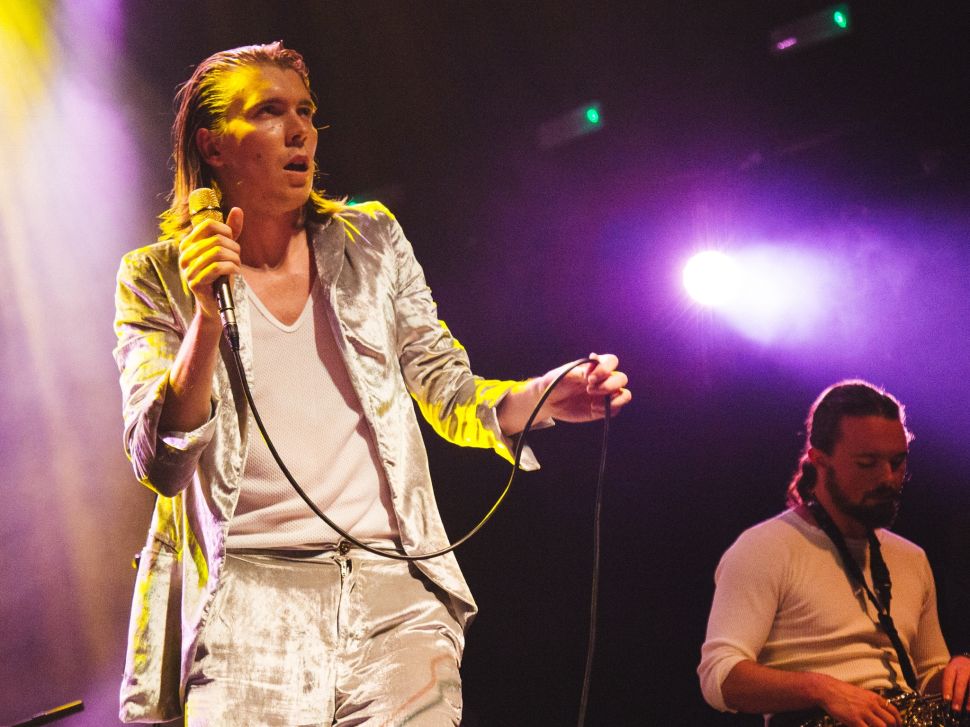 Yesterday Observer Music shared some of our favorite new artists playing SXSW this year, hoping that hobnobbers and gormandizers would show some love to the artists who soundtrack the open bars of Austin next week. The band that plays 10 showcases or more (what's the record) does truly thankless work, loading in and loading out with little time for deep cuts or substantive conversation with the badge-wearers who turn the gears.
But make no mistake, SXSW will tax the attendees, too, especially those who don't do blow. Planning your schedule around sets that require bar or venue hopping can quickly turn into a logistical nightmare, and with so many bands at each showcase, short sets make the prospect of moving from venue to bar to parking lot to record store and the possibility of waiting in long lines add up to a total fuckin' slog.
Keeping this in mind, here are five of the best free shows at SXSW that avoid the branded "experiences" of your Pitchforks, Stubhubs, Fader Forts and Taco Bells.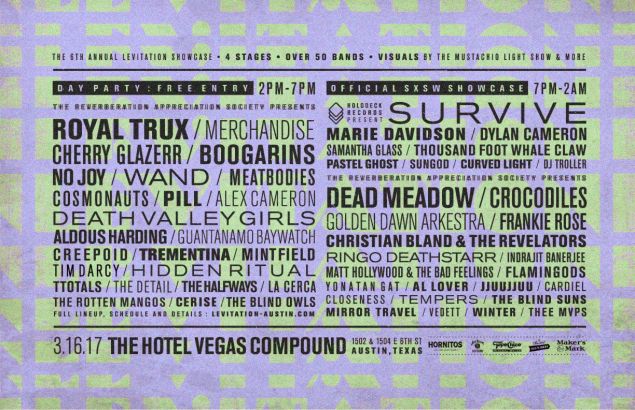 Austin's long-running psych curators The Reverberation Appreciation Society have hosted Levitation, formerly known as Austin Psych Fest, since 2008, and they've since earned a reputation for bringing together every band that fits into that nebulous "psych" head space for dissociative explorations of mind and body.
Their day line-up at Hotel Vegas on Thursday, March 16 from 2 p.m. to 7 p.m. is worth salivating over, headlined by a reunited Royal Trux (!) and featuring such dilated travelers as Cherry Glazerr, Alex Cameron, Meatbodies, Tim Darcy, and a ton of other weird bands we really dig.
It seems hard to imagine they'll clear the room for the evening's showcase proper, which features longtime Dead Meadow, OG former Dum Dum Girl Frankie Rose, The Brian Jonestown Massacre's Matt Hollywood, and Austin's analog synth prodigies S U R V I V E, who composed that soundtrack to Stranger Things and don't play live in their hometown all too often.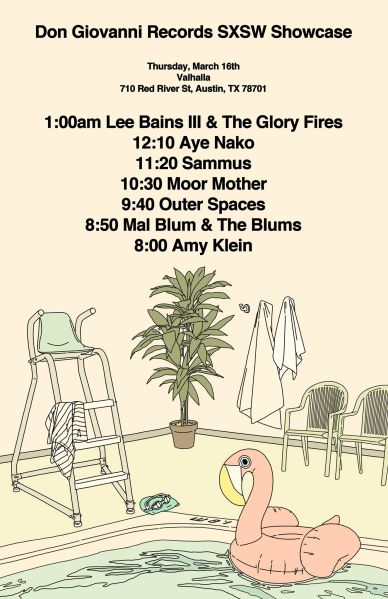 New Brunswick, N.J., label Don Giovanni Records offers another solid evening option on Thursday evening at Valhalla from 8 p.m. to 1 a.m., with a solid line-up as diverse as their roster.
There's the self-depreciating garage confessionals of Mal Blum & The Blums, the video-game-laced rap cyphers of Sammus, the political pop-punk of Aye Nako and the crusty, exuberant grandeur of Lee Bains III & The Glory Fires. There's a cohesion between Don Giovanni bands, regardless of sound, because they all subscribe to the same the DIY-or-die mentality as label founder Joe Steinhardt.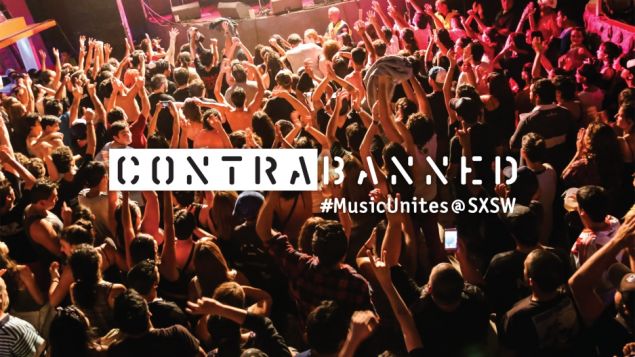 A good line-up can make a statement as powerful as any travel ban. In a refreshing counter narrative to this season's big story about SXSW using sketchy language that threatened deportation in their artist contracts, Contrabanned: #MusicUnites planned to present a showcase of artists from these areas affected by the order before any of that drama even went down.
The evening lineup includes Ash Koosha (Iran / London UK), Faarrow(Somalia / Toronto CA), Kayem (Libya / Chicago IL), Mamak Khadem (Iran / Los Angeles CA), Mohsen Namjoo (Iran / New York NY), Dena El Saffar (Iraq / Bloomington IN), and Bassel & The Supernaturals (Syria / Chicago IL), which SXSW hopes will "facilitate awareness and dialogue between these communities and beyond. The showcase will be on Friday, March 17 at the Palm Door on Sixth patio.
They had a Kickstarter so who's to say if it's free, but this one's just too cool to not mention.
"The show not only highlights these geographical spaces but also different generational takes on musical style," says SXSW.
"Dena El Saffar will be starting things off with a more traditional sound, The Mamak Khadem Ensemble will serenade showgoers with her incredible voice, Mohsen Namjoo's funky take on more traditional forms will lift collective spirits, Faarrow will modernize things a bit with more club-friendly material, Bassel & The Supernaturals will play their lounge-friendly jazz-funk, and Kayem's hip-hop set will round out the diverse showcase."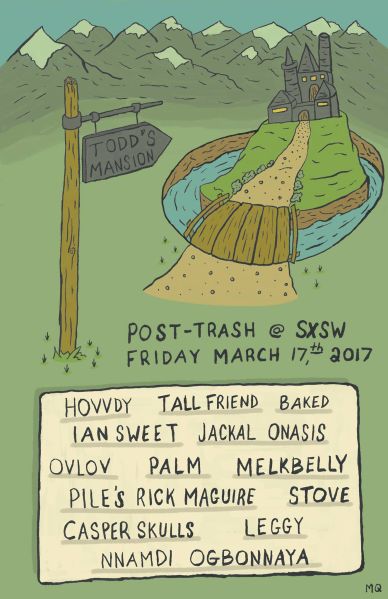 The Post-Trash BBQ goes down on Friday, March 17 at Todd's Mansion on the south side of town. Exploding in Sound Records' Dan Goldin has his fingerprints all over this (as does his online music publication, Post-Trash.)
EIS heavy hitters like Baked, Palm, Stove, Jackal Onasis, and Rick from Pile play alongside the label's mellower acts like Tall Friend, Austin "pillowcore" band Hovvdy, Hardly Art's IAN SWEET, Chicago noise punks Melkbelly, Toronto post-punks Casper Skulls, Chicago "lushpunks" Leggy, and Chicago rapper Nnamdi Ogbonnaya.
"The Nigerian-American Chicago native has played in over a dozen bands ranging from jazz-fusion ensembles to math rock synapse-twisters, and that's before you get to his equally omnivorous solo material," says Bandcamp. "On previous releases, he made up absurd sex jokes in one breath and spit heartbreaking stories about interpersonal racism in the next, all with sonics that turned boundaries into bridges at each turn."
Post-Trash also throws a free kickoff party on Tuesday, March 14 at Beerland that goes from 7 p.m. to midnight and features A Deer A Horse, Peaer, Fern Mayo, Pudge, Caddyshack II, Looming and VOLVO.
They've also got a Saturday Marathon that may be a little too much of a good thing—it runs from noon to midnight at Zen Fit, features almost all of the bands on Friday and adds nine acts, among them Sadie Dupuis of Speedy Ortiz with her subversive synth-pop project, Sad13.
Finally, New York's own daily music blog BrooklynVegan throws three days of killer, stacked day parties called Lost Weekend at Cheer Up Charlies on Thursday, Friday and Saturday in conjunction with Sound on Sound Fest (formerly Fun Fun Fun). Seriously, look at those line-ups.
Thursday may be the least pretentious atmosphere to catch the great Downtown Boys, who just left Don Giovanni for Sub Pop and understand much about carrying the skronking no-wave sax flag. But you'll likely also enjoy the refreshingly catchy chug of Frankie Rose, the French Ye-Ye-inspired mutant pop of She-Devils, the Mexican garage of Le Butcherettes, and the studied, sloganeering anarchy of D.C.s Priests.
Friday brings together even more wonderful artists whom I've interviewed recently, including Allison Crutchfield and Hand Habits, who both released catchy, intimate LPs this year about travel and transience.
Australia's Alex Cameron has a baritone that cuts through his oscillating synths, an appropriate soundtrack for any blossoming sociopath who knows how to dance. And there are some big names like Minus The Bear and …Trail of Dead on Friday, but the most exciting show of all may just be rock and roll home recording legend R. Stevie Moore playing a rare set of songs from his new collaborative LP with Jason Faulkner, Make It Be, which was just released today.
Saturday brings even more big names such as Saddle Creek's Big Thief, Robyn Hitchcock, Secretly Canadian's Cherry Glazer, Sad13, and another sure to be special live set from Austin's own S U R V I V E.
As a mantra, 'Survive' serves as good advice for any and all partiers going down to Austin next week, too.