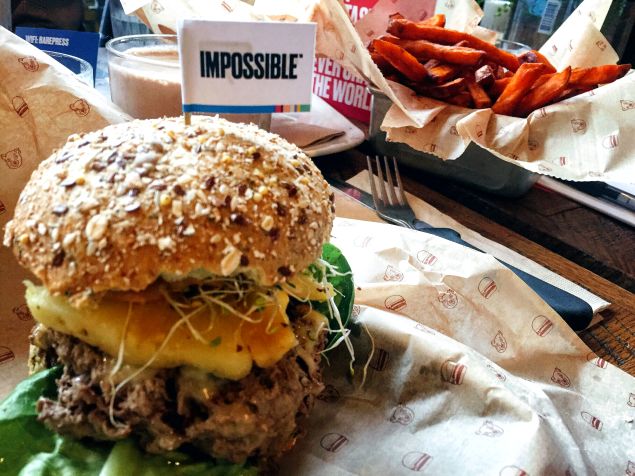 We have big news for fans of the Impossible Burger, the new 100 percent plant-based burger out of Silicon Valley that truly looks, cooks, tastes, sizzles and even bleeds like ground beef.
Starting March 2, the Impossible Burger will be served at Bareburger's flagship location in NYC. And while it's prepared in unique and delicious ways at the seven NYC and California restaurants where it's already served, this is especially exciting because it's consumers' first chance to customize the burger however they choose. And with Bareburger's extensive array of different organic buns, cheeses, veggies and sauces, there are around 9.5 million combinations.
"I haven't tried anywhere near that many, but we're excited about it," Bareburger founder and CEO Euripedes Pelekanos, known as EP, told the Observer during the launch. At the event, we got to try our own customized version—we opted for a sprout bun, aged cheddar, alfalfa, stout onions, pineapple and the restaurant's signature special sauce. It was delicious and tasted just like beef.
There is also a chef prepared version of the Impossible Burger on the menu, which replicates the classic American burger. It's priced at $13.95 like the restaurant's other premium burgers and is served with American cheese, stout onions, dill pickles, little gem lettuce and signature sauce and seasonings on a brioche bun.
This is the first time the Impossible Burger is being served in a chain restaurant. It will remain on the menu at this location throughout March, but the Bareburger and Impossible Food teams plan to roll it out to all of the restaurant's 43 locations as soon as they can produce enough of the "beef." And given the exponential rate with which Impossible Foods is rolling out its product, this could be sooner than expected.
Exactly one month ago, the Impossible Burger launched in its sixth and seventh restaurants—PUBLIC and Saxon+Parole in NYC. By landing on these menus where it's dressed up and drizzled with high-end ingredients like sherry-braised onions and truffle sauce, it was proven to be a sophisticated culinary ingredient rather than a lab experiment. PUBLIC is a two-time James Beard Award winning restaurant and the first with a Michelin star to serve the meat from Impossible Foods. The Observer captures these decadent versions of the Impossible Burger in the video below:
While the "meat" is $182 million in the making and the product of five years of development in a Silicon Valley food science lab, no new technology or product was invented to create it. Those resources have simply gone to figuring out, on a molecular level, what makes meat so delicious. The team discovered it's a molecule called leghemoglobin or "heme," which they're sourcing from yeast rather than meat and mixing with water, coconut oil, protein from wheat and potatoes, natural flavors and micronutrients to create the burger.
Every additional restaurant Impossible Foods launches in gets it closer to the goal of transforming the global meat system to be more sustainable. Opting for one Impossible Burger instead of a regular beef burger will save 75 square feet of land, enough water for a 10 minute shower and the amount of greenhouse gasses emitted into the air from an 18 mile drive.
Read more about the Observer's past coverage of the Impossible Burger and Impossible Foods here and here.